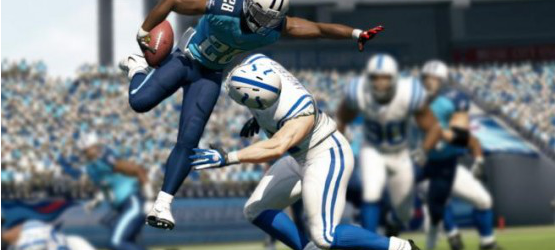 The Tennessee Titans have a solid though not spectacular team coming into the Madden 25 season.  We have their full team breakdown below.
Team: Tennessee Titans
Offensive Strategy: Get the ball to your playmakers.  The Titans have no shortage of offensive weapons this year.  Chris Johnson and his insane speed rating will make him one of the toughest backs to contain in Madden 25.  Jake Locker is a much better Madden quarterback than he is on Sundays.  Mix that in with Kenny Britt, Kendall Wright and the other playmaking receivers the Titans possess and you have a formula for success on offense.
Defensive Strategy: Force Turnovers.  Much like their offense, the Titans defense is above average in Madden 25 but cannot be considered elite.  They have pass rushers, decent linebackers, and a serviceable secondary.
Impact Players: QB Jake Locker, HB Chris Johnson, WR Kenny Britt, WR Kendall Wright, LB Zach Brown, DE Kamerion Wimbley, FS Michael Griffin, CB Jason McCourty, CB Alterraun Verner
Key Newcomers: TE Delanie Walker, SS Bernard Pollard, G Chance Warmack, WR Justin Hunter, CB Blidi Wreh-Wilson
Biggest Strength: Versatility.  The Titans have 2 very good Madden 25 playmakers in Chris Johnson and Kenny Britt but they also have plenty of other scary weapons.  Those weapons may not be elite but they are very good and will require your opponent to respect them.
Biggest Weakness: Quarterback.  Jake Locker plays pretty well in Madden but if the Titans want to become an elite Madden 25 team, they will need a better quarterback.
Rating: Above Average.  If you compare the Titans roster to another teams going position by position, the Titans will probably win the majority of those comparisons.  The problem is that they don't have any players on the level of Adrian Peterson, Calvin Johnson, Aaron Rodgers, Darrelle Revis, Patrick Willis, etc.
Did we miss something?  Let us know your thoughts in the comments section.