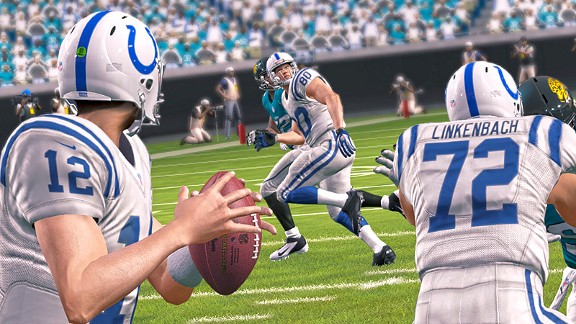 In just one year, Andrew Luck has become a better Madden quarterback than his predecessor, Peyton Manning.  The Colts continue to make strides in the right direction for Madden 25.  Our analysis is below.
Team: Indianapolis Colts
Offensive Strategy: Pass, Pass, Pass.  The Colts have all sorts of options in the passing game this year.  For anything underneath, you have the always sure handed receiver Reggie Wayne along with young tight ends Dwayne Allen and Coby Fleener.  If you want to stretch the field, you can look to speedsters Darrius Heyward-Bey or T.Y. Hilton.  Unfortunately while Vick Ballard is a servicable back in the NFL, his effectiveness does not translate all that well to Madden 25.
Defensive Strategy: Force Tunrovers.  The Colts defense is pretty weak in terms of Madden potential.  Robert Mathis can get plenty of sacks and possibly force some fumbles as well while free agent pickup Laron Landry is one of the best user-safeties in Madden history.  If used correctly, you should be able to get plenty of interceptions and forced fumbles with him.
Impact Players: QB Andrew Luck, WR Reggie Wayne, WR T.Y. Hilton, WR Darrius Heyward-Bey, TE Dwayne Allen, TE Coby Fleener, OLB Robert Mathis, SS Laron Landry, FS Antoine Bethea, CB Vontae Davis
Key Newcomers: OLB/DE Bjoern Werner, SS Laron Landry, WR Darrius Heyward-Bey, DT Ricky-Jean Francois
Biggest Strength: Offensive Firepower.  Imagine coming out in Shotgun Ace Empty formation (3 WR's, 2 TE's) with the Colts in Madden 25.  When you consider Andrew Luck's mobility and 5 very impressive receiving options, it will be near impossible to defend.
Biggest Weakness: Inside Linebacker.  The Colts unfortunately don't have any inside linebackers with a decent speed/overall rating combination.  You will have to make up for that with good pass rushers and secondary playmakers.
Rating: Good.  The Colts will be a good team to use in Madden 25.  If you are one of those people that love to throw the ball around but don't want to use a taboo team like the Packers, then the Colts would be an excellent fit for you in Madden 25.
Leave your thoughts and opinions in the comment section below.