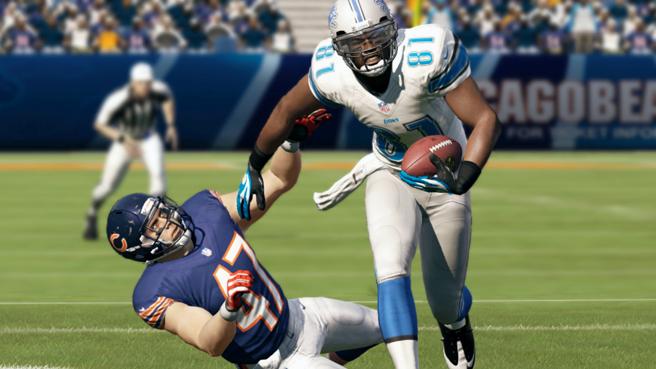 The Detroit Lions have one of the best Madden weapons of all time in Calvin Johnson Jr.  They also have a quarterback who can get him the ball.  Unfortunately, outside of their defensive line, the Lions defense is weak in Madden 25.  We have the full team breakdown below.
Team: Detroit Lions
Offensive Strategy: Vertical passing.  Matt Stafford has a huge arm which translate to a 99 throw power rating in Madden 25 and Calvin Johnson Jr. can get open against any coverage you throw at him.  When you mix that in with 2 very effective speed backs in Reggie Bush and Jahvid Best, you have a downright scary Madden offense.
Defensive Strategy: Pressure the quarterback.  Ndamukong Suh, Nick Fairley, and Ziggy Ansah all have great pass rushing ratings in Madden 25.  You will have to bring the heat because the Lions secondary is so weak.
Impact Players: WR Calvin Johnson Jr, QB Matt Stafford, RB Reggie Bush, RB Jahvid Best, DT Ndemukong Suh, DE Ziggy Ansah
Key Newcomers: DE Ziggy Ansah, RB Reggie Bush, CB Darius Slay
Biggest Strength: Calvin Johnson Jr.  Remember how dominant Calvin Johnson was last season on Sundays?  Take that and multiply it be 3 and that is what you should expect from virtual Megatron in Madden 25.  Defenses have to double team him and provide additional help just to have a chance of stopping him.
Biggest Weakness: Secondary.  The Lions just don't have the speed and overall ratings required at the cornerback and safety position to stop any team with a few decent wide receivers.  Madden NFL has always been all about passing which makes having a weak secondary quite painful.
Rating: Above Average.  The Lions are a 1 or 2 players in the secondary away from being a top 10 Madden team.  The offense is good enough to keep you in most games even with a weak defense.
Make sure to leave your thoughts about anything we overlooked concerning the Madden 25 Lions in the comments section below.