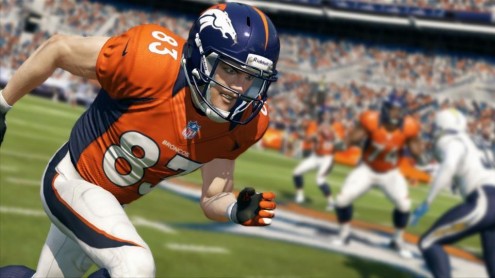 The Denver Broncos will be a great team to use in Madden 25.  They have a solid defense, an elite quarterback and good wide receivers.  We have the full Broncos team breakdown below.
Team: Denver Broncos
Offensive Strategy: Short Passing.  Peyton Manning is still a top 5 Madden quarterback and he now has 3 very reliable wide receivers to throw to in Eric Decker, Demaryius Thomas, and free agent pickup Wes Welker.  These guys should be able to get open fairly easily.
Defensive Strategy: Lockup.  The Broncos have cornerbacks Champ Bailey and Dominque Rodgers-Cromartie who are 2 of the top 10 cornerbacks in the game.  With Von Miller getting after the quarterback, you should be able to limit your opponents downfield passing game.
Impact Players: QB Peyton Manning, WR Wes Welker, WR Eric Decker, WR Demaryius Thomas, LB Von Miller, CB Dominque Rodgers-Cromartie, CB Champ Bailey
Key Newcomers: HB Montee Ball, DT Terrance Knighton, CB Dominque Rodgers-Cromartie, LB Shaun Phillips, CB Quentin Jammer
Biggest Strength: The passing game.  It will be nearly impossible to stop all of Peyton Manning's weapons on offense.
Biggest Weakness: Running back.  Montee Ball could turn out to be an absolutely stud in the NFL but he won't come in with a very high rating.  With that being said, he is more than good enough to get the job done in a pass heavy offense.
Rating: Great.  This team is 1 running back away from being elite.  Montee Ball could be that guy within a few roster updates.  Only time will tell.