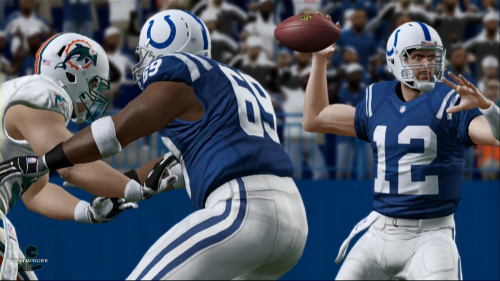 From the looks of the demo, a fast quarterback will be the most important position to have in Madden 25.  Quarterbacks like Colin Kaepernick, Robert Griffin III, and even semi-mobile guys like Aaron Rodgers and Andrew Luck will allow you to do things that will make your offense so much harder to stop.  We have a few of the benefits of a mobile Qb in Madden 25 below.
Running The Option – In last year's game, any option play with a pitch involved was fairly useless.  This year, both the read option and the pitch option are extremely effective which means having a mobile quarterback is more important than ever.
Taking Off When A Play Breaks Down – This is one of the most over looked benefits of having a mobile quarterback.  If a play breaks down you have the ability to scramble and make something out of nothing.
Forcing The Defense To Have A QB Spy – Having a mobile quarterback allows you to take 1 or 2 defensive players out of each play because they will be committed to spying on your quarterback.  This will open up both the power run game as well as the passing game.
The Psychological Factor – More often than not just having a quarterback that can run will make your opponent completely change their defense from what they are used to doing.  Because of this they will start to call plays that aren't nearly as effective.
More so than ever before, having a mobile quarterback is essential in this year's Madden 25 game.  If you are in a fantasy draft league, make sure you get a quarterback that can move early on in the draft.