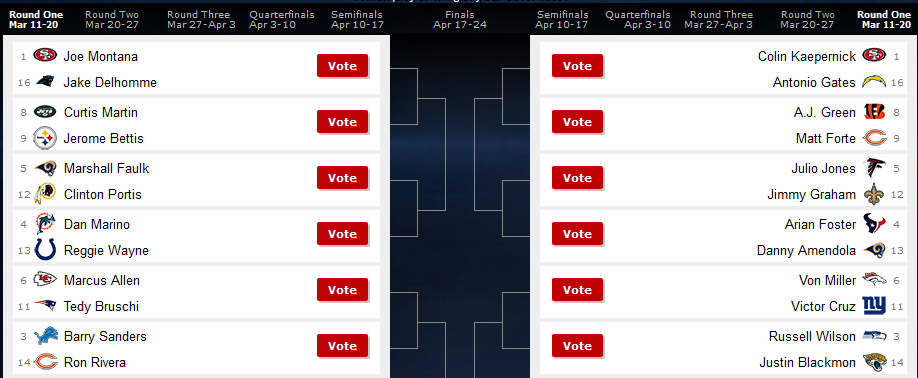 The 64 man bracket to decide the cover of Madden NFL 25 was unveiled today by EA Sports.  One side of the bracket features throwback players such as Deion Sanders, Troy Aikman, and Marshall Faulk while the otherside of the bracket features current superstars like Robert Griffin III, Adrian Peterson, and Patrick Peterson.  1 current player and 1 older player was included from each team.
The first round voting will take place from March 11th through March 20th.  Every round after that will include one week of voting with the finals taking place from April 17th to April 24th.  The brackets are structured to guarantee that one legend will take on one current superstar in the finals.
The Madden 25 cover vote left out some of the best quarterbacks in the league such as Peyton Manning, Tom Brady, Joe Flacco, Drew Brees, and Aaron Rodgers.  Plenty of the newer breed quarterbacks were included in the vote such as Robert Griffin III, Andrew Luck, Ryan Tannehill, Colin Kaepernick, and Russell Wilson.
Some notable head scrathers included in the brackets are Raiders quarterback Carson Palmer and Jaguars wide receiver Justin Blackmon.
You can place your vote now over on the ESPN SportsNation page.  If you know that you plan on picking up Madden 25 this August you can pre order your copy at PreOrder.org today.
Who do you want to win the Madden NFL 25 cover vote?  Let us know in the comments section.