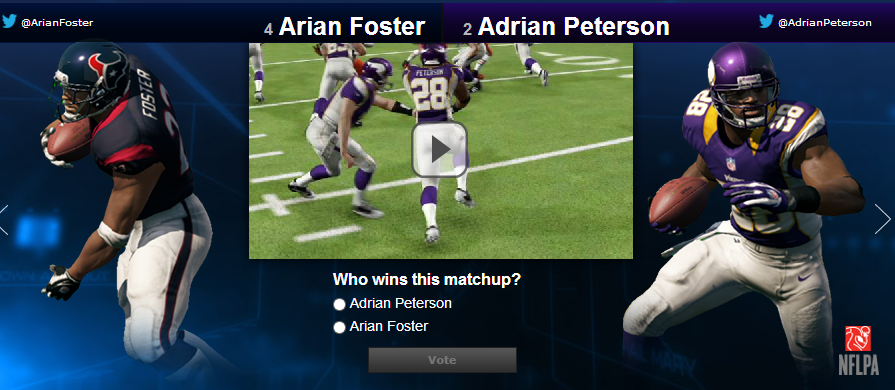 The final four has been set in the Madden 25 cover vote.  Adrian Peterson is taking on Arian Foster in the new school semi-final while Jerry Rice is battling Barry Sanders in the old school semi-final.
Barry Sanders defeated Joe Montana last round while Jerry Rice beat out Deion Sanders.  On the other side of the bracket, Adrian Peterson beat out Robert Griffin III while Arian Foster squeaked out a victory against Russell Wilson.
The final 4 voting is taking place now on the ESPN Sportsnation page.  The round ends on April 17th.  The finals will take place from April 17th until April 24th when the winner will be announced.
News continues to leak out concerning Madden 25.  It is scheduled to be released on August 27th and is already available for pre order at PreOrder.org on the XBOX 360 and the PlayStation 3.
Look for some important Madden 25 information to trickle out in late April or May.  We should expect to see the first gameplay trailer at that point.
Who do you want to see win the Madden NFL 25 cover?  Let us know in the comments section below or on our Madden forum.