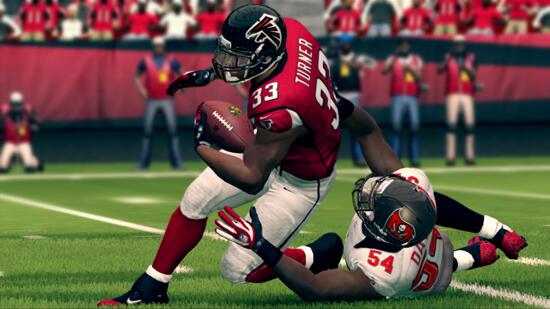 The Atlanta Falcons have had one of the most feared Madden NFL offenses for the last couple of years.  Look for more of the same from the virtual Falcons in Madden 25.
Team: Atlanta Falcons
Offensive Strategy: Pass heavy.  The Falcons may have the best passing attack in Madden 25.  TE Tony Gonzalez is just about unstoppable in the middle of the field.  Roddy White is a threat on every play and Julio Jones is considered by many to be the 2nd best wide receiver in Madden 25 behind only Calvin Johnson.
Defensive Strategy: Sacks and turnovers.  The Falcons have always had a fairly weak defense in Madden games but this year they have made some interesting upgrades by adding 2 solid cornerbacks in the draft and Osi Umenyiora.  If you can get after the quarterback and force some turnovers, your offense should be able to do the rest.
Impact Players: QB Matt Ryan, WR Roddy White, WR Julio Jones, TE Tony Gonzalez, OLB Sean Weatherspoon, CB Asante Samuel
Key Newcomers: CB Desmond Trufant, CB Robert Alford, TE Levine Toilolo, DE Osi Umenyiora
Biggest Strength: Offensive firepower.  The Falcons passing attack is downright scary this year.  Matt Ryan has pinpoint accuracy and all kinds of threats.  Even someone who is completely new to the Madden series should be able to put up points with the Falcons.
Biggest Weakness: Speed of defense.  The Falcons have a pretty good defense in real life but they just don't have the speed ratings to be considered a "good" defense in Madden 25.
Rating: Very Good.  The Falcons fall just outside of the top 5 teams this year but with a few roster updates they may be on their way to the elite level.