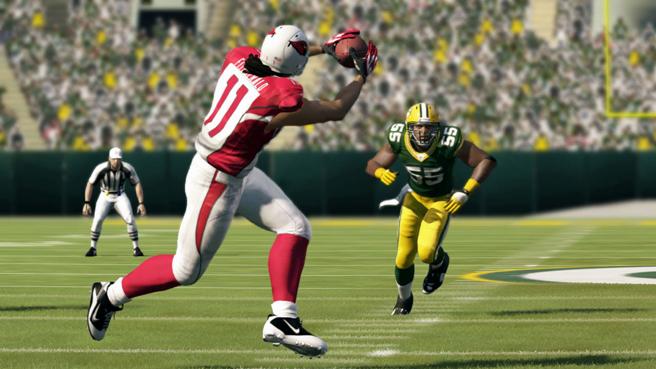 The Cardinals will struggle in Madden 25, there is no real way around that.  There is good news for cardinals fans however: They won't be as bad as the Jaguars.  We have the full team breakdown below.
Team: Arizona Cardinals
Offensive Strategy: Larry Fitzgerald.  Unfortunately for the Cardinals, he is really their only legitimate offensive weapon.  Carson Palmer should be good enough to make most of the throws in this game but he is far from elite.  The running game isn't all that special either.
Defensive Strategy: Force turnovers.  Patrick Peterson is an awesome cornerback in the Madden NFL games.  Tyrann Mathieu should also be a force this year.  The front 7 is pretty good as well with Darnell Dockett, Karlos Dansby, John Abraham and Darryl Washington.
Impact Players: QB Carson Palmer, WR Larry Fitzgerald, LB John Abraham, LB Karlos Dansby, DE Darnell Docket, LB Darryl Washington, CB Patrick Peterson, CB Antione Cason
Key Newcomers: QB Carson Palmer, LB John Abraham, CB Tyrann Mathieu, CB Antione Cason
Biggest Strength: Defensive Playmakers.  The Cardinals have a few playmakers on defense.  If used correctly, they should be able to get a few big stops.
Biggest Weakness: Offense.  Larry Fitzgerald is awesome but the rest of the Cardinals offense is way below average.  It will be a struggle moving the ball consistently.
Rating: Bad. This Cardinals team will struggle without a few generous roster updates in Madden 25.