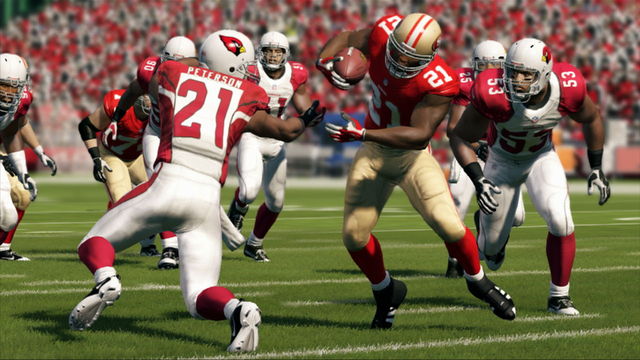 The San Francisco 49ers are absolutely silly in Madden 25.  This could be the best Madden team of the last 5 years.  We have the full team breakdown below.
Team: San Francisco 49ers
Offensive Strategy: Power Run.  The 49ers offensive strategy is power run but when it comes down to it, you can really just do whatever you feel like.  They have the best offensive line in the game, a mobile and accurate quarterback, an awesome tight end, and good receivers.  For a team known for their defense, they are the total package on offense.
Defensive Strategy: Keep Everything In Front Of You.  With the big hitters on this team, you should force 2 or 3 fumbles a game by just running around the field hitsticking people.  Again though, you can really do whatever it is you feel like with the 49ers defense.
Impact Players: QB Colin Kaepernick, HB Frank Gore, WR Michael Crabtree, WR Anquan Boldin, WR Mario Manningham, TE Vernon Davis, DE Justin Smith, DE Ray McDonald, LB Aldon Smith, LB NaVorro Bowman, LB Patrick Willis, LB Ahmad Brooks, CB Nnamdi Asomugha, CB Tarell Brown, CB Carlos Rodgers, S Eric Reid, S Donte Whitner
Key Newcomers: WR Anquan Boldin, CB Nnamdi Asmougha, S Eric Reid
Biggest Strength: The number of options on the team.  There are 17 impact players we listed above and that doesn't even take into account the offensive line which is the best in the game.
Biggest Weakness: None.  They really have no weaknesses in Madden 25.
Rating: Elite. This 49ers team is one of the great Madden teams of all time.  Be careful when using them online, you may not find too many people willing to play against you.