Madden 19 franchise mode has been overhauled. Progression is no longer based on you upping one individual rating at a time, instead everytime you progress a player he goes up by 1 overall in his specific player archetype.
To take the example further, if you have Lamar Jackson on your franchise team, he has the Scrambler archetype. Once he has earned enough XP to get a ratings boost, you choose to up his Scrambler archetype and then he might receive something like +1 short accuracy, +1 awareness, +1 juke, +1 throw on the run. Those upgrades would increase his overall by 1 point.
This is an example of how it would look with Stefon Diggs getting a +1 overall upgrade.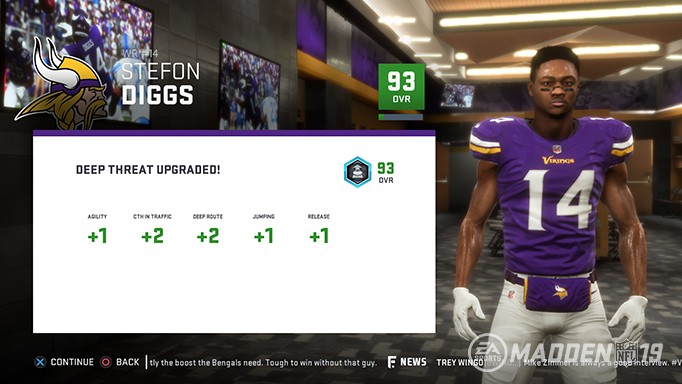 You can see that he has a Deep Threat archetype. He went from a 92 overall to a 93 overall but saw increases in agility, catch in traffic, deep route running, jumping, and release to get him there.
We went over a few other changes to Madden 19 franchise mode in an earlier post.
Below you can find the available archetypes for each position in the game.
Madden NFL 19 Archetypes By Position
QB: Strong Arm, Scrambler, West Coast, Field General
HB: Power Back, Elusive Back, Receiving Back
FB: Blocking, Utility
WR: Deep Threat, Possession, Red Zone Threat, Slot Receiver
TE: Vertical Threat, Possession, Blocking
OL: Agile, Power, Pass Protector
DL: Run Stopper, Speed Rusher, Power Rusher
MLB: Field General, Pass Coverage, Run Stopper
OLB: Pass Coverage, Run Stopper, Speed Rusher, Power Rusher
CB: Man-to-Man, Zone Coverage, Slot Corner
S: Zone Coverage, Run Support, Hybrid
K/P: Accurate, Power
Check out all of our our recent updates in our Madden 19 news center.
Which archetypes are you most excited to use this year? Sound off in the comments!