The Madden 18 January update is now available for download on both Xbox One and PS4. The update basically addresses just a few minor issues within gameplay, and as always, the pros at Madden School have you covered with a full breakdown and analysis.
Title update 1.09 for Madden 18 comes as we head into the divisional round of the NFL playoffs. It's also a big time of year for Madden 18 competitive championships. Tournaments such as the Madden Challenge that was featured on the CW network just a couple of weeks ago.
You can view the full list of notes and details from the newest Madden 18 January update below: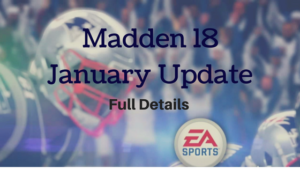 Gameplay Updates
Substantial reduction to fake-outs for user controlled defenders when defending ball carrier special moves
Slight reduction to fake-outs for AI controlled defenders when defending ball carrier special moves
Addressed an issue that was causing some AI controlled ball carriers to move slowly and/or not perform special moves
Tuned to decrease range of width on kickoffs to address the kickoff exploit that could force returners out of bounds inside their own five-yard line
Developer Note: Players have given us feedback that they'd like more control when clicked-on to a defender in pursuit. We wanted to provide more opportunities for both user-controlled and AI-controlled defenders to make tackles vs. jukes and spins.
Breakdown & Analysis
The details above outline the full list of issues and gameplay fixes that this January title update addressed. If you remember, the December update was full of improvements and fixes that addressed significant issues. This update wasn't quite as detailed or in-depth, but did include a short note from the developers regarding the Madden community's feedback.
It's always nice when the EA developers take the time to include a small note explaining the details and reasons for the update. Fans of the Madden series have to appreciate the fact they are taking user feedback into account when sending these updates to go live.
As for the gameplay updates themselves, the reduction to fake outs for user controlled defenders will certainly be a welcomed improvement for all competitive Madden 18 players.
Not sure if you guys have noticed, but it seems incredibly likely that you can split tackles or somehow find a way to miraculously escape a slew of tacklers, turning a five yard loss into a 12 yard gain, or more.
Are there other areas of concern or improvements you want to see in the next Madden 18 update? Want to share some of the issues you've experienced during Madden 18 gameplay? As always, feel free to share your thoughts with the Madden School community in the comments section below.
Ready to take your Madden 18 game to the next level? Sign up for your Madden School Unlimited Membership and gain instant access to all of our professionally developed ebooks. Join today, start schooling your competition tonight.