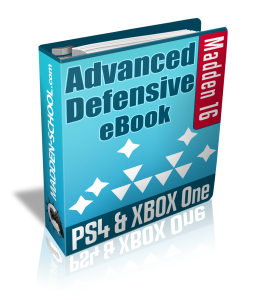 The Madden 16 Advanced Defensive Lockdown eBook for XBOX One and PlayStation 4 is now available! All of the plays in the eBook can be found in the San Francisco 49ers defensive playbook making it perfect for any game mode including Madden 16 Ultimate Team, ranked head to head, and online franchise.
If you are struggling on defense in Madden 16 or if you just want to get a jump on the competition, this eBook will take your game to the next level.  It features a mix of nano blitzes, coverage plays, and run stoppers.
Each play in the eBook comes with a full HD video as well as a detailed written breakdown and it is only $24.99!
Here is an example of the type of play you will see in our Defensive eBook:
Madden 16 Advanced Defensive eBook Preview
The Advanced Defensive eBook focuses on 7 different formations.
3-4 Bear
3-4 Under
3-4 Over
Nickel 2-4-5 DBL A-Gap
Nickel 2-4-5 Prowl
Nickel 3-3-5 Wide
Big Dime 2-3-6
Madden School eBook delivery is instant! You get access to your eBook immediately after you complete your order so you can start dominating today.
This eBook is no longer for sale and is only available to Unlimited members.  Access all our eBooks today by signing up for Madden School Unlimited.
[css3_grid id='Table_t1_s1′]