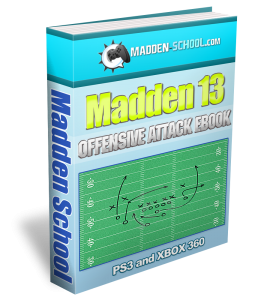 The Madden-School.com Offensive Attack eBook for Madden 13 is now available for purchase and immediate viewing. If you are interested in getting a huge head start on the competition, this is definitely something you need. There are 10 chapters and 37 great plays in this ebook. All formations and plays in this eBook can be found in the Atlanta Falcons offensive playbook.
For the first time this year our ebooks can be accessed from any internet connected device, so you can use smartphones, tablets, ipads, iphones, etc. Each play also includes a full hd video as well as a written breakdown.
We choose 1 play out of the ebook to show so you can get an idea of what to expect.
Formation: Singleback Bunch
Play: PA End Around
Setup:
Hot route your circle/B receiver to a slant
Hot route your tight  end to a streak
(Optional) Hot route your square/X receiver to an out route
Reads:
Against zone coverages both your circle/B receiver on the slant and your X/A receiver on the corner route should be open
Against man to man defense, look to your running back in the flat, or to your X/A receiver on the corner route
If you decided to put the square/X receiver on the out route, you can throw a quick pass to him against man coverage right when he makes his break to the outside.
Madden 13 Offensive Attack eBook Promo Madden-School.com
Those of you who have played Madden NFL games over the last few years know how dominant the Atlanta Falcons offensive playbook has been and this year it is even better. Below are the 10 formations that are covered in the ebook.
Singleback Bunch
Singleback Jumbo
Singleback Doubles
Singleback Y-Trips
Strong Close
Full House Normal Wide
Gun Doubles On
Gun Falcons Trio
Gun Tight Flex
Gun Falcons Empty
Get a head start on the competition and order your ebook today!