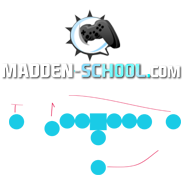 There aren't very many consistent running plays in madden 12 like there have been in past madden games.  But we managed to find one that works pretty well for us.  As always the video above is filmed on all-madden difficulty level.  Make sure to watch the video as well as read the text breakdown for ideal results.
Formation: Near Pro
Play: HB Inside
Setup:
1. Motion your fullback out to the right.  Once he gets behind your right tackle snap the ball and follow your blockers.
Overview: Different variations of this play have worked on previous madden and this year it is no different.  The angle of the run and the speed at which the quarterback hands off to the running back leads to a consistant gain on the ground.