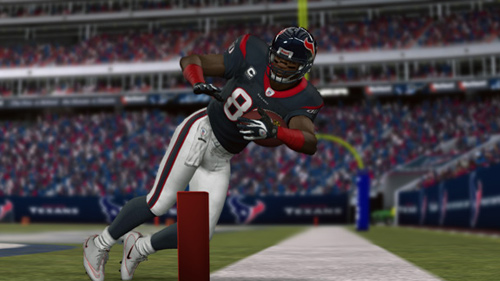 With all of the talk about the Eagles and how they have loaded their team up, we had a competition on our forums to make the ultimate madden dream team.   Some consider them to be the best madden team ever assembled.  Below is the entry from one of our newer members capteone detailing his madden 12 team.
Offense:
QB: Tom Brady *Accurate, Excellent release, Great in the clutch*
HB: Adrian Peterson *Beast! He even cut down on his turnovers last season*
HB: Jamaal Charles *Underrated, but lightning quick. Last year averaged over 6.0 yards/carry – Scat Back in this offense*
WR: Andre Johnson *Great top-speed, Tall, Excellent Hands, Runs over the middle*
WR: Roddy White *Not the fastest, but this guy moves the chains and is a great Red-Zone target
LT: Jake Long
LG: Grubbs *Guard from the Ravens, this guy is enormous!!!!*
C: Mangold *Considered one of the best, and young*
RG: Snee *Homer pick – but this guy is an absolute beast*
RT: R. Clady *Moving him into RT allows him to be a beastly run-blocking OT*
TE: Tony Gonzalez *Could have gone with V. Davis here, but I want a veteran safety valve on the field. Tony is also a better run blockers, and with all the other homerun hitters on this team, reliability is more valuable*
Defense (Running 3-4)
DE: R. Seymour *This guy is up in age, but can play the 3-4 Dline better than anyone*
DE: Suh *Placing him at DE will give him more pass rushing situations than at Nose Tackle, this guy is unblockable by 1 person already*
DT: H. Ngata *No explanation needed – ultimate nose tackle
OLB: Clay Matthews *He finished the 2010 season with a 2 inch long stress fracture in his ankle.. and was dominant, leading his defense to a SuperBowl win.. I'll take him healthy anyday!*
OLB: Woodley *Over the last 3 seasons, he has missed 1 game and had over 10 sacks each season. Harrison gets all the attention but Woodley is the better player*
Honorable mention to DeMarcus Ware.. I would run 3 OLBs if allowed lol
MLB: Jon Beason *This guy was the SuperStar on a Panthers team with no help on the Dline to get blockers off him. Yet he sheds the blocks and makes the needed tackles regardless.
MLB: Willis *MLB lists start and end here, and age puts his value even higher.
CB: Revis *This guy shut down 6 of the top receivers in the NFL last season – SHUT DOWN! The only reason not to put him on a dream team is bitterness that he owned your team (and mine).
CB: Charles Woodson *There may be better pure cover corners (see Asomough), however with all the strengths of this team, I want an additional playmaker. Woodson is just that, his ability to support in the run is invaluable, not to mention in Nickel situations you can bring him as an additional blitzer*
S: Polamalu *Find a game where he was moderately healthy and tell me he didn't make any big plays – this guy is electric and an All-Time All-Timer*
S: Ed Reed *Deep passes would not be attempted with these 2 guys dropping deep, because they will beat your receiver to the ball and make a play on it more than not.*
Feel free to put your 2 cents into the comments section below.  Who was left out? Who would you replace?