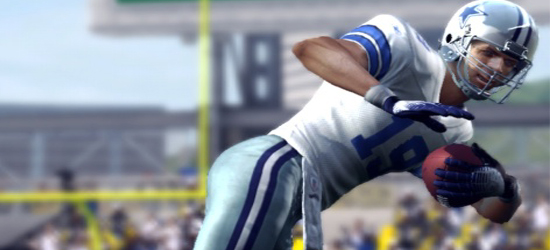 The Cowboys have to be one of the only teams that can morph into any formation on the game and be a threat to house it each time, or come up with a crucial amount of yardage at any given time. The addition of Dez Bryant over the draft gives the Cowboys even more added depth at the WR position. His 88 Catch In Traffic and his 95 Spectacular Catch rating, as weill as his size is great for rockets or just plain tough catches. Miles Austin can use his speed to get down the field, which then opens it up for nightmare Witten, or the under valued Roy Williams. Roy Williams is a great madden WR, with a 6'3 frame, 89 Spec. Catch, 92 Jump and 86 Catch. Wait, did I forgot Patrick Crayton or Martellous Bennett?
I really want to get to this run game, so I'll let you figure the run game out once you figure out how to stop the other 4 guys I named. In order to assist the passing game, the running game has to be well in tact. You have the speed, power and balance RB trio in Jones, Barber and Choice. Jones' 96 Speed, 96 Acceleration and 93 Agility make him the speed in the trio. Most speed backs in the game have sup par Carry, while Jones has a more than suitable 79 carry, so it maximizes your big play opportunity because he gets more touches and you aren't every to give him the rock. Barber with that 88 Truck, 87 carry, 95 Stiff Arm and 75 Catch, makes him one of if not the best user friendly full back in the game. Then to spell Felix Jones, you have Tashard Choice, with his overall balance in every category, and his hands make him a 3rd down back.
In order to actually put any of this talent to good use, you have to have a field general. Romo has 92 TAS, 89 TAM, 83 TAD, to go along with 89 TOR and his 73 Speed and and 80 Accel, making Romo a top QB on the game. With all this depth, The Cowboys can also run a hurry up offense, be able to make subs and still keep talent on the field.
Now with the offense out the way, lets go to a defense that has speed in the LB core and a speedy secondary. The Cowboys are fit a to run either a 3-4 or 4 man front, it really doesn't matter. It all starts with the middle with 94 overall rated Jay Ratliff playing DT, or DE/DT Igor with 91 Block Shed. They have 5 guys who clock in at 80 Speed or better, 5 guys who have over 80 Block Shed, and every single Linebacker has 82 Pursuit or better. Oh and if you missed everything I just wrote, they have this guy named DeMarcus Ware and… wait I'll just stop there, I'm pretty sure you're already convinced.
Behind every great pass rush, there is a great secondary. Mike Jenkins and Terrence Newman combine for the 1-2 punch, while Scandrick and Osusu-Ansah are your 3rd and 4th DB rushers. While the safety spot is probably your weakness as a team aspect, you chop it in half because most players user the FS or SS. So while the Cowboys have a solid safety in Sensabaugh at SS, and yourself on the other side of him, the usering of the FS makes up for the lack of Safety skill. Don't get it twisted though, Patrick Watkins and Alan Ball are great Madden safeties, usered or not.
If you want to score a lot of points game in and game out, cheat. If you want to win every game and never lose, glitch. If you want to use a complete teams with matches on offense and defense and give you a chance in any obstacle, use America's team, The Dallas Cowboys.
Written by Wavy Montana