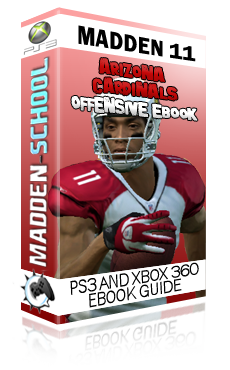 Are you sick and tired of not being able to score on offense in Madden NFL 11? If you are, the Arizona Cardinals Offensive eBook will solve your problems! The plays in this ebook are designed to shred any defense apart with ease. There are zone beaters, man beaters, and even unbumpable routes to counter those pesky nanos. Get this eBook today and enjoy being able to put up 40 points against even the stiffest defensive opponent. Buying the Arizona Cardinal Offensive eBook will make your offense a well-oiled machine incapable of failing!
Only $19.99!!
Formations Featured in this eBook:
Singleback- Tight Doubles (entire scheme just in this formation)
Singleback- Bunch Base
Strong- Twin TE
Shotgun- Tight
Shotgun- Flip Trips
Shotgun- Bunch Wk
Shotgun- Empty Trips
Shotgun- Y-Trips Open
Shotgun- Split Offset
Buy Yours Now For Only $19.99!!