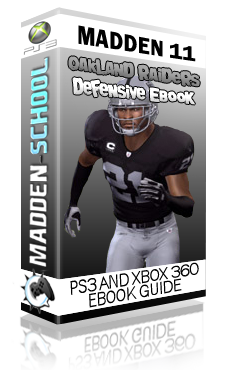 For our newest Madden 11 guide, madden-school is pleased to announce that it was written by Big Game James. If you don't know who Big Game James is, then you are either very new to madden or you have lived under a rock for the last 5 years. He is widely considered as one of the greatest madden gamers of all time.
Play Like A Pro Gamer Today! Only $24.99
Here are just a few of his achievements:
MWS National Champion in 2004
Cleveland Madden Challenge Champion 2006
2 time Players Bowl Champion 2006
Ultimate Players Bowl Champion 2006
4 time LAB Tournament Champion 2009
Baltimore Madden Challenge Champion 2009
For only $24.99, you get to run the defense created by a man who has traveled around the country for the last 8 years making money by beating the best madden players in the world.
The Madden 11 Oakland Defensive Strategy Guide is complete with 9 chapters filled with coverage plays, nanos, and the best run stopper I have ever seen. You can use the concepts in this guide with any defensive playbook and any of the 32 NFL teams. Also, Big Game James throws in his 5 audibles that he actually runs, free of charge.