EA Sports had teased a new scoreboard in Madden 20. The first look at it and some other in-game screenshots have found their way out ahead of EA Play.
Fans have been clamoring for changes to the scoreboard for a few years now and they've finally got their wish.
You can see the first look from the scoreboard in the image at the top of the article.
In that same screenshot, we also see how the new Superstar X-Factor players are identified with Kansas City Chiefs' QB Patrick Mahomes and TE Travis Kelce having a big "X" underneath them.
The screenshot also shows new accessibility features that are a big step forward for Madden.
With the Madden 20 beta coming out next week, you might get to see the new scoreboard and the rest of these improvements in a game yourself.
We've got the rest of the new screenshots below.
We'll first take a look at the intro screen when you first load up the game.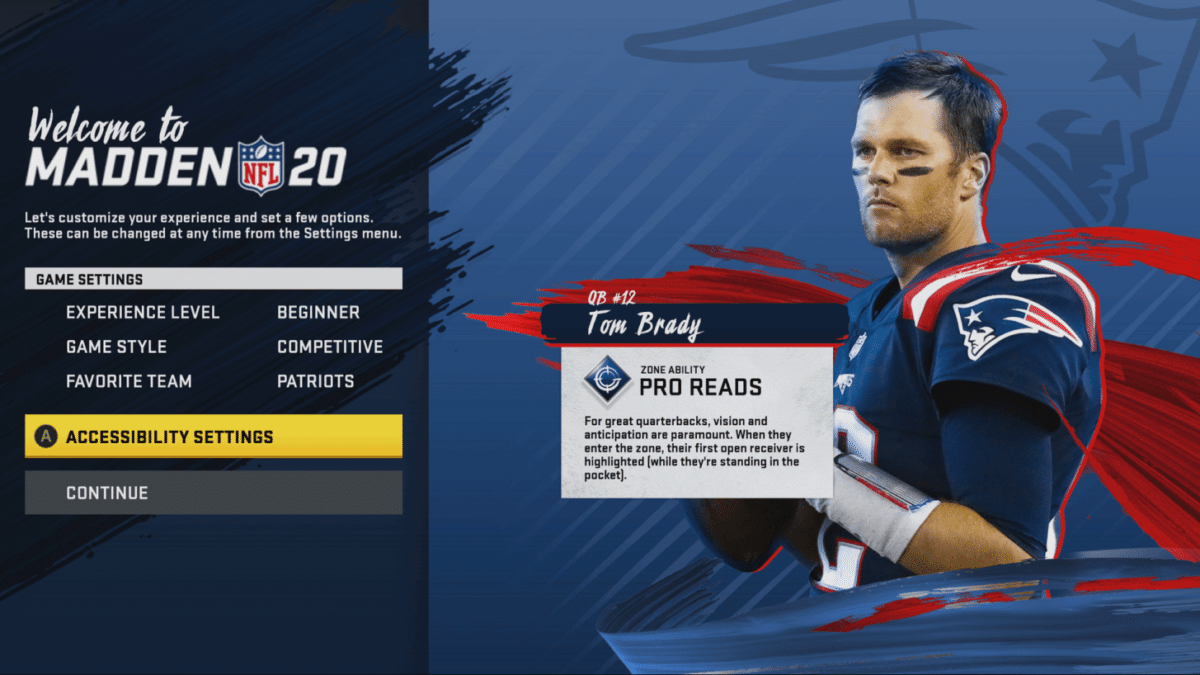 It shows Tom Brady, and his superstar zone ability which is "Pro Reads." It allows him to see a lit up receiver when he gets open as long as he is standing in the pocket.
Additionally, it shows that accessibility settings will now be prominent and shown in an easy to find place.
You can also set your favorite team, preferred game style, and experience level right at the home screen.
The screenshot makes the opening menu look fairly clean and polished.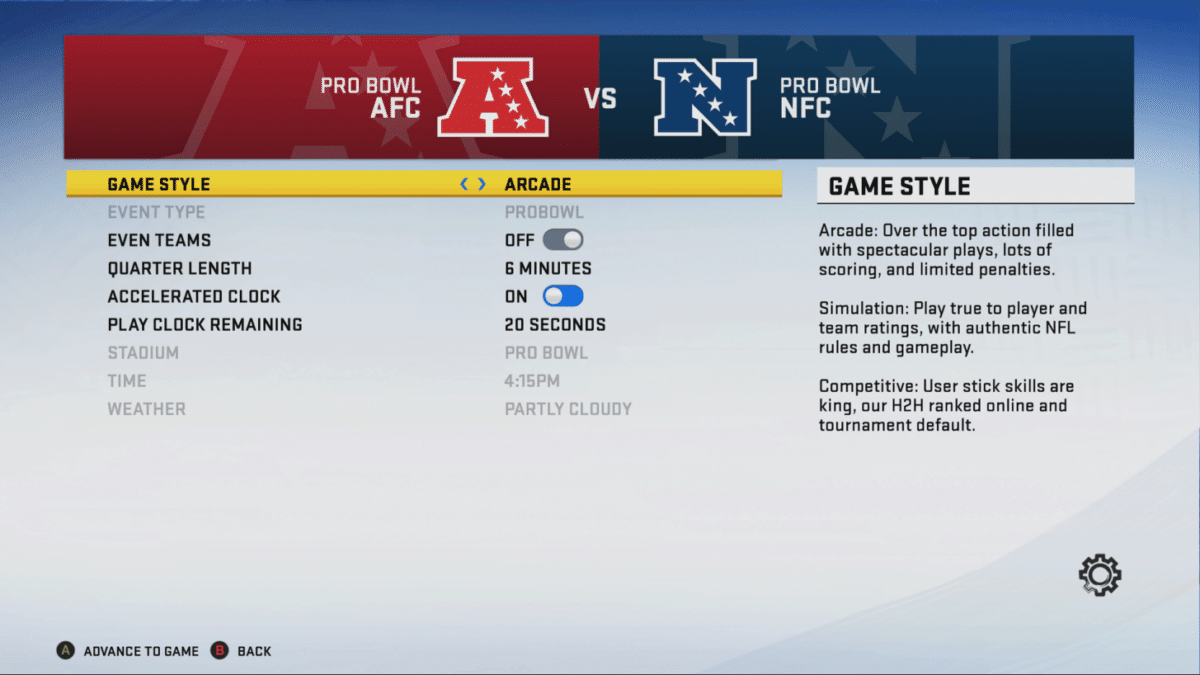 We can also take a look at the screen to set up a Pro Bowl game. It  is pretty standard and not much has changed with it going into Madden 20 except a slightly different look.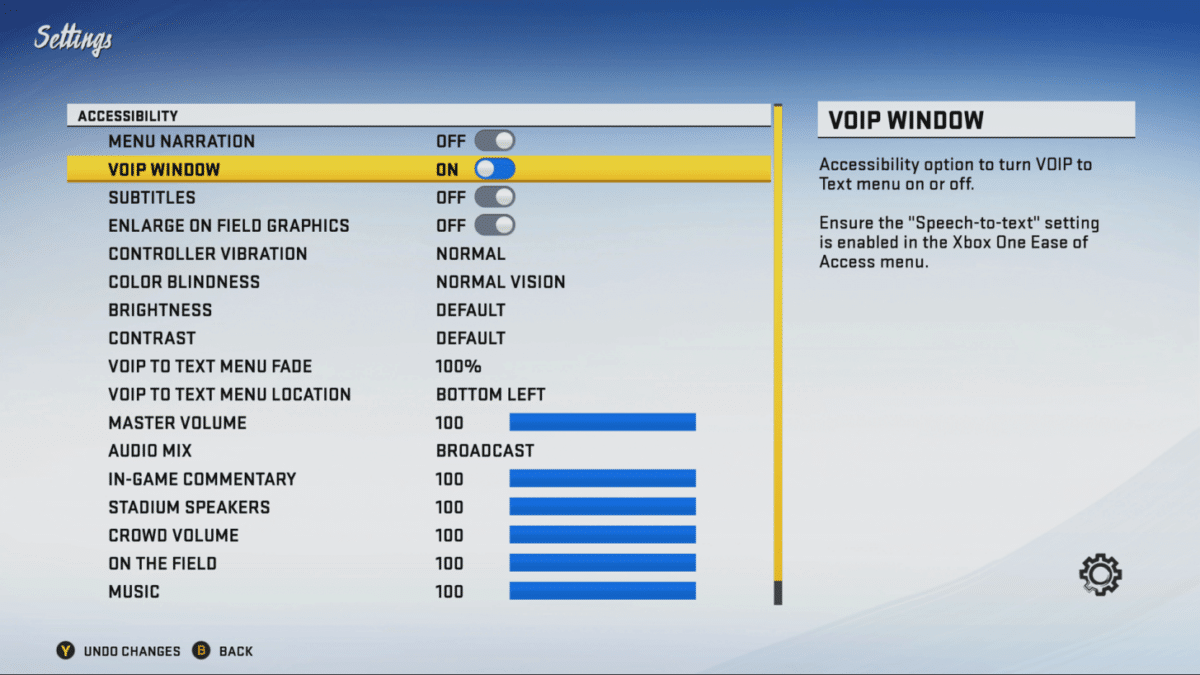 Above you can take a look at a screenshot of the settings menu.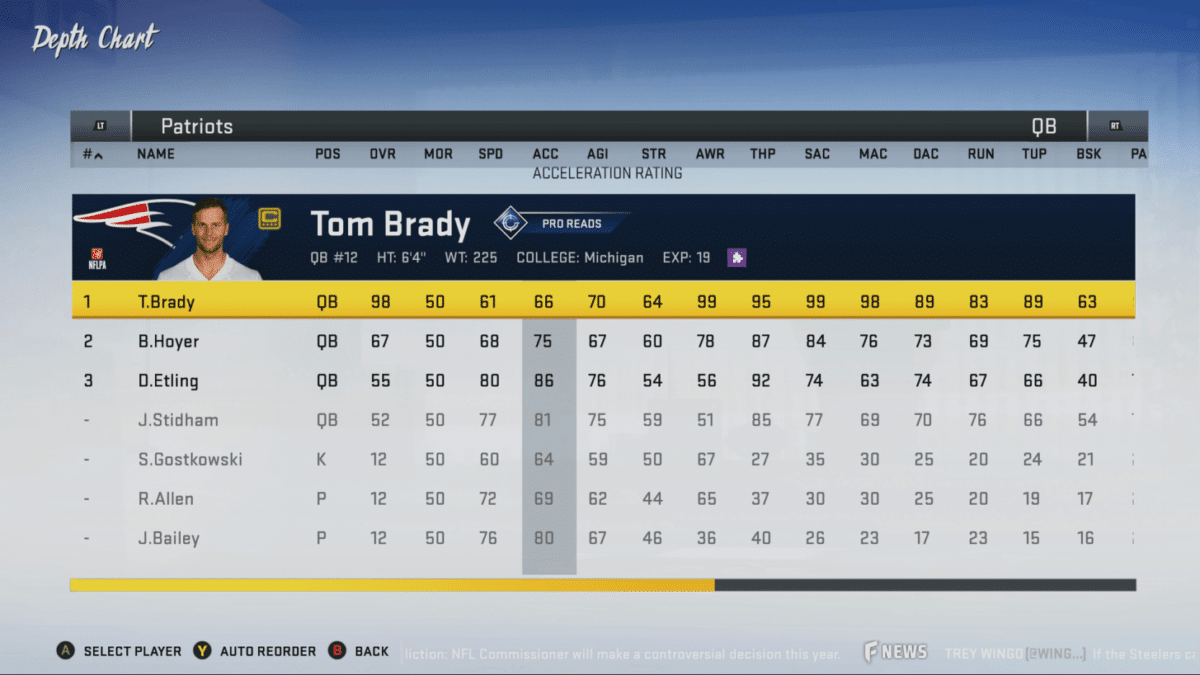 This next screenshot shows the New England Patriots' quarterback depth chart. We see Tom Brady is a 98 overall, Brian Hoyer is a 67 overall, and Danny Etling is a 55 overall.
There overall ratings are a bit higher than most expected after EA announced last month that the Madden 20 ratings would be on a much wider scale.
They claimed that some starters would be as low as 55 overall in order to make superstars feel more dominant.
We can also look at Tom Brady's early detailed ratings with a Throw Power rating of 95, short accuracy at 99, medium accuracy at 98 and deep accuracy at 89.
Remember that these ratings can still change before Madden 20 is released but don't expect Tom Brady's ratings to fluctuate too much.
Do you like the look of the new scoreboard? What are your thoughts on Tom Brady's Madden 20 ratings? Sound off in the comments section below.