Update: The Madden 20 beta will be out from June 14th-June 16th. It is a closed beta so you will need a code in order to play. Make sure to follow Madden School on Twitter, Facebook, and Instagram. If we get extra codes, we will be giving them out to our followers.
The Madden 20 beta is coming as early as next week! Electronic Arts' Madden 20 launch director, Melissa, just tweeted out to expect news on a beta next week.
This follows last year's closed but relatively open beta for Madden 19. The exact wording of the announcement implies that Madden 20 will follow a similar path. You'll need a code but they may not be all that hard to get.
Look for the Madden 20 beta to be available on both the PS4 and the XBOX One (possibly even the PC but no official word on that yet).
Here is the announcement in a since deleted tweet.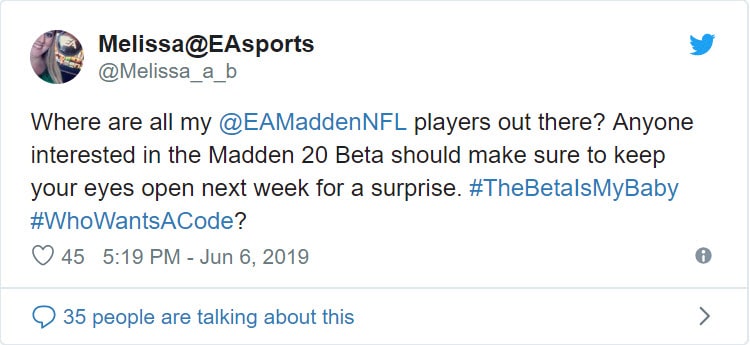 We can only speculate on what actually will be in the beta or how long it will last. However, last year it lasted about 2 weeks and we could play random online head to head matches with default NFL rosters.
We also don't yet know if we will all be sworn to absolute secrecy or whether beta participants will be allowed to comment on it, stream it, etc. Look for more news on the details to come out in the next few days.
Are you excited for the Madden 20 beta? Let us know in the comments below.
It's time to start learning about Madden 20 in our news center!