A theme team is a Madden 21 Ultimate Team that consists of all players who at some point in their careers played for the same NFL franchise. For example, if you're a San Francisco 49ers fan you could make a team that consists of legends such as Joe Montana, Jerry Rice, and Ronnie Lott and put them on a team with modern day stars such as Nick Bosa and George Kittle.
You can reminisce by playing with your childhood heroes while seeing how they would play with your favorites from today. You can also add players such as Deion Sanders and Richard Sherman to your 49ers theme despite the fact that they were better known playing on other teams and only played for the 49ers for a small part of their careers.
To reward people that build theme teams, Madden gives attribute boosts to players on your team from the same NFL franchise.
The more players you have from the same franchise, the better those players will be. The attribute boosts are as follows:
Tier 1: 5 Players

+1 Strength
+1 Impact block

Tier 2: 10 Players

+1 Jumping
+1 Play Recognition

Tier 3: 15 Players

+1 Agility
+1 Change of Direction

Tier 4: 20 Players

+1 Acceleration
+1 Carrying

Tier 5: 25 Players
Tier 6: 30 Players
Tier 7: 35 Players
Tier 8: 40 Players

+1 Agility
+1 Change of Direction

Tier 9: 45 Players

+1 Acceleration
+1 Catching

Tier 10: 50 Players
Note: These tiers are cumulative so as you move down the tier list, you receive the current tier bonuses as well as all bonuses in the previous tiers.
As a MUT player you have 2 main strategies you will want to use when building a theme team:
50/50 – For example, 50 players on your team all from the New York Jets.
25+25 – For example, 25 players from the San Francisco 49ers + 25 players from the Las Vegas Raiders.
50/50: If you are a diehard fan of an NFL franchise your best option is 50/50. Not only will you love all of your players, they will get a lot more attribute boosts, most importantly speed. With +2 speed, you will be able to turn your favorite players into dominant MUT players.
Madden also allows you to pick a physical chemistry to add to your players. If you have 40/40 Sprinters (some players can have multiple) your players will get +2 speed. So if you combine 50/50 Jets Chemistry with a 40/40 sprinter (which gives you an additional +2 speed boost), a 92 speed player would turn into a blazing fast 96 speed player.
This is great for Ultimate Team because rather than seeing the same players on everyone's MUT team, gamers will be able to turn their favorite players into superstars.
Here's what Antonio Cromartie looks like without being a part of a theme team and without equiping the Sprinter chemistry.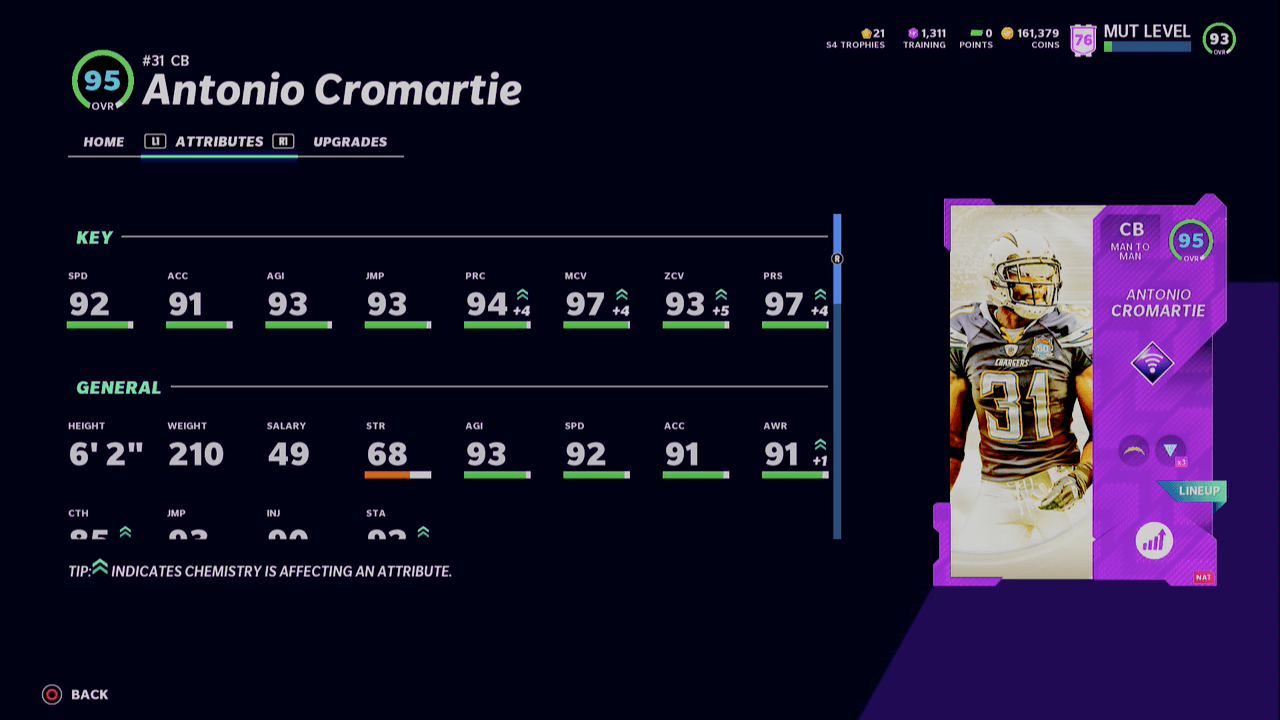 You can see he only has 92 speed and is a 95 overall cornerback with his other chemistries equipped.
However, when we use him as part of a theme team and equip the sprinter chemistry on him, look how scary he becomes.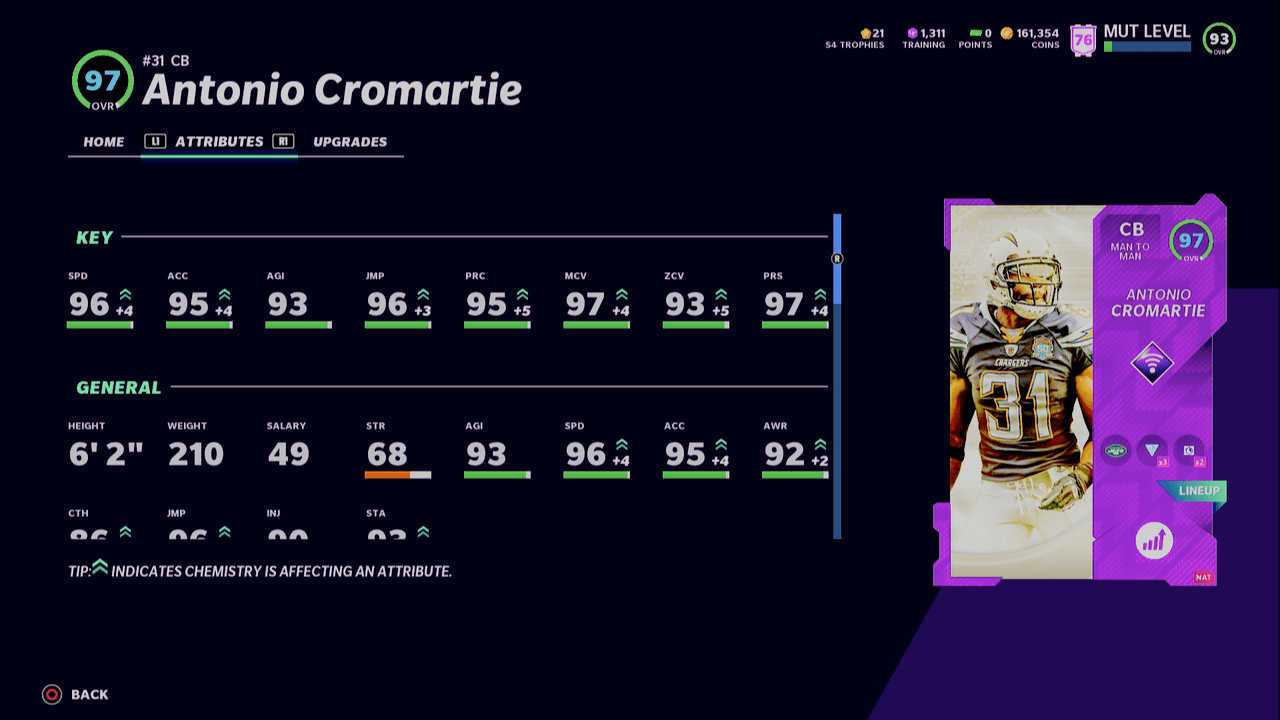 He goes from just a very good cornerback to a truly elite cornerback.
25+25: The second option is for players that either don't have a team that they follow closely, or for players that want to build the best team possible. In this case half of your team will be of players from one team and half will be from another.
This will allow you to take the strengths of one franchise and combine it with the strengths of another. Although you will only get +1 speed on your players, you will most likely do this strategy with the best players in the game so +2 speed won't be necessary.
Another feature in Madden 21 to give more of an incentive to build a theme is adding cards such as Team Captains and Team Diamonds. A normal card gives 1/50 players towards the attribute boosts, but when you are using Team Captain or Team Diamond cards, you can get your theme team to it's goal faster.
When you start Ultimate Team, you begin with 1 of 4 NFL legends as your Team Captain: Aeneas Williams, La'Roi Glover, Eddie George, and Ed McCaffery. In addition to having a legend as a foundational piece to your team, these cards give you 5/50 to the team of your choice.
Here's what a team captain card looks like.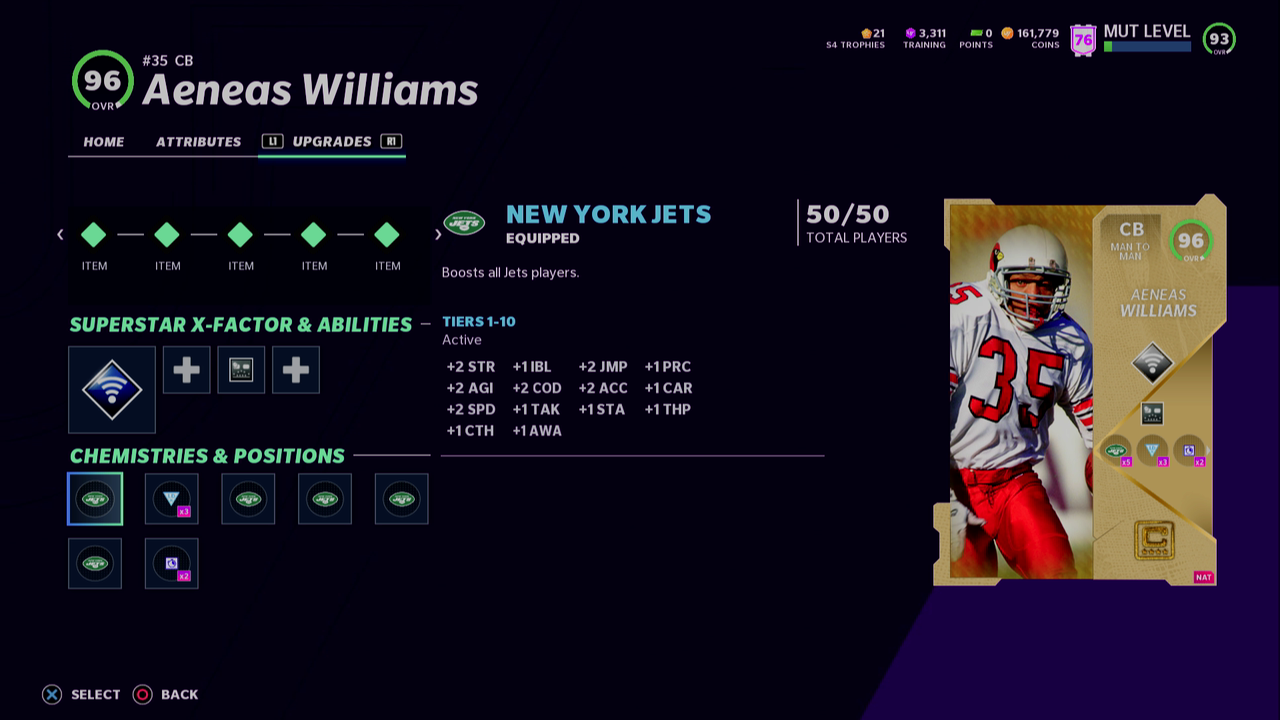 You can see how he is equipped with 5 NYJ team chemistries and because he is a part of a 50/50 theme team he gets all of those extra attribute boosts.
Team Captains will automatically get you to Tier 1 of your theme team. Using them allows you to get to your goal faster, as well as give you a little wiggle room to be able to add a few players to your team that are not a part of the theme team. Those extra players won't get the attribute boosts like those who are a part of your theme team, but if your team has a weakness at a specific position, you'll be able to fill it with any player at that position with no penalty to your theme team.
Team Diamonds are another group of players that follow the same premise, except Team Diamonds give you 3/50 rather than 5/50. Every team in the NFL has one and they can be found in packs and on the auction block.
Here are a few tips on how to build your Theme Team!
Fill your backups with players from your desired Theme Team
You have 25 free slots on your team that you can use to build your theme team. Any player (silver included) from your team will count as 1/50.
Find the Hidden Gems
Think of players that were only on a team for a short period of time (end of career/one year stint). There are some hidden Gems out there.
Utilize your Specialists (3rd Down RB, Slot WR, SUB LB, etc)
Specialists are a great place to sneakily add non-theme players into your lineup. Although they will not be able to have abilities, you will still be able to sub them into the game.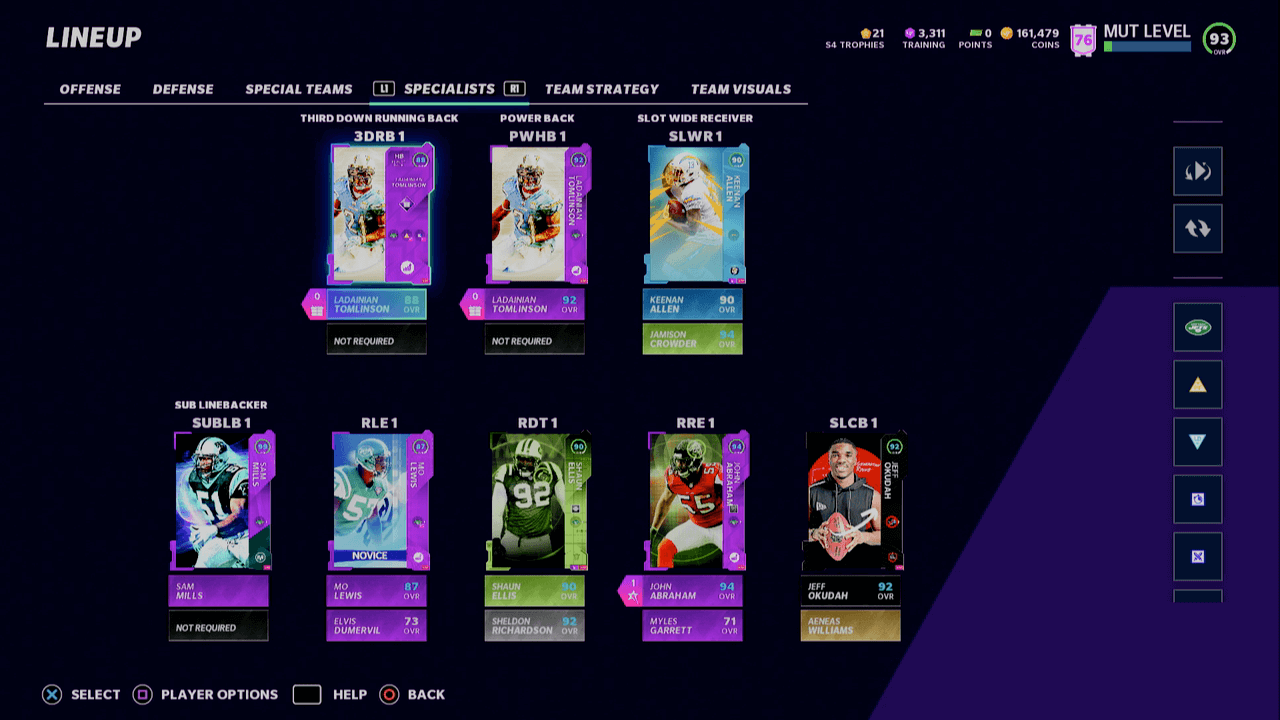 Whether you want to see Brett Favre throw a touchdown pass to Davante Adams or you want to see Lawrence Taylor and Michael Strahan race to the Quarterback, Theme Teams are a great way to have fun with your favorite NFL team!
For a more competitive experience, here are a few of the best theme teams currently in Madden 21:
Las Vegas Raiders
Rich Gannon
Randy Moss
Jerry Rice
Darren Waller
Bo Jackson
Eric Allen
Charles Woodson
Rod Woodson
Washington Football Team
Rich Gannon
Desean Jackson
Terry Mclaurin
Chris Cooley
Shaun Alexander
Troy Vincent
Champ Bailey
Deangelo Hall
Sean Taylor
San Francisco 49ers
Joe Montana
Jerry Rice
Randy Moss
George Kittle
Reggie Bush
Deion Sanders
Richard Sherman
Ronnie Lott
One underrated team you may want to consider using is the New York Jets Theme Team. They are an under the radar team with an amazing secondary consisting of Darrelle Revis, Antonio Cromartie, Ed Reed, Ronnie Lott, and Steve Atwater which really helps to lock up opposing teams' offenses.
What theme teams are you building in Madden 21? Let us know in the comments section below!