Although the NFL season is close to over, the Madden season is still in full swing. As always, the pros at Madden School are continuously scheming and studying all the various game modes plus in game tips and strategy for Madden 18. Today, we're breaking down one of the more vital quarterback ratings in Madden: PAC, or play action passing ratings. These are the 10 best play action quarterbacks in Madden 18.
We're all aware of important quarterback ratings such as Throw Power and Short, Medium, and Deep Accuracy, but many Madden players tend to overlook ratings such as Play Action Passing, or PAC, and Throw on the Run.
10. Dak Prescott, Dallas Cowboys, 87 PAC
Prescott's 81 overall rating is masked by his ability to carry out effective play action passes. The second year quarterback took a little bit of a step back this season, and his Madden rating reflects
his struggles in every area except for his play action passing ability. With RB Zeke Elliott behind him, you should be able to keep your opponent off guard all game using Dak's impressive 87 PAC ability and rating.
9. Jared Goff, LA Rams, 88 PAC

Goff has a nice 88 play action rating, and like Prescott, he's a quarterback who directly benefits from a strong running attack in Todd Gurley. If you can establish the run with Gurley, you'll be able to take full advantage of Goff's play fake ability. His 88 PAC rating makes Goff one of the best play action quarterbacks in Madden 18, and be prepared to cover the play action pass if you come across the Rams in competitive play.
8. Andrew Luck, Indianapolis Colts, 88 PAC
Even though Luck's injury had a big impact on his team's ratings and overall usability in competitive online modes, he's still an elite QB. Luck is rated rather highly in several key quarterback categories including play action passing and throw on the run. Luck doesn't quite benefit from a stud running back like our first two entrants on the list, so you'll have to work harder to set up your opponent for the play fake. Luck's 88 PAC rating is fairly accurate given his ability to run with the ball and make throws outside of the pocket. Watch for Luck's PAC ability when you play the Colts as your opponent is likely to attempt a deep pass to TY Hilton or Donte Moncrief at some point. The Colts offense might not have many weapons, but Luck's play making ability makes up for their lack of talent at skill positions.
7. Drew Brees, New Orleans Saints, 90 PAC
You would think that Brees' play action rating would be a little higher than a 90 given his team's running game and his success throwing play action passes. Nonetheless, Brees has an impressive PAC rating that you can utilize when playing New Orleans. Since most players are ready for the Saints running attack, try setting up the run through the play action pass, and force your online opponents to think about the fake. Mix in a little dual HB sets with Kamara and Ingram, and your competition won't know who to focus on in your backfield.
6. Kirk Cousins, Washington, 91 PAC
Kirk Cousins is the lowest overall rated QB on our list with an 82 overall. However, Cousins has a very strong 91 play action rating, and he can carry out convincing fakes. Your best bet when playing with Washington is to mix up your play calling on offense, and that makes Cousins's high PAC rating incredibly valuable. Keep your opponents guessing by using Cousins's 91 play action rating whenever possible. Time your play action call correctly to catch your opponent in the wrong defense, and you're certain to hit one of the speedy Washington receivers or tight ends with some big play deep balls.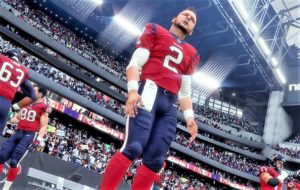 5. Russell Wilson, Seattle Seahawks, 91 PAC
Wilson and Cousins both share a 91 PAC rating, but the one thing that puts Russell over the top on Cousins is his incredible throw on the run rating. This makes Wilson all the more dangerous on bootlegs and roll out passes where he can get into space and make big throws down the field. You don't really have to spend a lot of your time on offense setting up the play action pass by running the ball since Wilson can escape pass rushers and run with the ball. Add in the fast, speedy receivers on the Seattle offense and you have the makings for a deadly and nearly unguardable offensive attack.
4. Aaron Rodgers, Green Bay Packers, 93 PAC
Rodgers is unlocked after the latest roster update made all the injured players available once again. Get ready to see more of the Packers in online play, and be ready for Rodgers play action passing attack. Since he does so many things so very well, Rodgers's PAC rating tends to get lost in the fray and forgotten about by opponents. Factor in Green Bay's extremely deep receiving corps, and you'll have your hands full if you let Rodgers get his passing game going by using the play fake. Don't forget that Rodgers is also a threat to run with the ball once he gets outside the pocket, and you'll probably want to utilize some contain on certain passing downs. Also, a spy here and there to combat his all around running and throwing capabilities can serve you well when trying to defend the Packer offense.
3.  Philip Rivers, LA Chargers, 94 PAC
Rivers has one of the highest play action passing numbers in the game at a 94 rating. Rivers is only rated an 84 overall, but that isn't a reflection of his ratings or ability. The veteran passer has a plethora of weapons on offense, and the Chargers can hurt you in many different ways including the play action passing game. If you use the Chargers, then you know RB Melvin Gordon is one of the better backs in the game, especially when it comes to running the ball between the tackles. Set up your play action attack with some Power O or Blasts and you'll likely have wide open receivers and tight ends.
2. Matt Ryan, Atlanta Falcons, 95 PAC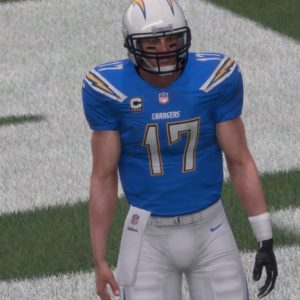 You might not think of Matt Ryan as a proficient play action passer, but he can carry out a play fake with authority in Madden 18. As is the case with some of the other QB's on our list, Ryan has a couple of great running backs next to him in the backfield. If you can break off a few runs with Devonta Freeman and Tevin Coleman, then you'll be able to dial up the play action passes all game long. Hit a few of those passes, maybe a deep ball to Julio Jones, and your opponent won't know who to defend first, giving you the ability to dictate on offense. Once you can start doing that, your chances of winning go up tremendously.
1. Tom Brady, New England Patriots, 99 PAC
Tom Brady should probably be rated 99 overall in Madden 18, but until that happens, just be content with his gaudy 99 play action passing rating. Brady's ability to carry out the play fake doesn't depend on his running back, or his offensive weapons. Instead, Brady's able to carry out the hardest play fakes in Madden 18, and if you can manage to run the ball just a bit, then you should be set up for play action play calls all game long.
Brady's ability to play fake is only intensified by the presence of TE Rob Gronkowski who is the game's top rated player at the tight end spot, and who is a match-up nightmare for opposing defenses. Safeties, linebackers, corners, none of them can cover Gronk, and if you can get the play action pass working over the middle of the field, your opponent is in serious trouble. Mix in the speed of a WR like Brandin Cooks and you've got a deadly play action attack that is, at times, indefensible.
That does it for our 10 best play action quarterbacks in Madden 18. Think we should have included more on our list of passers? QB's such as Cam Newton, Matt Stafford, and Derek Carr just missed making our list, and certainly they deserve some attention for their solid PAC ratings. What are some of your favorite ways to set up the play action pass? Do you like to wait until your opponent stops your run first? Maybe you break out a play action pass to start the game. As always, feel free to share your thoughts and ideas in the comments section below.
Want access to every professionally developed ebook made for Madden 18 by the pros at Madden School? Of course you do. Don't wait any longer and sign up for your Madden School Unlimited Membership today. Register now and gain instant access to all of our Madden 18 ebooks plus 24/7 live support. Take your game to the next level with a Madden School Unlimited Membership today, and you'll be ready to start schooling the competition tonight.