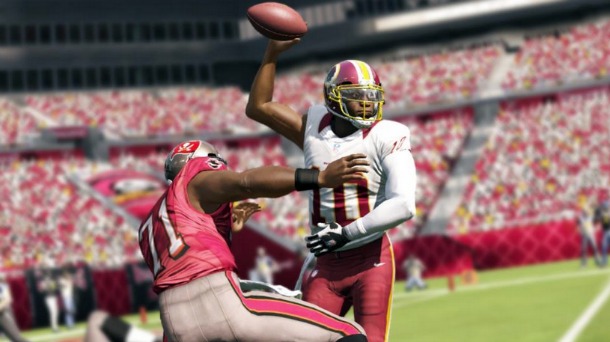 There are 3 super human players in Madden 25: Calvin Johnson, Adrian Peterson, and Robert Griffin III.  The Redskins are lucky enough to have Robert Griffin III on their team and because of that they should be an extremely dangerous team in Madden 25.  We have the full breakdown below.
Team: Washington Redskins
Offensive Strategy: Option.  Alfred Morris is a very good power back in Madden 25 and you already know how amazing RG3 is.  The Redskins also have speed at receiver and a solid tight end in Fred Davis when you want to mix in a few passes.
Defensive Strategy: Pressure The Quarterback.  Brian Orakpo and Ryan Kerrigan form a top 5 pass rushing duo in Madden 25.  Those 2 guys alone should be able to get after the quarterback.  London Fletcher and DeAngelo Hall will be able to make plays behind them.
Impact Players: QB Robert Griffin III, HB Alfred Morris, WR Santana Moss, WR Pierre Garcon, TE Fred Davis, LB Brian Orakpo, LB Ryan Kerrigan, LB London Fletcher, CB DeAngelo Hall, S Brandon Meriweather
Key Newcomers: CB David Amerson, S Bacarri Rambo, WR Donte Stallworth
Biggest Strength: Robert Griffin III. The guy is pretty much superman in this game.  He has the passing ratings of an elite pocket passing quarterback and the running attributes of a speedy running back.  If you learn to use him well (instead of trying to use him by just randomly running around like most people do) then you will be just about unstoppable.
Biggest Weakness: Lack of true stud wide receiver.  The Redskins have some fast and pretty decent wide receivers, but no one you can count on to come down with a catch in traffic on a crucial 3rd down.  This team doesn't have too many true weaknesses though.
Rating: Very Good.  With a roster update or 2, this team could make its way into the great category.  The Redskins have unlimited potential in Madden 25 but aren't at the level of the 49ers and Seahawks yet.