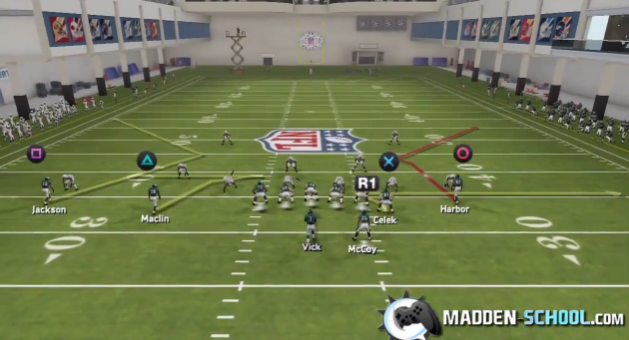 One of the most common requests that we receive at Madden-School.com this year is for ways to beat a 2 man under defense in this year's game. For those of you who don't know, a 2 man under defense just means that the defense is in man to man coverage with both safeties in deep (dark blue) zones. We dove into the New England Patriots playbook and came out with a great way of beating the 2 man under defense.
Playbook: New England Patriots
Formation: Gun Ace Wing TE
Play: PA Pats Corner
How To Beat 2 Man Under Defense in Madden 13
Setup:
Hot route your running back to block
Reads:
Your primary read on this play is your square/X receiver
If he is covered, both your slot receiver and tight end should be open against 2 man under
Madden-School.com Pro Tip: This play works best if you use a receiver who has good speed and route running as the square/X receiver.
Be sure to check out our New Houston Offensive eBook with 10 formations and 42 plays that will have you lighting up the scoreboard in no time.