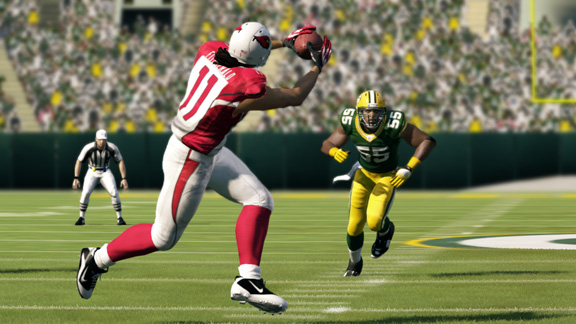 It is the 4th quarter and the game is on the line.  You have pride and money riding on the outcome of the game.  In this situation, wouldn't it be cool to know which players will perform best in Madden 25?  Lucky for all Madden gamers, there is such a list and it can be found below.
CB Darrelle Revis (TB)
CB Champ Bailey (DEN)
FS Eric Weddle (SD)
FS Ed Reed (HOU)
FS Charles Woodson (OAK)
HB Marshawn Lynch (SEA)
HB Ray Rice (BAL)
HB Frank Gore (SF)
HB Maurice Jones-Drew (JAX)
K Rob Bironas (TEN)
K Adam Vinatieri (IND)
K Matt Prater (DEN)
LT Joe Thomas (CLE)
MLB Patrick Willis (SF)
MLB Derrick Johnson (KC)
QB Aaron Rodgers (GB)
QB Tom Brady (NE)
QB Peyton Manning (DEN)
QB Drew Brees (NO)
QB Joe Flacco (BAL)
QB Ben Roethlisberger (PIT)
QB Eli Manning (NYG)
QB Tim Tebow (NE)
RE Justin Smith (SF)
RE DeMarcus Ware (DAL)
RE Jared Allen (MIN)
ROLB Clay Matthews (GB)
SS Troy Polamalu (PIT)
TE Jimmy Graham (NO)
TE Antonio Gates (SD)
WR Calvin Johnson Jr. (DET)
WR Andre Johnson (HOU)
WR Larry Fitzgerald (ARI)
WR Steve Smith (CAR)
WR Anquan Boldin (SF)
WR Santonio Holmes (NYJ)
WR Mario Manningham (SF)
Which players don't deserve to be on this list?  Which players do you think were left out?  Let us know in the comments section.