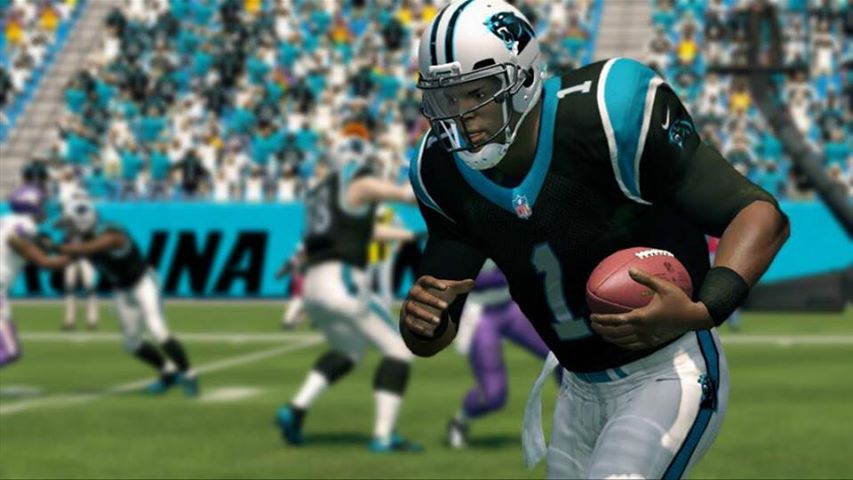 The Carolina Panthers have Cam Newton who is one of the most overlooked offensive weapons in Madden 25.  Everyone loves to talk about Robert Griffin III but Cam Newton has a very similar skill set.  With Newton and a few other good players, the Panthers will be a formidable, though not great, team to use in Madden 25.
Team: Carolina Panthers
Offensive Strategy: Read Option – You have to take advantage of the speed and break tackle ratings that Cam Newton has.  You have a few good running backs at your disposal as well.  You should mix in the read option with some passing plays since you have a good tight end in Greg Olsen and a few speedy receiving weapons in Steve Smith and Ted Ginn Jr.
Defensive Strategy: Make big plays – Luke Kuechly and Jon Beason are Madden studs while Charles Johnson can get after the quarterback.  The secondary is a little weak so you will have to try to force a few turnovers and run ball control on offense.
Impact Players: QB Cam Newton, HB Deangelo Williams, HB Jonathan Stewart, WR Steve Smith, TE Greg Olsen, LB Luke Kuechly, LB Thomas Davis,  LB Jon Beason, DE Charles Johnson
Key Newcomers: WR Ted Ginn Jr, DT Star Lotulelei
Biggest Strength: Speed on offense and elite linebackers – The Panthers have the talent on offense to cause matchup problems in Madden 25.  The Panther's linebackers are easily a top 3 in the NFL group in terms of Madden skills.
Biggest Weakness: Secondary – The Panthers have struggled in the secondary (when in comes to Madden NFL games) for the last 5 -10 years.  They don't have the pieces necessary to stop the kind of offense that is so prevalent in  Madden 25.
Rating: Average – The Panthers are one of those teams where if you know how to use them, you can do just fine online.  If you are new to the Madden franchise and don't really know what you are doing, they probably shouldn't be your first choice.