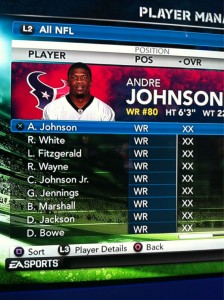 With Madden 12 rapidly approaching, we decided to break down the top 5 receivers in the upcoming game. Our information is based on overall player ratings released by EA Sports at the E3 conference this month.  Keep in mind that a high overall player rating does not always translate into on-field madden dominance.
5. Calvin Johnson Jr- Lions
Calvin Johnson Jr may only be the 5th best wide receiver in madden 12 in terms of ratings, but his on-field playing ability will be second to none.  Madden has always been all about physical tools and Megatron has plenty of those.  His 6'5" frame with a 42" vertical jump and 4.3 speed amounts to a madden machine.    The Detroit Lions will be a formidable Madden 12 team largely because of Calvin Johnson's skills.  There may not be a player in madden that means more to his team.  Look for Calvin to go in the top 10 overall in many fantasy drafts this year.
4. Reggie Wayne- Colts
Reggie Wayne is one of the most boring receivers that madden has ever saw.  He doesn't have great speed, strength, height or explosiveness.  However, because of his amazing catch ratings and route running ability, he still is one of the more dangerous receivers in madden.  With Peyton Manning's pinpoint accuracy, Wayne is good for a good 10 catches a game.  By putting Wayne and Dallas Clark on the same side of the field, you put the defense in a compromising position.  If you send Reggie Wayne on the short crisp routes in madden 12, you will open up the deep pass for speedsters like Pierre Garcon.
3. Larry Fitzgerald- Cardinals
If Fitzy had a halfway decent quarterback over the last 2 years (See Madden 09 with Kurt Warner) he would still be 1 or 2 on this list.  The Cardinals still haven't found a long-term replacement for either Kurt Warner or Anquan Boldin which puts even more pressure on Fitzgerald.  He has all of the physical skills one looks for in a madden receiver except the almighty speed rating.  Fitzgerald's rating could rise or fall rapidly based on if a halfway decent qb emerges from the Cardinals crop of qb's.
2. Roddy White- Falcons
Roddy White is the most dangerous players on one of the most dangerous offenses in madden 12.  The Falcons have everything a good madden offense needs with Matt Ryan, Michael Turner, Tony Gonzalez and Roddy White.  You will want to use Roddy White's speed and playmaking ability to keep the opposing defense from overplaying the run or double teaming Tony G.
1. Andre Johnson- Texans
Johnson is the complete package in both the NFL and Madden 12.  He is the most unstoppable wide receiver in any since Randy Moss in Madden 08.  He can run any route against any defense and get open 9 times out of 10.  Look for him to have the same or better speed and strength ratings that he has had over the past few years which completely neutralizes the overused bump-n-run defense used by all of the top madden nfl 12 gamers.  Andre Johnson is one of the biggest threats in this year's game.
Madden 12 Honorable Mention Receivers
Greg Jennings
Brandon Marshall
Desean Jackson
Dwayne Bowe
How do you think should be rated higher in madden 12 and who should not have made this list.  Let us know in the comments section or in our madden 12 forum.