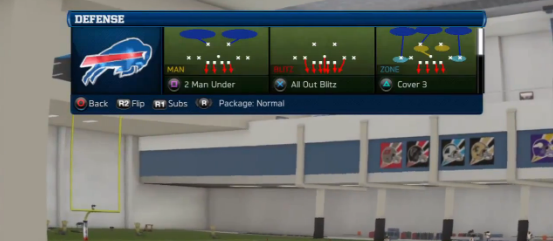 The easiest way to tell if someone is new to Madden 13 is simply by taking a look at their offense.  Most new players love to throw streak routes 50 yards downfield to their best receiver.  Why do they do this? There are 2 main reasons: Because it is the quickest way to score points, and more importantly, because it works every now and then.  Most seasoned veterans know that is a terrible approach and an easy way to get demolished but if 2 "noobs" are playing against each other, the defender will likely bring a heavy blitz just about every play which leaves those deep streak passes open.
The cover 3 defense in Madden 13 does a great job of letting no receiver get behind a defender, especially on the outside.  Like any defense it has plenty of weaknesses but you will very rarely get beat deep.
To make the cover 3 defense even better, we like to manually change both defenders in the light blue flat zones, to purple buzz zones.  Again the purpose of this is to keep everything in front of you.  Your opponent will be able to easily dink and dunk down the field, but unless you are playing an experienced Madden gamer, your opponent is bound to take at least 1 shot deep per drive, and that it when you start to force turnovers.