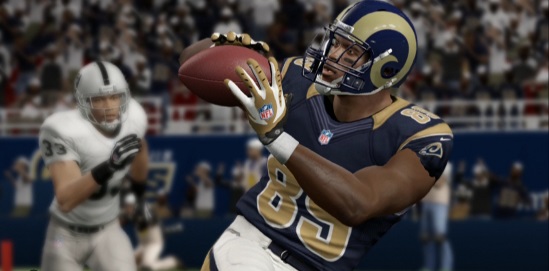 The St. Louis Rams have an under the radar team but still should be competitive in Madden 25.  Continue on for our full breakdown of this year's virtual St. Louis Rams team.
Team: St. Louis Rams
Offensive Strategy: Get the ball to your playmakers.  The Rams have solid playmakers on offense in wide receivers Chris Givens and Brian Quick as well as tight end Jared Cook.  When you add the most electrifying rookie in this year's NFL draft in Tavon Austin you have a pretty good offense.
Defensive Strategy: Balanced.  The Rams have 2 solid cornerbacks, a decent pass rush, and good linebackers.  None of the position groups are all that remarkable but at the same time none of them are all that bad either.
Impact Players: QB Sam Bradford, HB Darryl Richardson, HB Isiah Pead, WR Tavon Austin, WR Chris Givens, TE Jared Cook, DE Chris Long, LB Alec Ogletree, LB James Laurinaitis, CB Cortland Finnegan, CB Janoris Jenkins, K Greg Zuerlein
Key Newcomers: WR Tavon Austin, WR Steadman Bailey, TE Jared Cook, LB Alec Ogletree
Biggest Strength: Speed.  The Rams have all kinds of speed this year.  Make sure to use their speed to your advantage.
Biggest Weakness: Quarterback.  Sam Bradford isn't a bad Madden quarterback by any means but in order to be an elite team in Madden 25, you need an above average quarterback.
Rating: Above Average.  The Rams are a few favorable roster updates away from being a good team.