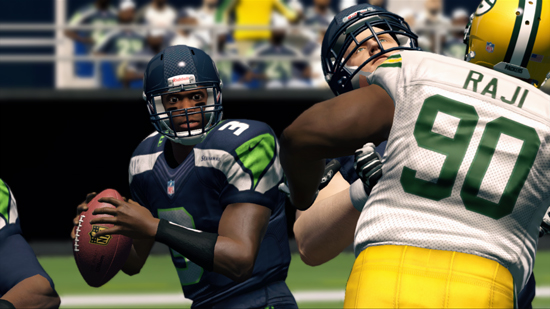 The Seattle Seahawks are an elite team in Madden 25.  Some have them as the best team others have them as a close second to the 49ers.  We have the full Seahawks analysis below.
Team: Seattle Seahawks
Offensive Strategy: Run the football.  The Seahawks have a good mobile quarterback, a solid offensive line, a beast running back, and even a receiver who has stats like a running back in Percy Harvin.  You should be able to run the ball all game as long as you mix in a few passes every nowo and then.
Defensive Strategy: Whatever you want.  The Seahawks have elite players at every position in Madden 25.  Whats more impressive is that they have incredible depth at most positions as well.  You have a lot of freedom with this Seahawks defense.
Impact Players: QB Russell Wilson, HB Marshawn Lynch, WR Sydney Rice, WR Percy Harvin, WR Golden Tate, TE Zach Miller, DE Chris Clemons, DE Cliff Avril, DE Bruce Irvin, MLB Bobby Wagner, CB Richard Sherman, CB Brandon Browner, CB Antoine Winfield, S Kam Chancellor, S Earl Thomas
Key Newcomers: WR Percy Harvin, TE Luke Willson, DE Cliff Avril, CB Antoine Winfield
Biggest Strength: Everything.  This team is stacked everywhere.  There are so many good players on this team it is hard to pinpoint just 1 strength.
Biggest Weakness: None. The Seahawks have no real weaknesses in Madden 25.
Rating: Elite.  This is either the top team in Madden 25 or a close 2nd to the 49ers.