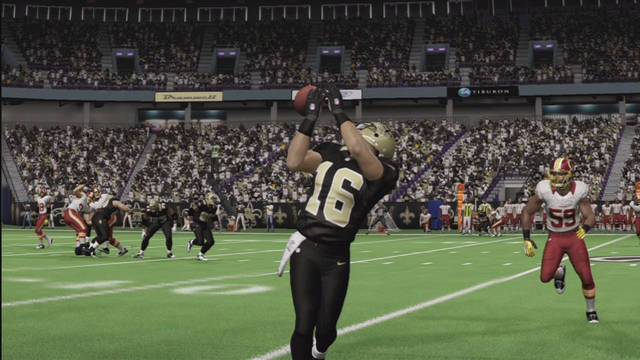 The Saints have always been a good yet under the radar team in Madden NFL games.  Look for the Madden 25 Saints to be in a fairly similar place.
Team: New Orleans Saints
Offensive Strategy: Smart Passing – The Saints have a top 5 passing qb in Drew Brees and all sorts of receiving options.  Don't limit yourself to just throwing deep or short.  There are receiving threats at running back, wide receiver, and tight end.  Mix it up and your opponents will struggle stopping you.
Defensive Strategy: Force turnovers.  The drawback to using the Saints is that their defense is pretty awful.  Your best bet is to try to force a turnover or 2 every game and handle your business on offense.
Impact Players: QB Drew Brees, RB Darren Sproles, TE Jimmy Graham, WR Marques Colston, LB Curtis Lofton, S Malcolm Jenkins
Key Newcomers: S Kenny Vaccaro
Biggest Strength: Offensive firepower.  The Saints have very good players at all the offensive skill positions as it relates to Madden 25.  Your opponent should never be able to key on just 1 or 2 guys.
Biggest Weakness: Defense. Most people who choose the Saints probably go into it knowing that their defense is a huge liability but feel comfortable enough lighting up the scoreboard for that not to matter.  Nonetheless, be aware that this is not a very good Madden defense.
Rating: Above Average.  The Saints high powered offense more than compensates for their lackluster defense.  Nonetheless, this is not a team you want to play with against an elite level Madden 25 team like the 49ers.