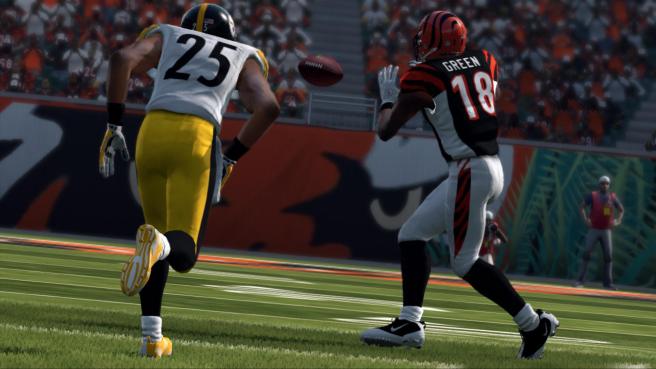 The Cincinnati Bengals have been a sleeper team for a long time in previous Madden gamers but they will be on everyone's radar for Madden 25.  We have the full breakdown below.
Team: Cincinnati Bengals
Offensive Strategy: Short passing game.  Ratings czar, Donny Moore, has never been too kind to Bengal's QB Andy Dalton by giving him throw power ratings in the mid to high 80's.  That takes away from the ability to utilize star wide receiver A.J. Green in the deep game.  Until rookie running back Giovanni Bernard gets some ratings love, it will be best to use him in a speed back role.
Defensive Strategy: Whatever you want.  The Bengals have so much talent on defense strictly in Madden 25 terms.  They have speed everywhere, high ratings and tons of depth.  They are every Madden gamer's dream on defense.  A 4-3 defense is probably recommended but they have enough versatility to run pretty much any defense you want.
Impact Players: QB Andy Dalton, WR A.J. Green, TE Tyler Eifert, DE Margus Hunt, DT Geno Atkins, CB Dre Kirkpatrick, S Taylor Mays, S Reggie Nelson
Key Newcomers: OLB/DE James Harrison, TE Tyler Eifert, HB Giovanni Bernard, DE Margus Hunt
Biggest Strength: Defensive speed, talent, and depth.  Outside of the hugely overpowered 49ers, the Bengals have the top defense in Madden 25.  Speed at every position and high ratings where it counts will be a nightmare for opposing offenses.
Biggest Weakness: Running game/offensive line.  Drafting Giovanni Bernard was a huge step forward but there is still much to be desired.   It was nearly impossible to run consistently with the Bengals last year.  Until Bernard gets some rating boosts from roster updates, it will still be an uphill battle in the trenches.
Rating: Good.  The Bengals are a top 10 Madden 25 team.  If Andy Dalton were to see an increase in throw power to around 92 this team would be a top 3-5 team easily.
Let us know your thoughts on the Bengals in Madden 25.  Did we miss someone? Disagree with something?  Leave a comment below.