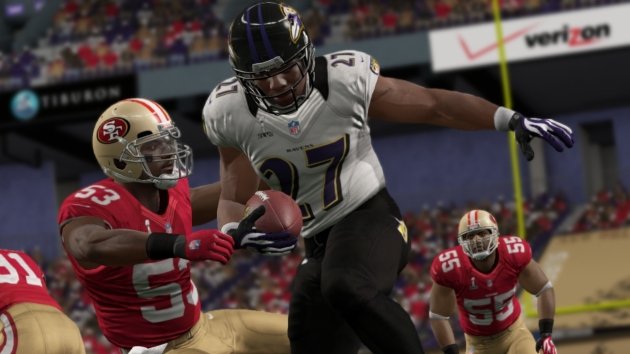 Today we start our series of breaking down all 32 teams in Madden NFL 25.  Who better to start with than the defending Super Bowl Champion Baltimore Ravens?  The information discussed below is only as it relates to Madden 25.  We will include some players who aren't very good on Sundays but are awesome in Madden and we will leave out some beasts in the NFL that don't make much of an impact in Madden.
Team: Baltimore Ravens
Offensive Strategy: Balanced.  Traditionally, the Ravens have been a team that has a game managing QB and a dominant running back.  This year the Raven's have good Madden receivers as well as a good running back and quarterback allowing you to run a balanced offense.
Defensive Strategy: 3-4 Blitz Heavy.  With Elvis Dummervil and Terrell Suggs coming off the edge, you would be stupid not to use the Ravens defense to bring pressure.
Impact Players: QB Joe Flacco, HB Ray Rice, WR Torrey Smith, OLB Terrell Suggs, CB Lardarius Webb, DE Haloti Ngata
Key Newcomers:  DE/OLB Elvis Dummervil, DT Chris Canty, FS Matt Elam, MLB Arthur Brown
Biggest Strength: Balance.  There are plenty of teams that are built for one style of play in Madden 25, but the Ravens are not one of those.  They have a balanced offense and an always solid defense.
Biggest Weakness: Secondary.  With Ed Reed gone, all the Ravens have in the secondary is Lardarius Webb and possibly rookie Matt Elam.  In a pass heavy game like Madden always is, you need a speedy and good secondary which the Ravens no longer have.
Rating: Very Good.  The Raven's are absolutely a top 5 Madden team but they don't get enough love from the people in charge of ratings to be considered elite.  If Ed Reed and Ray Lewis had stuck around for 1 more year, the Ravens would be placed in the elite Madden team category but unfortunately they fall just short this year.
We want to hear your additions, disagreements, and thoughts in the comments section below.  If we missed a player or made a mistake, let us know and we will be happy to add to our Madden 25 Ravens team breakdown.