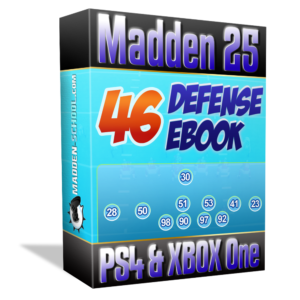 The Madden-School.com 46 Defensive eBook for PS4 and XBOX One is now available.   It focuses on coverage plays that do a good job of slowing down the run as well, but we also have plenty of very quick nano blitzes.
Here is one of the plays found inside the 46 Defense eBook:
Madden School 46 eBook Preview For PS4 and XBOX One
Play: Buzz Weak 3
Setup:
Base Align
Shift Dline to the left
Reblitz all linebackers (RB/R1 + Down on right stick)
Hot route both DT's to yellow zones or a yellow zone and a qb spy
Control the SS and user defend the right side of the field
In the 46 Defense eBook, we will teach you schemes from the following formations:
46 Normal (We dive really deep into this formation)
46 Bear
46 Bear Under
3-4 Solid
And we also briefly touch on a play or 2 in these formations as well:
Dime Normal
Dime Flat
Quarters 3 Deep
The 46 Defense eBook is only $24.99.  If you are struggling with defense in Madden 25 on the PlayStation 4 or XBOX One, the 46 eBook will definitely help you out.

Instant Access! Only $24.99!