It looks like Madden fans will have to wait a little longer to start playing Madden 21.
The days of having 1 release date where everyone starts playing are long behind us. Depending on which edition of Madden 21 you get, here is when you can expect to get your hands on the game.
The official Madden NFL 21 release date is set for Friday, August 28th, 2020.
You can play 3 days earlier than that if you pre-order the MVP Edition which comes out on Tuesday, August 25th, 2020.
And if you are an EA Access subscriber, you can play a limited trial of the game (usually 10 hours of play time) 5 days before the MVP Edition comes out. That means EA Access subscribers can start playing on Thursday, August 20th.
Madden 21 will be available on those dates for PlayStation 4, XBOX One and PC. It will be available at launch for the PlayStation 5 and XBOX Series X. The release dates of those consoles haven't yet been announced but are expected in the fourth quarter of 2020.
EA Sports accidentally revealed the Madden 21 release date a bit ahead of their planned schedule. The big reveal was scheduled for Monday, June 1st but in the description of that YouTube video (since taken down), they outted Madden 21's release date.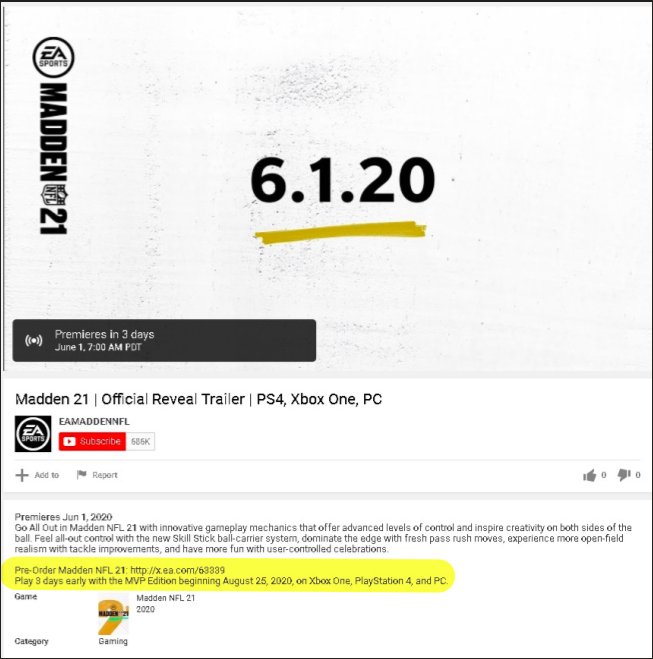 You can also see that EA Sports is advertising a few new features. The text in the image may be a bit hard to read so we've copied it below.
"Go all out in Madden NFL 21 with innovative gameplay mechanics that offer advanced levels of control and inspire creativity on both sides of the ball.

Feel all-out control with the new Skill Stick ball-carrier system, dominate the edge with fresh pass rush moves, experience more open-field realism with tackle improvements, and have more fun with user-controlled celebrations."
From the sounds of it, the Skill Stick ball-carrier system is the big innovation this year but we will have to wait until Monday to find out exactly what that will be.
What are you most excited for in Madden 21? Let us know in the comments!