Madden NFL 19 Ultimate Team features several different types of players such as Team of The Week, Legends and more. New players are added to each category seemingly once a week. This helps keep the game mode full of new players, challenges and it also keeps it competitive to an extent. This week, in particular, there are a couple of new players added to the Rising Stars category. Here are two of the new Rising Stars added to this week's lineup in Madden Ultimate Team.
New to this year's Madden Ultimate Team is the Rising Stars group of players. The Rising Stars are young players who are, at times, fairly unknown, but who are making a big impact both for their teams and on the league. EA typically drops one defensive player and one offensive player each week in their Rising Stars. You can acquire Rising Stars by completing challenges and earning them through successful completion. You can also boost your Rising Stars by adding Rising Star Collectibles to the original player card, and you will see those players' overall ratings go up.
CB Shaquill Griffin, Seattle Seahawks
Griffin has really began to come into his own as of late and is being rewarded in Ultimate Team with his own Rising Stars player that is now available in packs. His Rising Star rating is set at an 82 overall. After upgrades, you can boost Griffin up to an 88 overall.
Griffin's original attributes are still very respectable, and he'll make a great addition to any Ultimate Team roster.
SPEED: 90
ACCELERATION: 90
MAN COVERAGE: 84
ZONE COVERAGE: 82
PRESS COVERAGE: 85
QB Deshaun Watson, Houston Texans
It's no surprise Watson is a Rising Star as he has been one of the best young QB's in the game for two years running. However, after a shaky start to his season, Watson has started to rebound, landing him on the Rising Stars Ultimate Team list.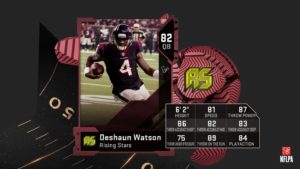 THROW POWER: 87
SHORT ACCURACY: 86
MED. ACCURACY: 82
DEEP ACCURACY: 83
THROW ON THE RUN: 89
Watson has a lower medium accuracy rating than his deep throw rating, which is somewhat of an oddity when it comes to Madden ratings. However, you can definitely work with an 82 overall QB who can throw on the run and who has decent accuracy across all categories. The collectible upgrades are the same as Griffin's where you can boost Watson up to an 88 overall – an incredible rating for a QB this early in the MUT season.
Want more Madden 19 Ultimate Team? Be sure to check back weekly for new content and our Team of the Week spotlight.
Also, be sure to check out our professionally written and developed Madden 19 ebooks. Sign up for a Madden School Unlimited membership today, and start taking your opponents to school tonight!