Madden 19 will release 2 weeks earlier than normal with the regular edition being available on Friday August 10th, and the Hall of Fame Edition releasing 3 days before that on Tuesday, August 7th.
Madden NFL games had historically been released in early August until about 5 years back when EA Sports decided to push the release date into late August to better align with the start of the NFL season.
Terrell Owens will be on the cover of Madden 19 Hall of Fame Edition.  The HoF edition costs $79.99 at release while the normal edition will be available at $59.99.  Check out the cover artwork below.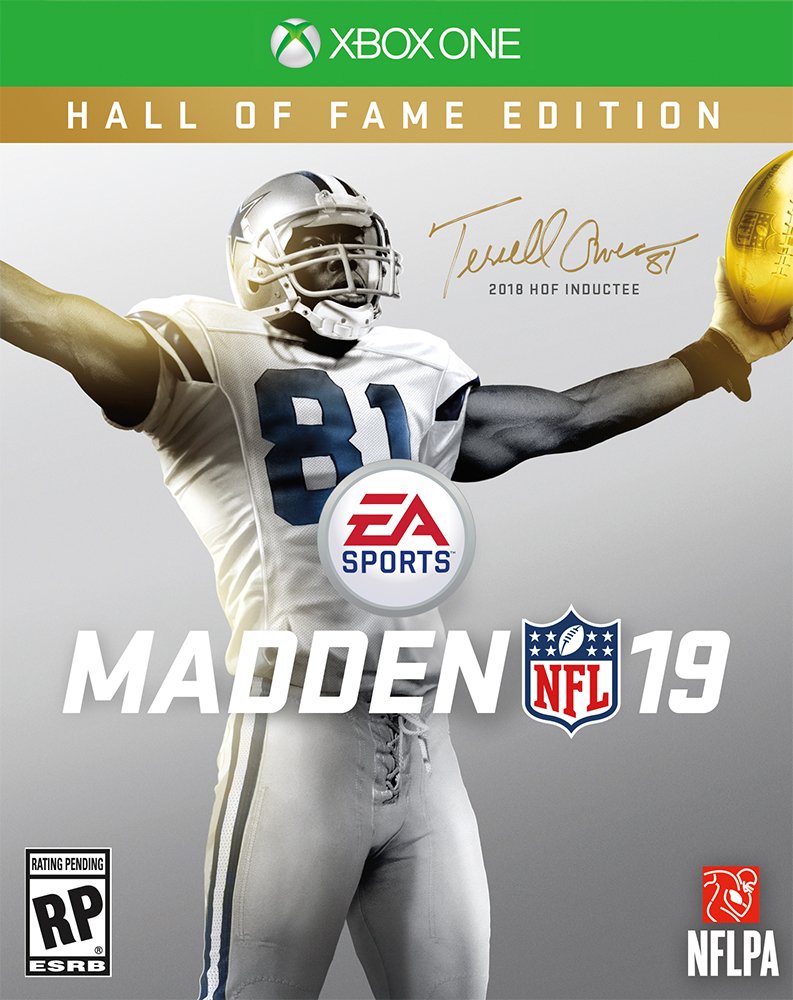 There is also an EA Sports sponsored video that is pretty amusing that you can watch below.
Things Madden Players Say (HOF COVER REVEAL) ???#EAPartner pic.twitter.com/pdMHAK4H82

— Cameron Magruder (@ScooterMagruder) May 25, 2018
We also have the first screenshots from Madden 19.   The first shows an matchup between the the New York Football teams and shows rookie running back Saquon Barkley finding a running lane.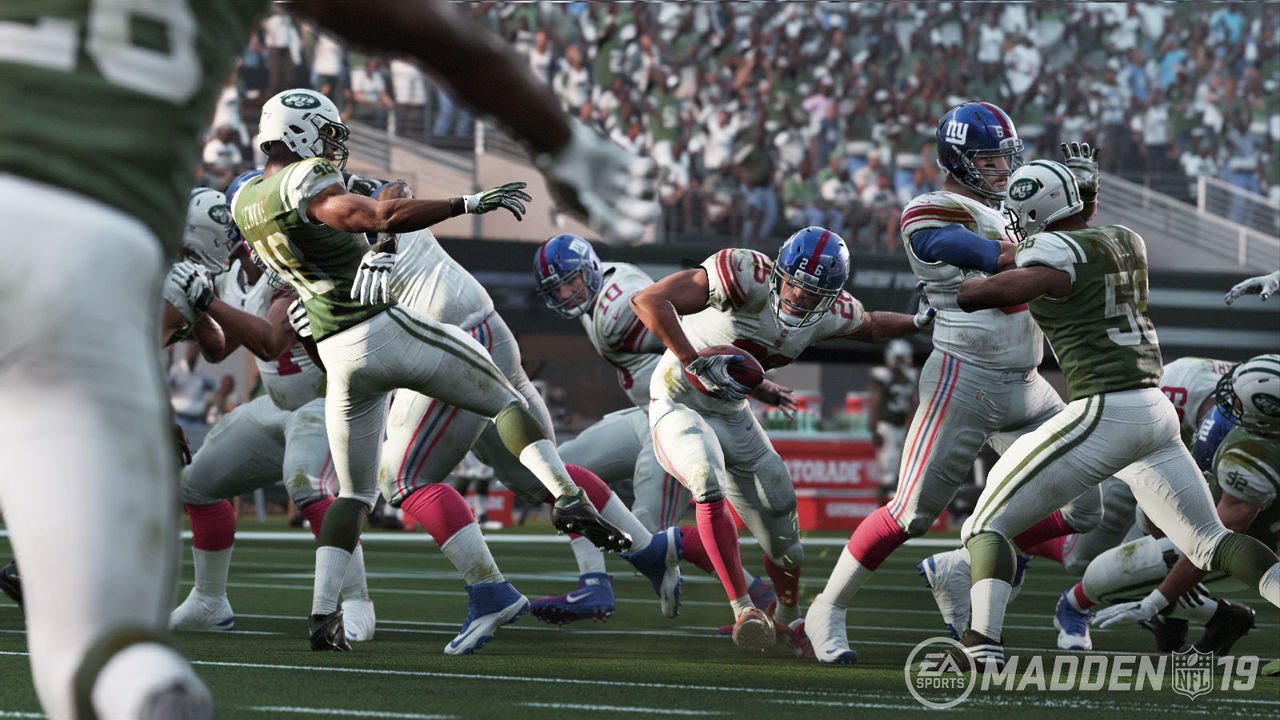 The second screenshot shows T.O. celebrating after a big play in what has to be in the Madden 19 Ultimate Team game mode.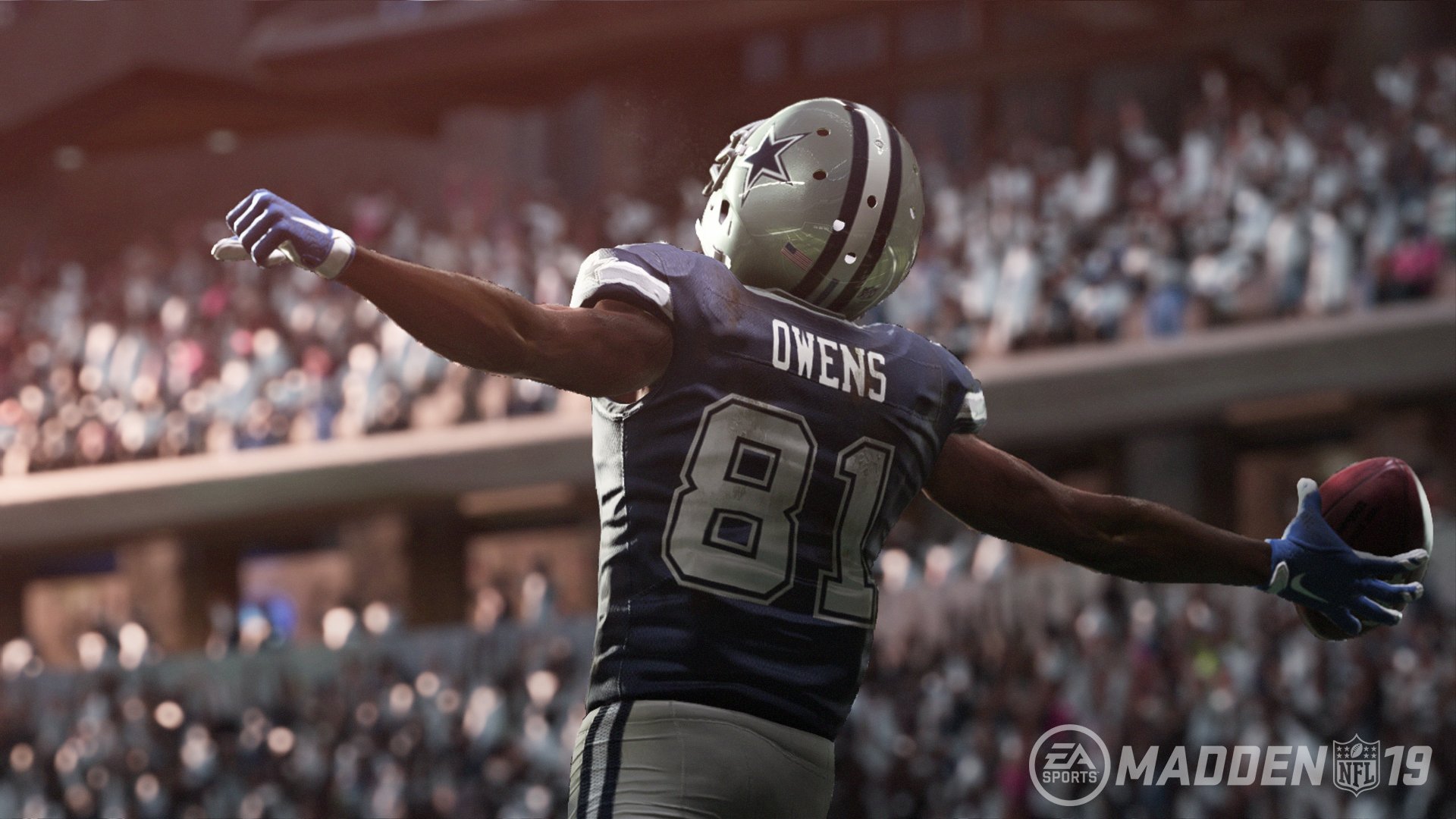 Another shows the Steelers celebrating in their typical style.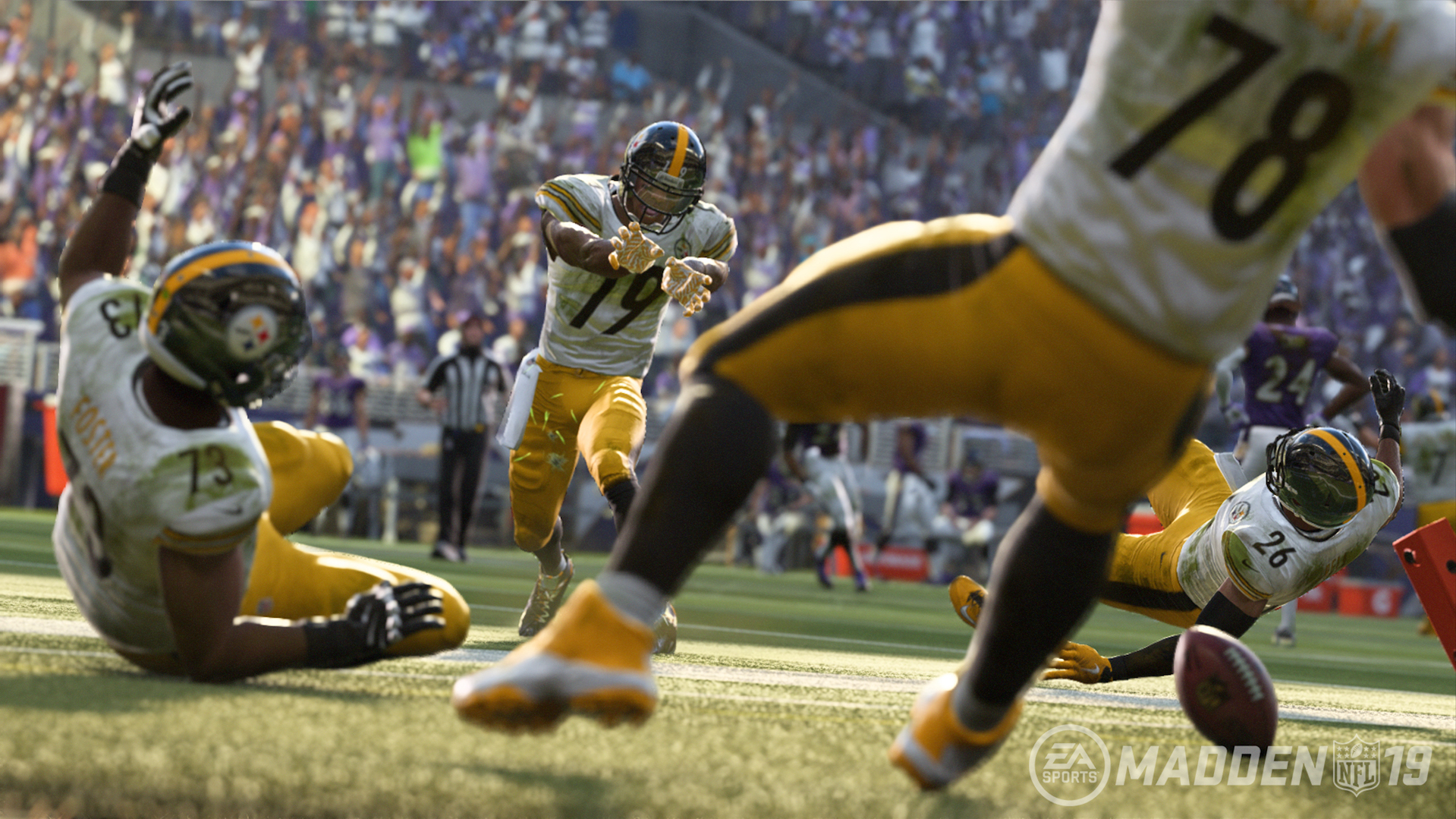 The last screenshot shows Richard Sherman on his new team covering Terrell Owens.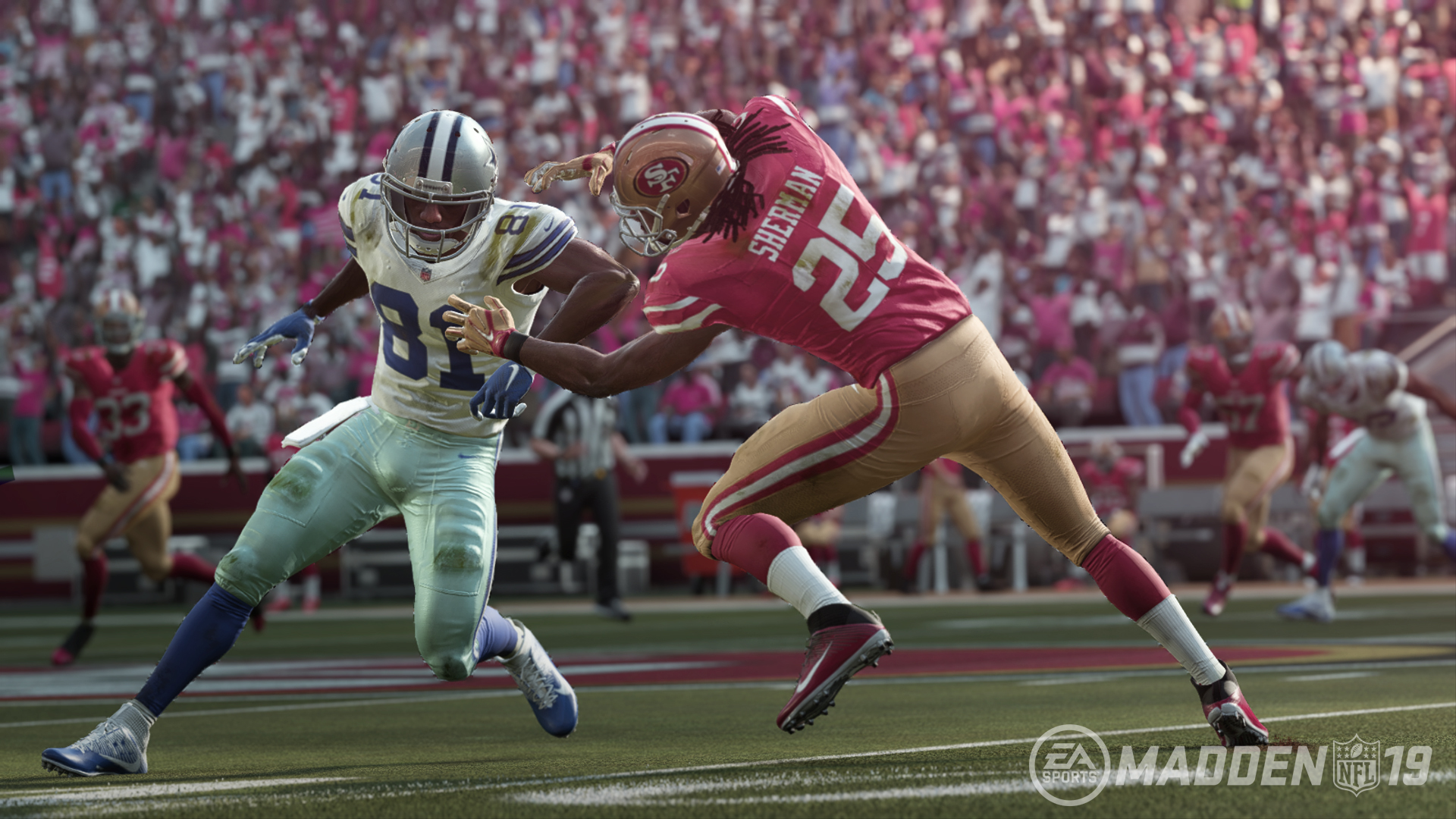 A few of the early advertised features in Madden 19 are:
Custom Draft Classes For Franchise Mode:  Custom Draft Class Creator: Create, share, and import custom draft classes inspired by your favorite players from the past and present.
Zone Coverage AI:  Authentic NFL zone coverage principles better equip defenders with necessary intelligence and techniques to counter offenses more effectively.
One Cut: Control your ball carrier to change direction, avoid the tackle, and accelerate toward the end zone.
Hit The Home: Allows your ball carrier to find the open lane, maneuver around your opponent, and seamlessly run through the lane for extra yardage.
Push The Pile: Power through defenders at the line of scrimmage for that critical inch to get a first down or touchdown.
Franchise Building Concepts:
Schemes
Scheme Selection: Build your roster to best fit your gameplay style with authentic offensive and defensive schemes and be rewarded with individual player and overall team rating boosts when your players and schemes align.
Depth Chart Positions: Designate players to fill specific roles that best fit your scheme on both sides of the ball and on special teams.
Player Development
Positional Archetypes: Your scheme determines which archetype is best for each position. Each positional archetype comes with strengths and weaknesses, making your decisions about who to build your team around much more important. Choose from up to four archetypes at each position on offense and defense to fit within your selected schemes.
Skill Points System: A new Skill Points system provides a more seamless and balanced method for player development. Earn XP on the field to earn Skill Points to help boost a player one OVR point. Each Skill Point upgrade will permanently boost multiple ratings related to the selected archetype.
Presentation:
Signature Styles: NFL Superstars move and react like their real-life counterparts showcasing their unique personality and mannerisms in game.
User-Controlled Celebrations: Celebrate your way with a full collection of fan-favorite signature celebrations and bring the swagger of today's NFL.
The Madden 19 news and features release schedule can be seen below.
Madden 19 Ultimate Team: 5/28
Gameplay: 6/4
Enhanced Controls: 6/9
Franchise: 6/11
Presentation: 6/18
Graphics: 6/25
Ratings Reveal: July
As more Madden NFL 19 news is released, we will be the first to pass it along to you. What are you most excited to see in this year's game?  Let us know in the comments.