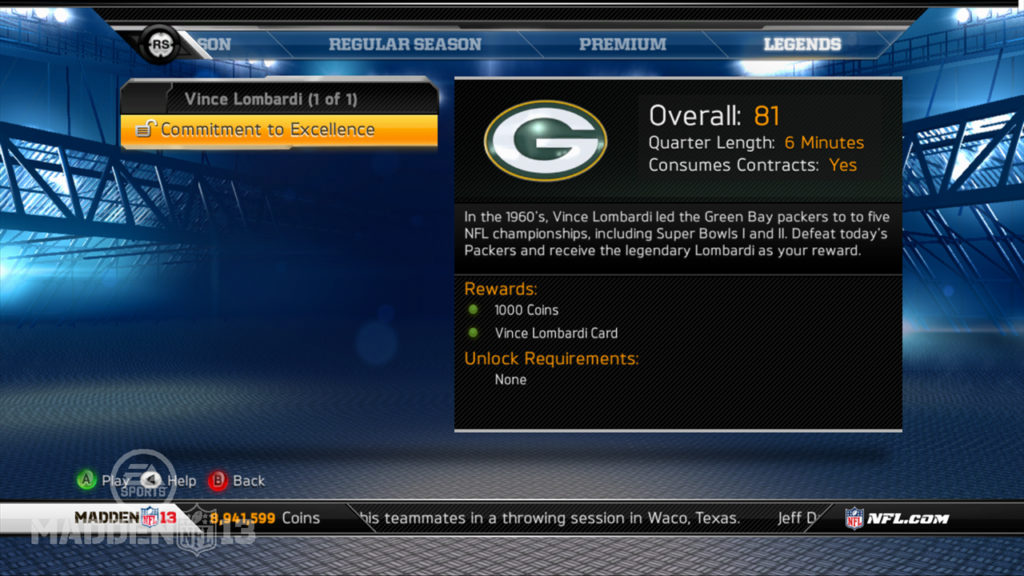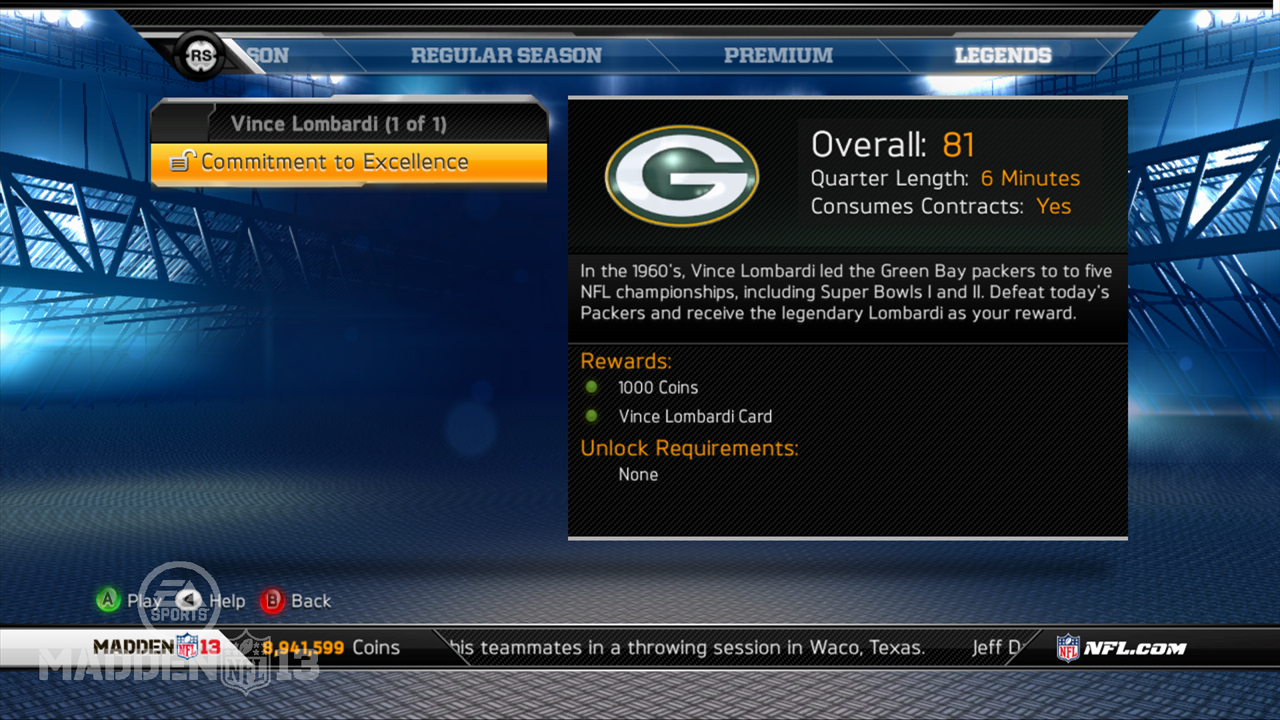 Madden ultimate team or MUT as some gamers call it enters its 4th season and each year it has been constantly improved.  In Madden 13, ultimate team will see improvements in card management, gameplay, and content.  For those of you unfamiliar to MUT here is how Tom Lischke, Madden ultimate team producer, describes it:
[quote]In this mode you accumulate cards to create your dream team composed of current NFL stars and the Legends of the game. Starting with your free starter team, build your roster through auctions, trades, game rewards or by adding players through card packs. You can also complete collections with your cards to unlock some of the best players in the game. But the best part is that you get to take the team you have created and test it against other Ultimate Teams or against scenarios we set up each week.[/quote]
In Madden 13 you will get a starter team and a captain along with a coach and uniforms.  If you are a returning player from MUT 12, you may have access to some rewards based card packs in a section called the, "Gridiron Club Loyalty Rewards Section."  If you had the 30 rookies released in Madden 12 such as Robert Griffin III and Andrew Luck, you will be able to carry them over into Madden 13.
A few notable changes in MUT 13:
You no longer have to buy coin packs.  All of the packs will be available for coins at launch
Bundles of packs will be available for a discounted price
Auctions are much improved
Restrictions based on the tier of the card have been removed
One of the best new features in Madden 13 ultimate team is the reserve card area.  You are no longer restricted to just 100 cards.  You can move extra cards into reserves and move them back at any time.
The video below does a good job of going over extra information on Madden Ultimate Team 13.
Madden NFL 13 Ultimate Team Trailer - HD
We are considering adding a special section on the
Madden-School Forum
for Madden ultimate team so please take a moment and submit a response so we know how much community support their is.
[poll id="8″]