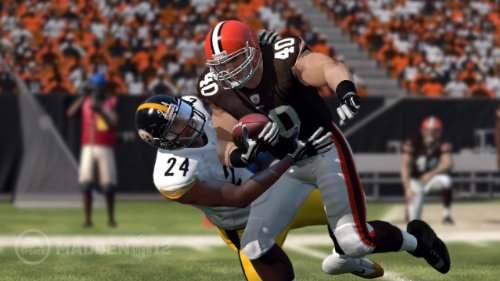 The Madden 12 soundtrack has been officially released.  This year's madden playlist includes 22 songs.  You can see the full madden nfl 12 soundtrack along with the title's and artists below.
6 Foot 7 Foot – Lil Wayne featuring Cory Gunz
All Around The World – Theophilus London
Architects – Rise Against
Award Tour – A Tribe Called Quest
Back For More – Five Finger Death Punch
Boom – Snoop Dogg featuring T-Pain
Bridge Burning – Foo Fighters
Champion – Chipmunk featuring Chris Brown
Colours – Grouplove
Don't Play Me Close – David Rush
Get Up – KoRn vs. Skrillex
Get The —- Up – Yelawolf
Ghetto Dreams – Common featuring Nas
I Want It All/We Will Rock You – Queen featuring Armageddon
Last Man Standing – Asher Roth featuring Akon
Make Some Noise – Beastie Boys
Mind Your Manners – Chiddy Bang featuring Icona Pop
Money for the Weekend – Alberta Cross
On Ya Mind – Mellowhype
Pass Out – Tinie Tempah
That Ain't Classy – Classified
They Reminisce Over You (T.R.O.Y) – Pete Rock & C.L. Smooth
What do you think about the songs in madden 12?  Let us know in the comments section below.