Madden 12 Offensive eBook Preview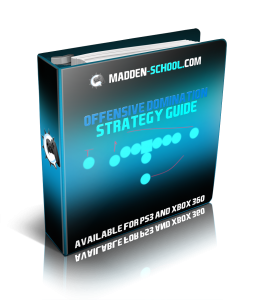 The moment you all have been waiting for is here! You can now purchase your Madden-School Offensive eBook for Madden 12. We spent about 100 hours in practice mode labbing this ebook up for you guys. It was long, boring, and tedious but we are thrilled with the end result and we know you guys will be too.
The Madden-School Offensive Domination eBook for Madden 12 Includes:
28 Great Money Plays
28 HD Videos
10 Chapters full of detailed madden strategy content
Complete written breakdowns accompanying every play
The ability to use it with any of the 32 NFL teams
Buy now for only $24.99 and get a jump on the competition. Instant Download! No Waiting!
All of the plays in our offensive domination ebook for madden 12 can be found in the Pittsburgh Steelers offensive playbook. So if you are someone who wants to use a custom playbook, you can just import the plays into your playbook. If you don't want the hassle of having to make a custom playbook and you just want to win right away, then you can hop right on Madden 12, choose the Steelers playbook and you are ready to start crushing your opponents.
The offensive domination ebook covers plays in the following formations:
Gun Snugs (Absolute Money)
Gun Split Close
Gun Spread Y-Slot
Gun Trio
Gun 5 Wr Trips
Singleback Pitt Doubles
Singleback Bunch
Singleback Jumbo
Strong Close
I-Form Tight
I-Form Tight Pair
Weak Flex Twins
Our ebook will help you win money games, win your local tournament and make your friends look silly. Don't waste your time sitting in practice mode endlessly searching for plays that work. If you are serious about madden, pick up a copy of our Offensive Domination eBook for Madden 12 today! Only $24.99!