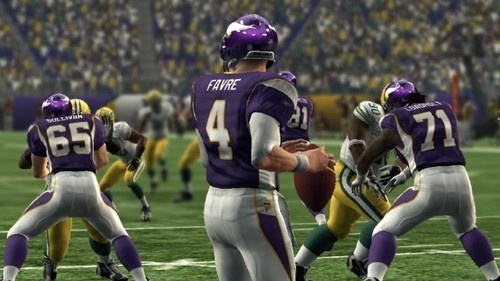 The Madden 11 Soundtrack was unveiled to the public a few days ago.  For those of you who are curious, it has a lot of rock on it and features real stadium songs.  View the full list of songs below:
AC/DC — Thunderstruck
Archie Eversole — We Ready
Blur — Song 2
Bush — Machinehead
Guns N' Roses — Welcome to the Jungle
Kevin Rudolf featuring Lil' Wayne — Let It Rock
Kiss — Rock and Roll All Nite
Ozzy Osbourne — Let Me Hear You Scream
Ozzy Osbourne — Crazy Train
The Hives — Tick Tick Boom
Todd Rundgren — Bang the Drum
Ying Yang Twins featuring Homebwoi — Halftime
Rock N Roll Part 2 — as made famous by Gary Glitter
We Will Rock You — as made famous by Queen
Crowd Chant — as made famous by Joe Satriani
Kernkraft 400 — as made famous by Zombie Nation
Chicago Bears — Bear Down Chicago Bears
Detroit Lions — Gridiron Heroes
Green Bay Packers — Go Packers Go!
Miami Dolphins — Miami Dolphins #1
Minnesota Vikings — Skol Vikings
Philadelphia Eagles — Fly Eagles Fly
Washington Redskins — Hail to the Redskins
Let us know your thoughts on the soundtrack in the comments section.