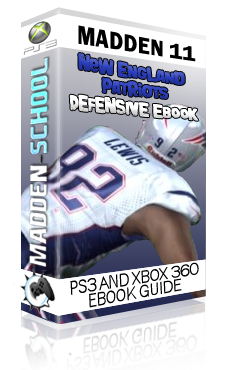 Madden-School.com has released its first defensive strategy guide for Madden 11.  This is an eBook you will not want to pass up.  We have something for everyone.  Run stoppers, max coverage plays, man/zone blitz combos, and, of course, nanos. Below are actual video clips from our Madden 11 New England Patriots Defensive eBook:
Get Yours Now For Only $24.99!!!
Formations covered in this eBook:
3-4 Normal
3-4 Under
3-4 Over
3-4 Solid (You will love this formation, once you learn to use it correctly)
Nickel Normal
Nickel 1-5-5 Prowl
Nickel 3-3-5 (Another great formation)
Quarter Combo
You can get your copy and start dominating your opponents from day 1 of Madden season.  We have been working hard trying to find the best formations, and defenses for you.  Whether you like the 3-4 or not, the concepts learned in this ebook can be carried with you to any defense, however you are unlikely to use any other playbook after you see the tricks we have in the New England defensive playbook. Don't wait! eBooks get sent directly to your email after checkout.  You can start dominating your opponents in as little as a few minutes!
 Get your copy now! Only $24.99!!!