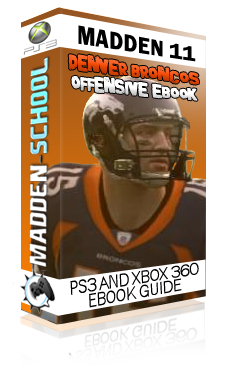 The Denver Broncos Offensive eBook is undoubtedly our best ever. You can use this offensive eBook with any of the 32 teams in Madden 11. We tested it online, offline, and against all-madden defense. Oh and did we mention it is the size of 2 ebooks? Imagine trying to defend against an opponent who has over 40 plays in his arsenal that all work consistently. It would be impossible. You will be giving your opponent nightmares.
The Madden 11 Denver Broncos Offensive eBook Includes:
41 Money Plays
41 High Definition Videos
Full Written Breakdowns including pre-snap adjustments, reads, and play overview
12 Unique Chapters
No need to be good with the strategy pad, we have plenty of plays that work with minimal adjustments
Our professional suggestions for your 5 audibles
Buy Now for only $24.99
Whether you like to run, pass or do a little bit of both this eBook will have you lighting the scoreboard up. Get a jump on the competition. This is the first real strategy based ebook out for Madden 11! This ebook will have you winning money games, sim leagues, freestyle tournaments, and everything in between. This isn't your every day offense, these are plays that consistantly work time after time against any coverage.
Our staff has been hard at work (literally going without sleep) for the last week finding the best plays in this year's game. We set out to make a regular sized ebook (15-20 plays) but the great plays just kept coming and coming, so we ended up with a double ebook.
Featured Formations:
Singleback Jumbo Z
Singleback Flip Trips (An Amazing Formation)
Shotgun Gator Heavy (Hidden Money Play Inside)
Shotgun Split Bronco
Shotgun Doubles Flex
Shotgun Normal Y-Flex
Shotgun Trips (Very hard to stop)
Shotgun Bunch Wk (Even harder to stop)
Shotgun Snugs Flip (Impossible to stop)
Shotgun Empty Spread
Oh and here is the good news…we are selling this double eBook for the price of only 1 eBook!!!
I don't know if you have checked the date but we are releasing it before Madden 11 is even available to the public. Get a head start on the competition! Win your local tournament for a free copy of Madden 11. Don't waste time after you get the game in practice mode. (We spent over 100 hours this last week doing that for you)
You can get your copy delivered instantly to your email for only $24.99!!!