As many of you already know, we launched our newest service called Madden School 365 yesterday.  The idea behind today's post is to give you an example of the type of stuff you'll find in Madden School 365.  Enjoy this free Madden 25 tip!
Formation: HB Wildcat U
Play: Counter
Setup: None
Madden School 365: HB Wildcat U - Counter
What It Works Best Against: 
We noticed that this play worked best against any sort of man blitz or man coverage.  It still works extremely well against zone defenses but you may have to juke 1 guy every now and then.
Madden School Pro Tip: You will want to use a fast player with elusiveness. In our testing with the Jaguars this play worked well with Denard Robinson and Maurice Jones-Drew (92 speed each).
Lets break this play down a little further…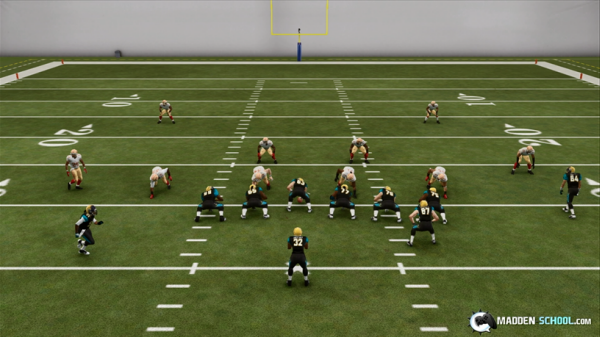 In the first screenshot, you can see the basic setup of the formation and how the defense is lined up against it. There isn't anything all that remarkable going on at this point.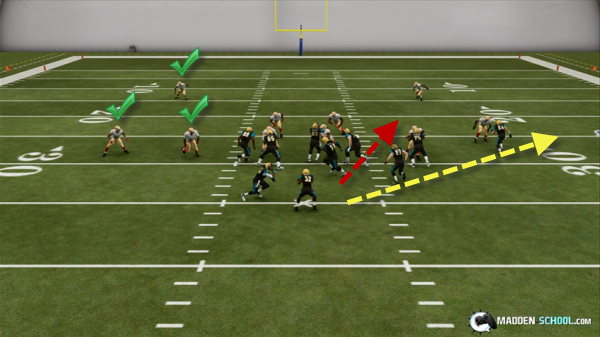 At this point, the guy we have in motion looks like he will be the one to get the ball. You will see that he has 2 pretty open running lanes (the red and yellow arrows).  The green check marks above the defenders show that their are 3 guys who appear to be a problem if we want to keep the ball with our running back and take it outside.
Note: If you hold the A/X button, you can hand the ball off to the guy coming in motion if the defense starts keying on this.  The yellow and red arrows show how open his running lanes are as well.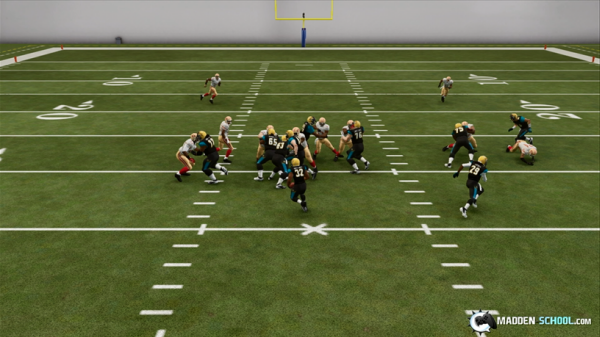 The ball carrier will naturally run a little bit toward the line of scrimmage.  You want to try to bounce it outside as soon as you can.  You will noticed that the entire defense is running toward the right side of the field at this point and the 3 defenders who appeared to be trouble are taking themselves out of the play.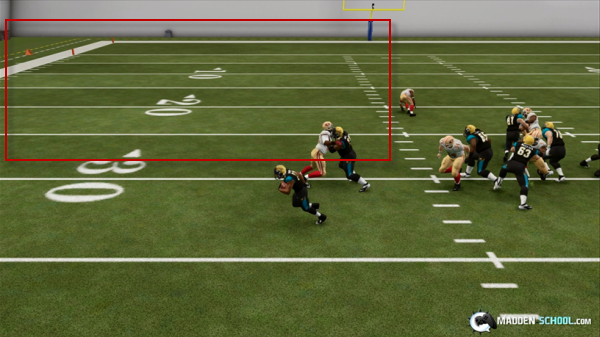 Once you get outside, you can see that the safety is falling down and the outside linebacker is engaged in a block.  The red box, shows that we have almost 1/2 of the football field wide open.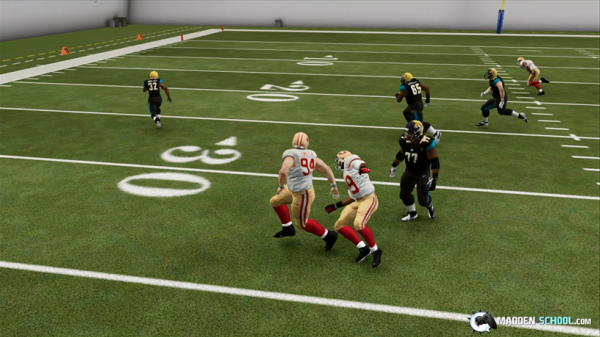 We cut upfield and have nothing but open space ahead.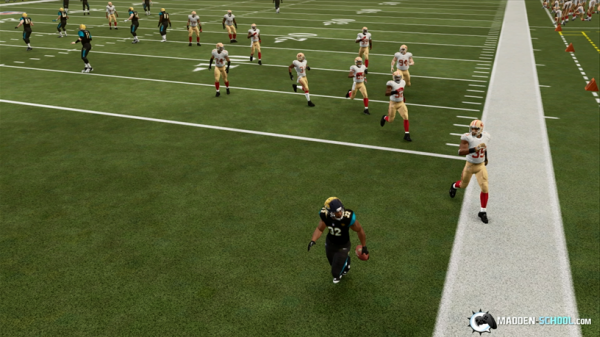 Maurice Jones-Drew walks into the endzone for the easiest touchdown of his career.
This is the kind of stuff you will wake up to each morning to for a full year when you become a Madden School 365 member.  1 dominant play every day broken down like this in an incredibly easy to understand way for 365 days.
Madden School 365 is normally priced at $49.99 but because we are so excited about Madden 25, we are currently running a 40% off sale for a few weeks. Get access today for only $29.99. That breaks down to just $2.50 a month or about 8 cents per day!

If you still aren't convinced, here is a full list of the benefits that come with your Madden School 365 membership.
1 awesome new addition each and every day. All 365 days of the year!
Offensive, defensive, and general tips. We cover all aspects of Madden.
Each tip comes with screenshots, HD videos, voiceover instruction, and written breakdowns.
Access to the 365 members only forum. Questions? Ask our Madden pros and the 365 community.
Play in exclusive 365 tournaments. Free entry with cash prizes!
Expanded forum benefits (colored username, bigger pm inbox, invisible mode, etc)
Priority support
Need even more convincing? Since Madden School 365 is a new service, it is understandable that you may be hesitant to join.  That is why we are offering our iron clad 7 day money back guarantee on Madden School 365.   After you join, if for any reason you aren't satisfied with Madden School 365 or if it just isn't right for you, simply send us an email within the first 7 days and let us know want your money back.  You will receive an full refund, no questions asked!
Take your Madden game to the next level join Madden School 365 today!