Often times the best way to learn something, is to see that something done right in front of you. So lets draft! We are going to take you through a Draft Champions draft and break it down pick by pick with our very best analysis. Complete with the Coach round, Player rounds 1-15 and Madden's generated team rating post draft. It will not matter if you've drafted before because this breakdown will make you feel like a seasoned vet. Here. We. Go!
Coach Round: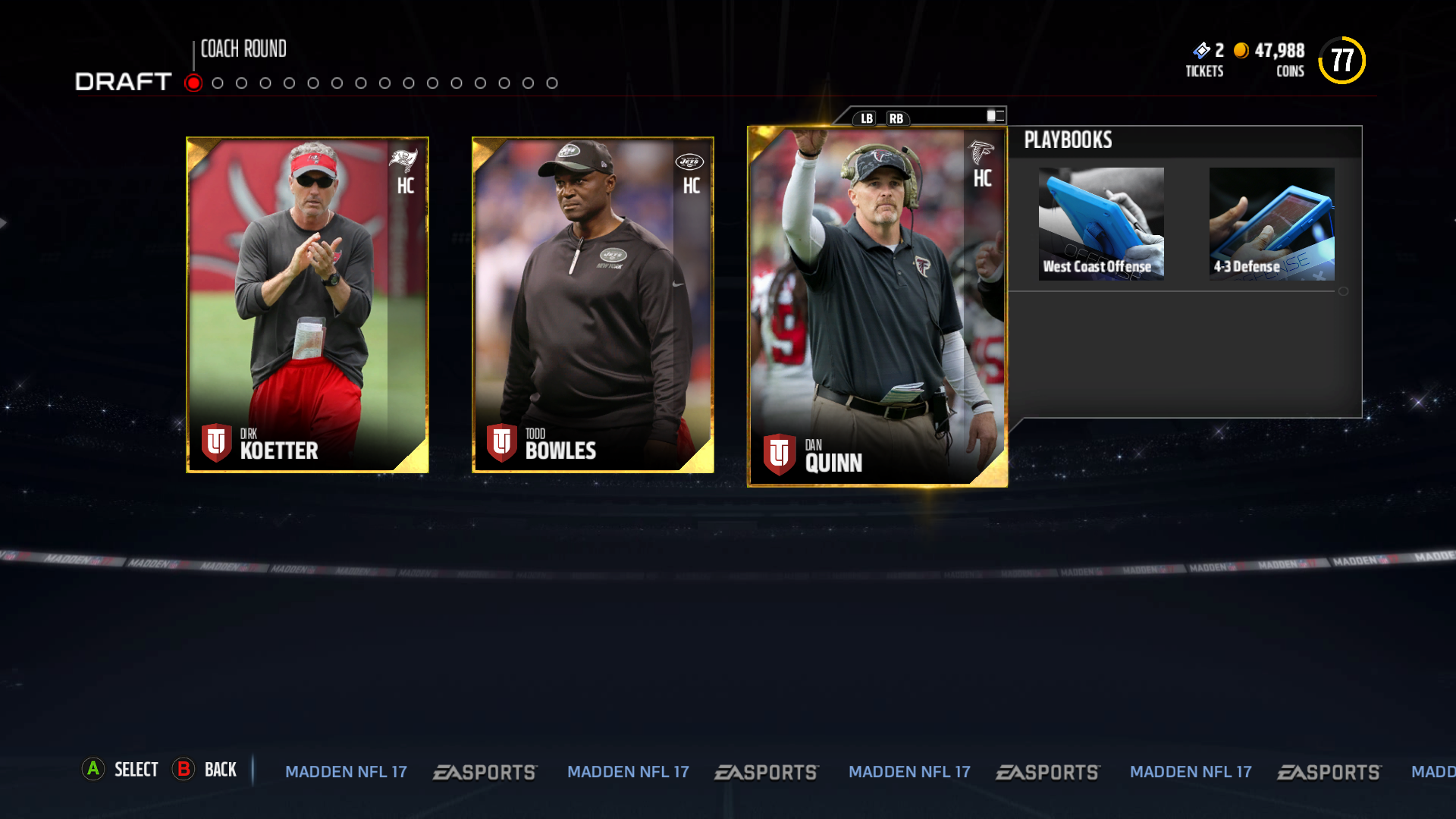 This is an easy pick, choose a coach with the offense/defense closest to what you prefer to run. Coach Quinn runs a west coast style so we ran with it. NEXT!
Round 1: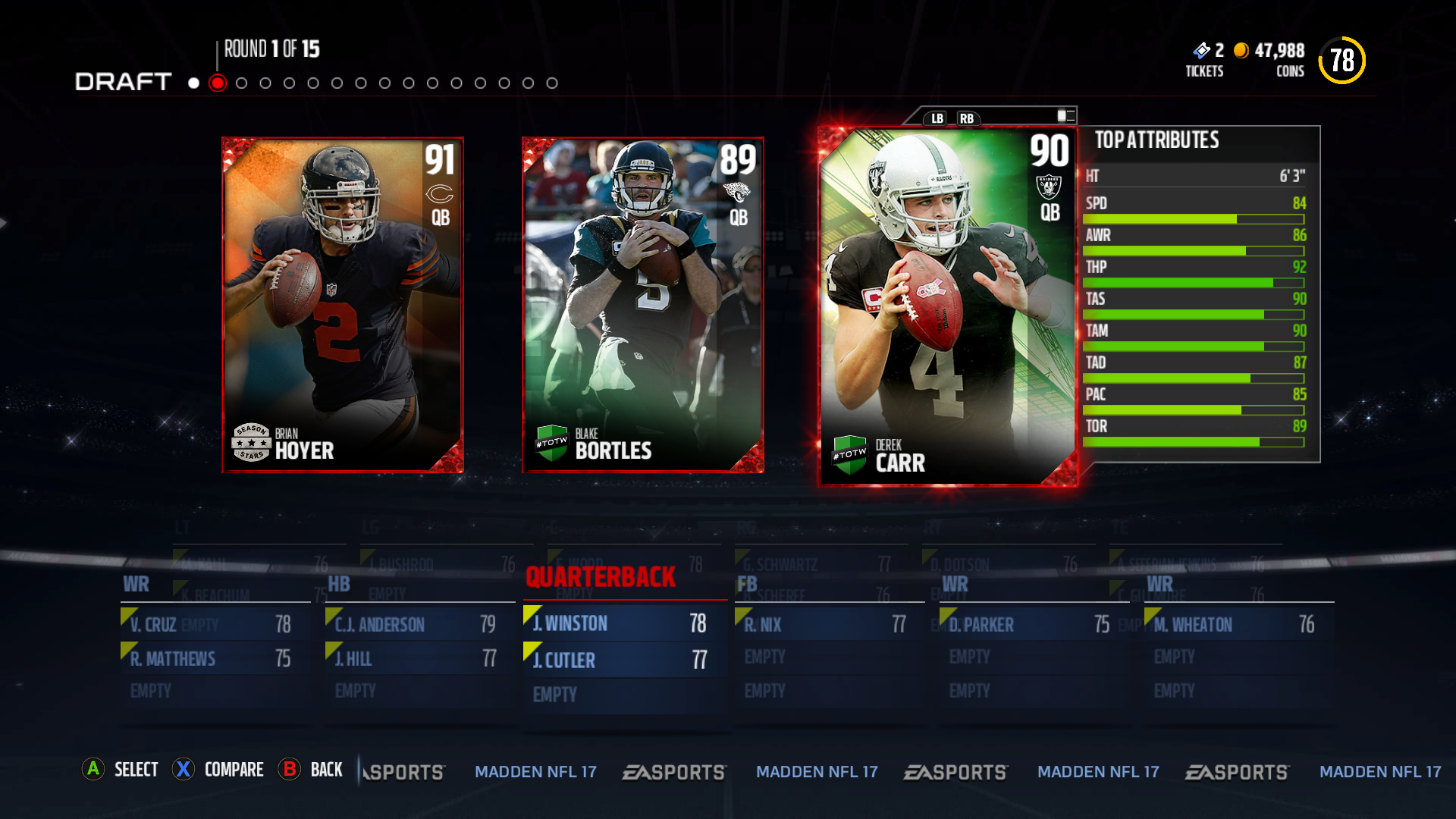 The QB choice all comes down to your gut, there is no wrong answer. Who do you feel can take you all the way? Derek Carr? Sure, lets roll!
Round 2: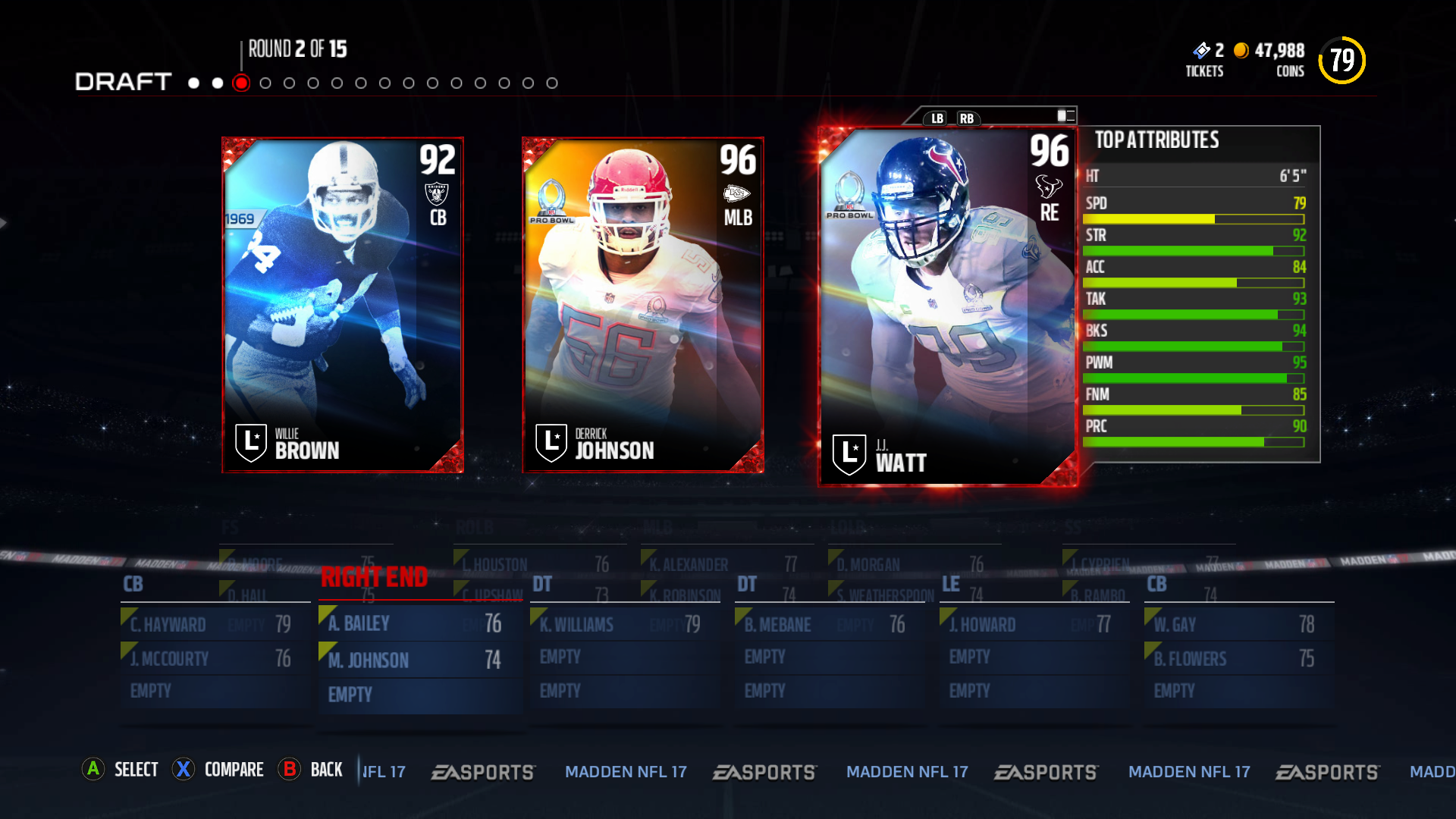 Our first tough decision of many choosing between these three studs. Do we go after a run-game eraser, or a lock-down corner? Lets choose J.J. Watt, the guy who can blow up an O-line and get to the QB almost at will. This is where you begin to take note of what positions you have started to fill. Spread out your talent as best you can.
Round 3: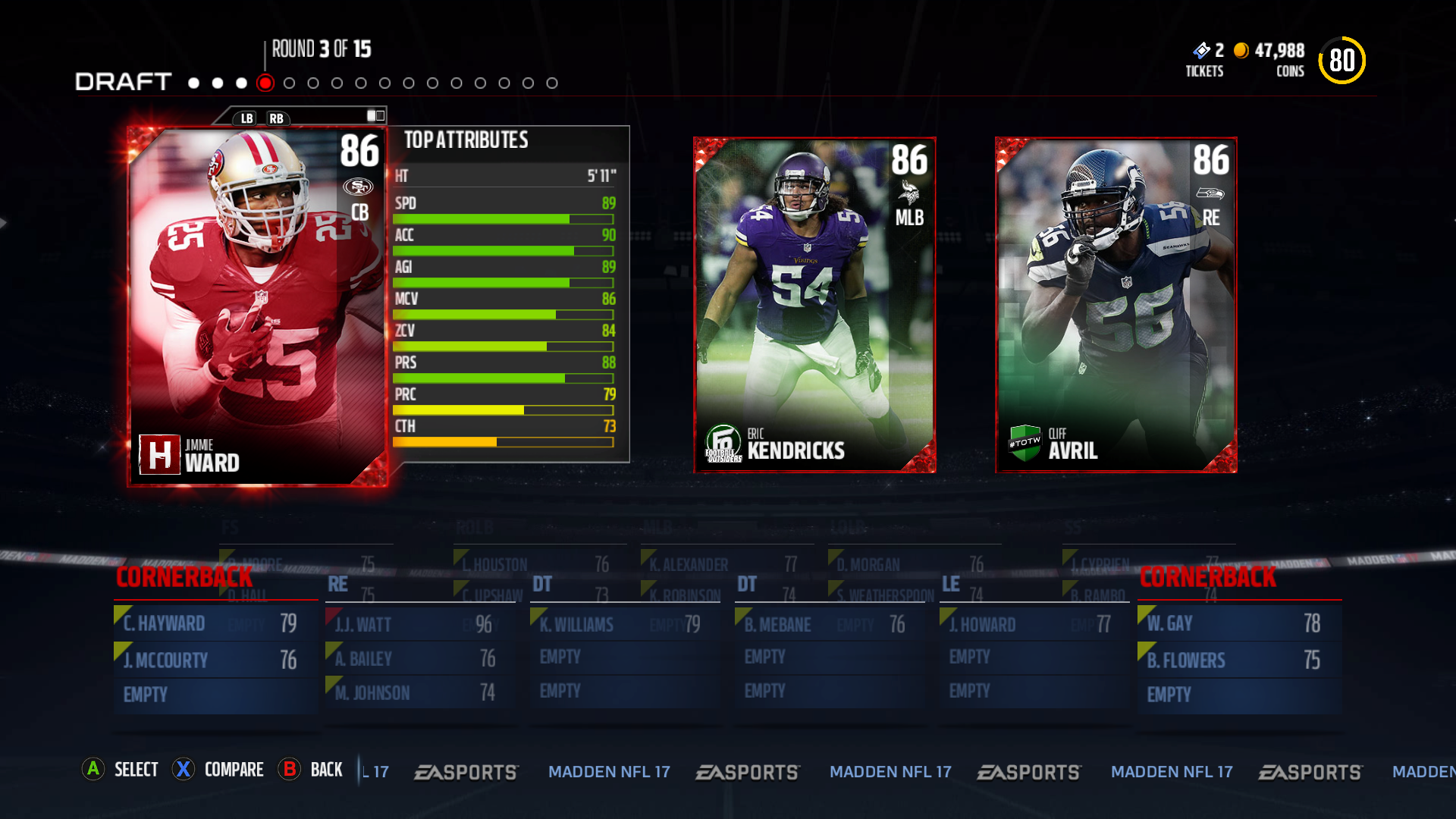 And just like that we've got a play-maker in Jimmie Ward. This will buy Watt more time to rush (as if he even needed it, pshh!) Two solid defenders back-to-back.
Round 4: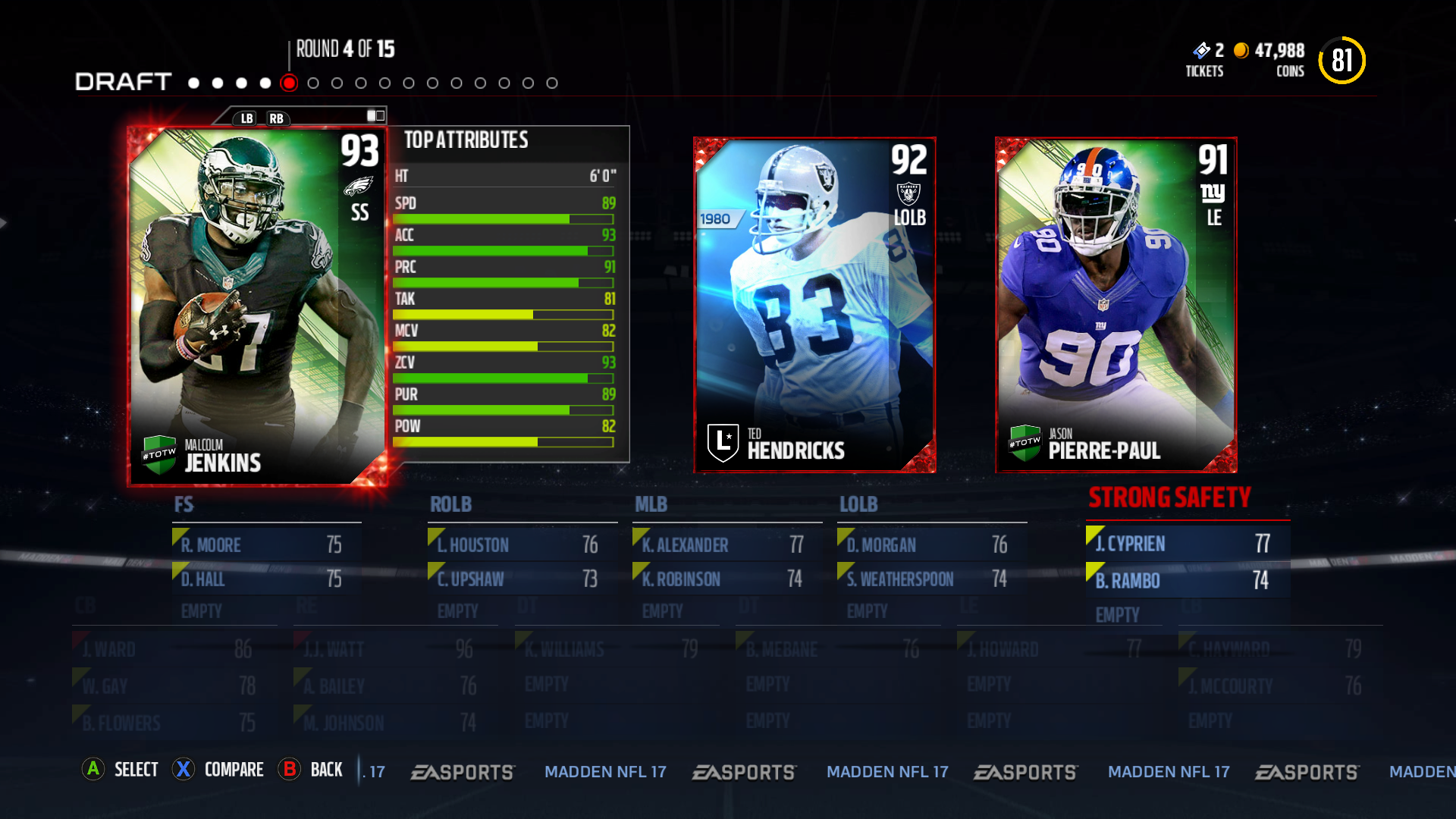 After two rounds of defense we were hoping for a solid weapon on the offensive side, but you take what you can get in Draft Champions mock drafts. Picking up a strong safety will give us defensive strength on multiple levels. Malcolm Jenkins is a ball-hawk, and hopefully with pressure the QB and WR's will be under, he can make some plays.
Round 5: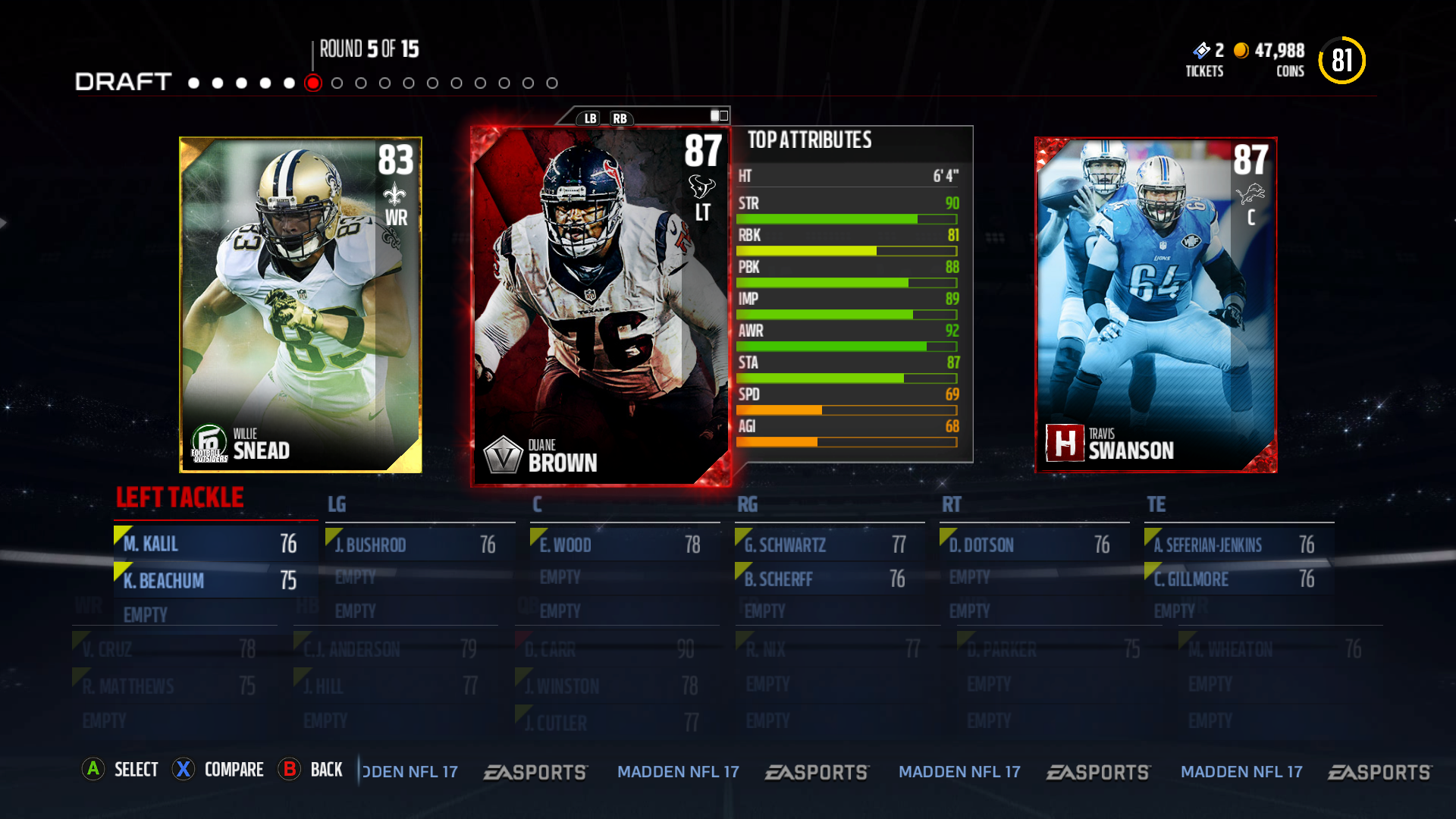 Our first chance at an offensive weapon and we pass it up? We have been around the block enough times to know that our offense can do better than an 83 overall, sorry Willie! We are going to get some Carr insurance with Duane Brown (ba-dum-tisss).
Round 6: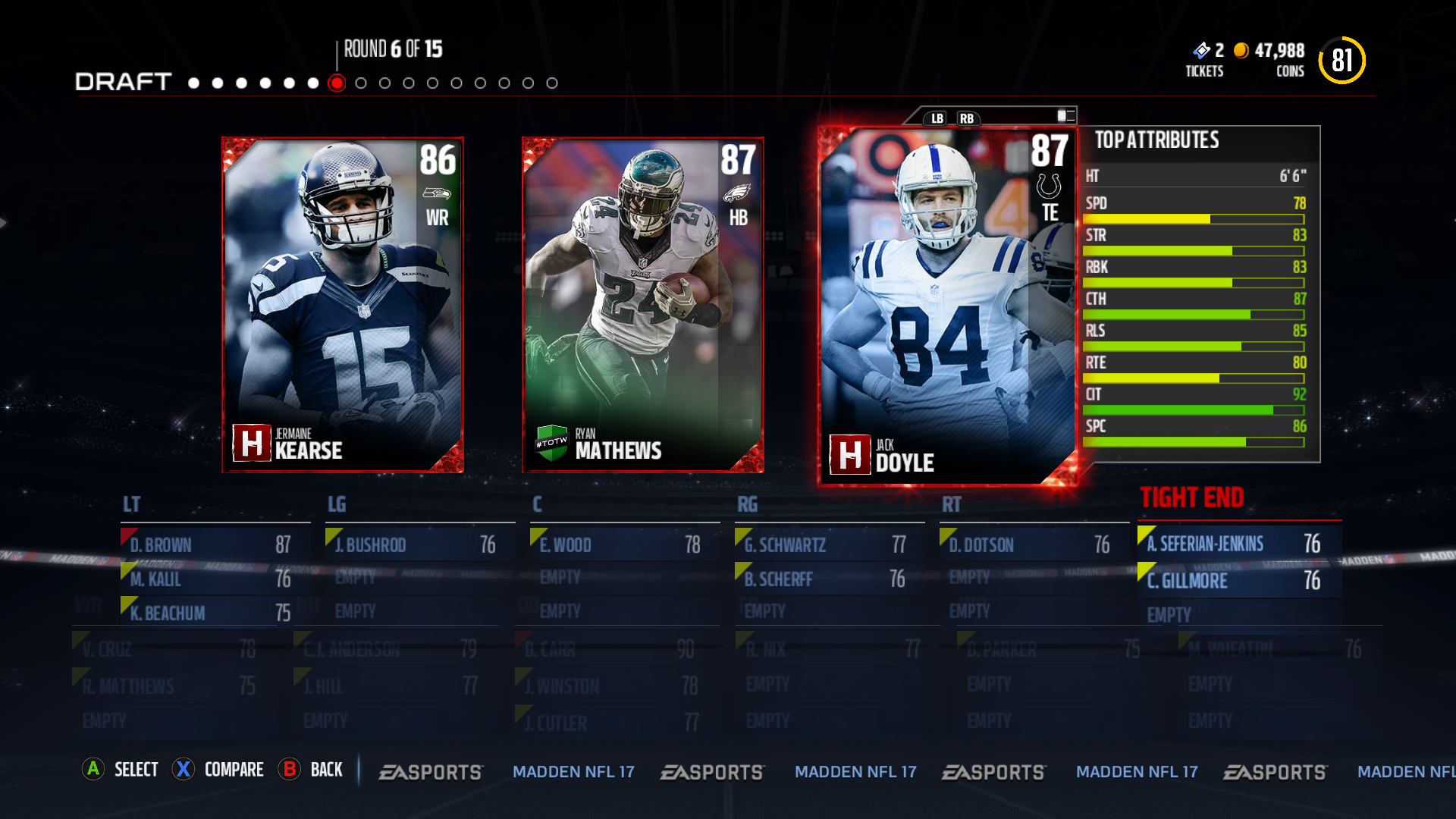 Tight ends are great red-zone targets and you need to be able to punch the ball in the end-zone in online play. Jack Doyle is a solid safety net for any team.
Round 7: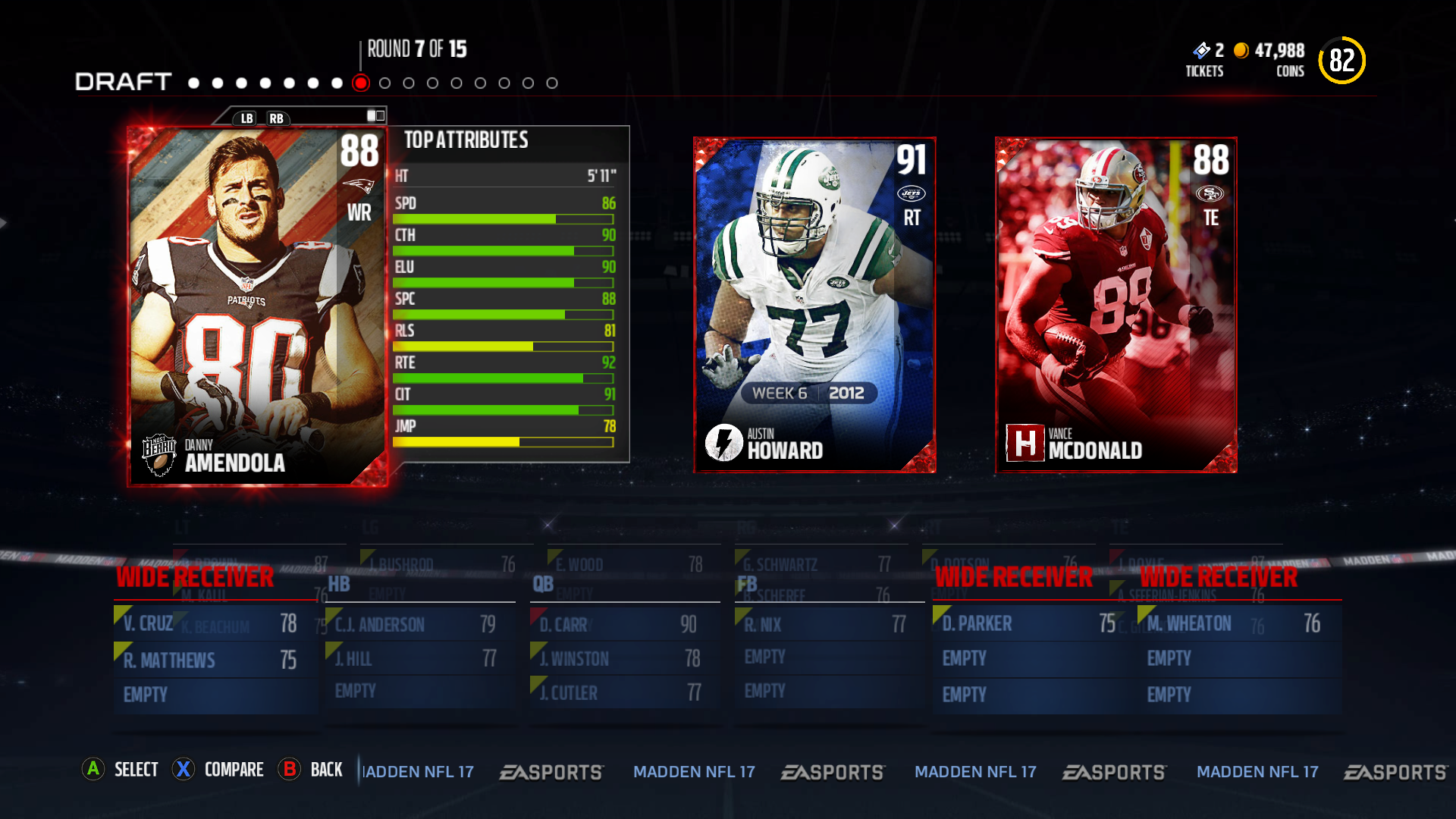 Danny Amendola is a no-brainer here at this spot. Half way through our draft and our offense is picking up steam!
Round 8: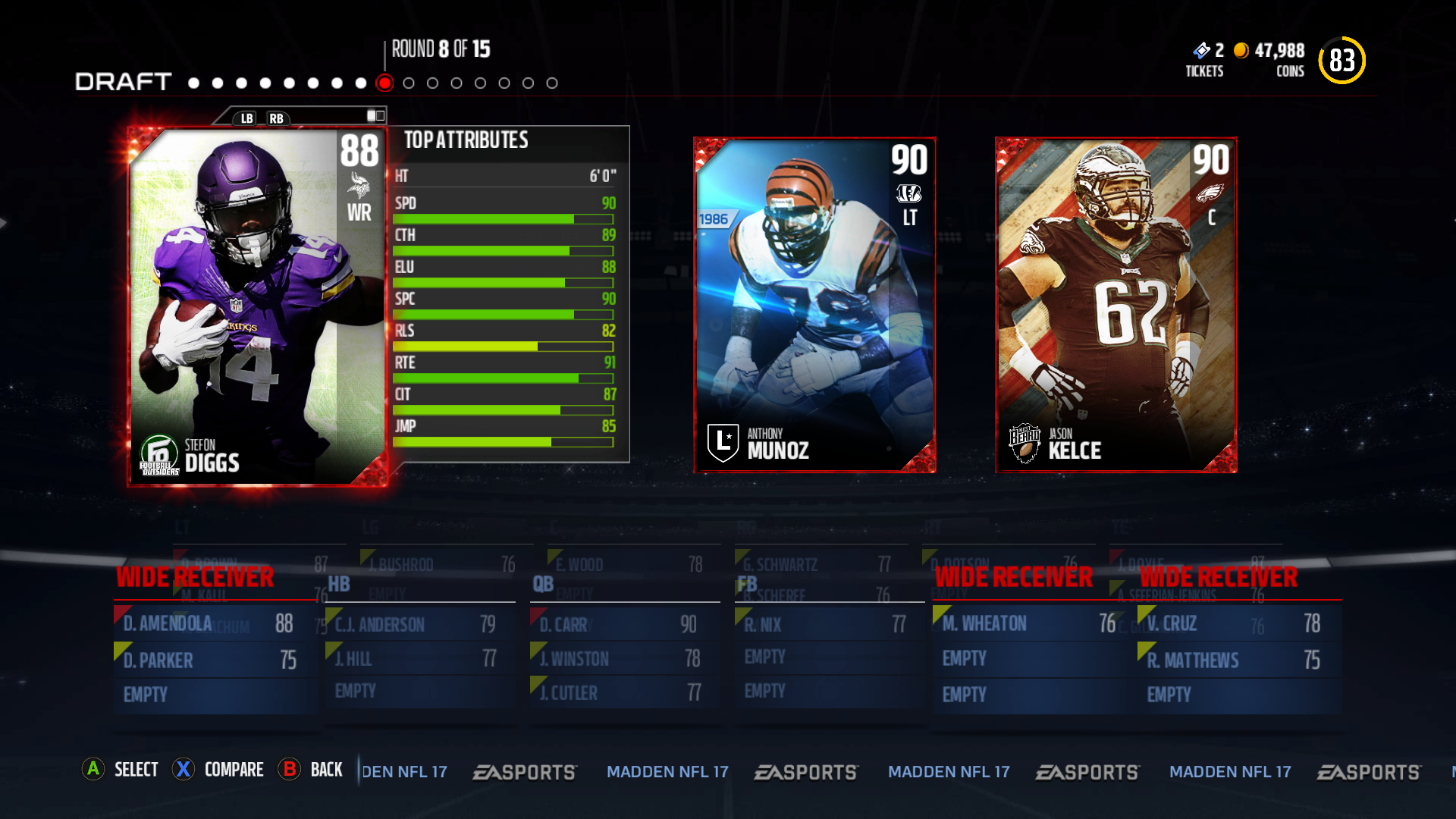 Another one! Rounding out our passing game is the speedy and athletic Stefon Diggs. And we keep just moving!
Round 9: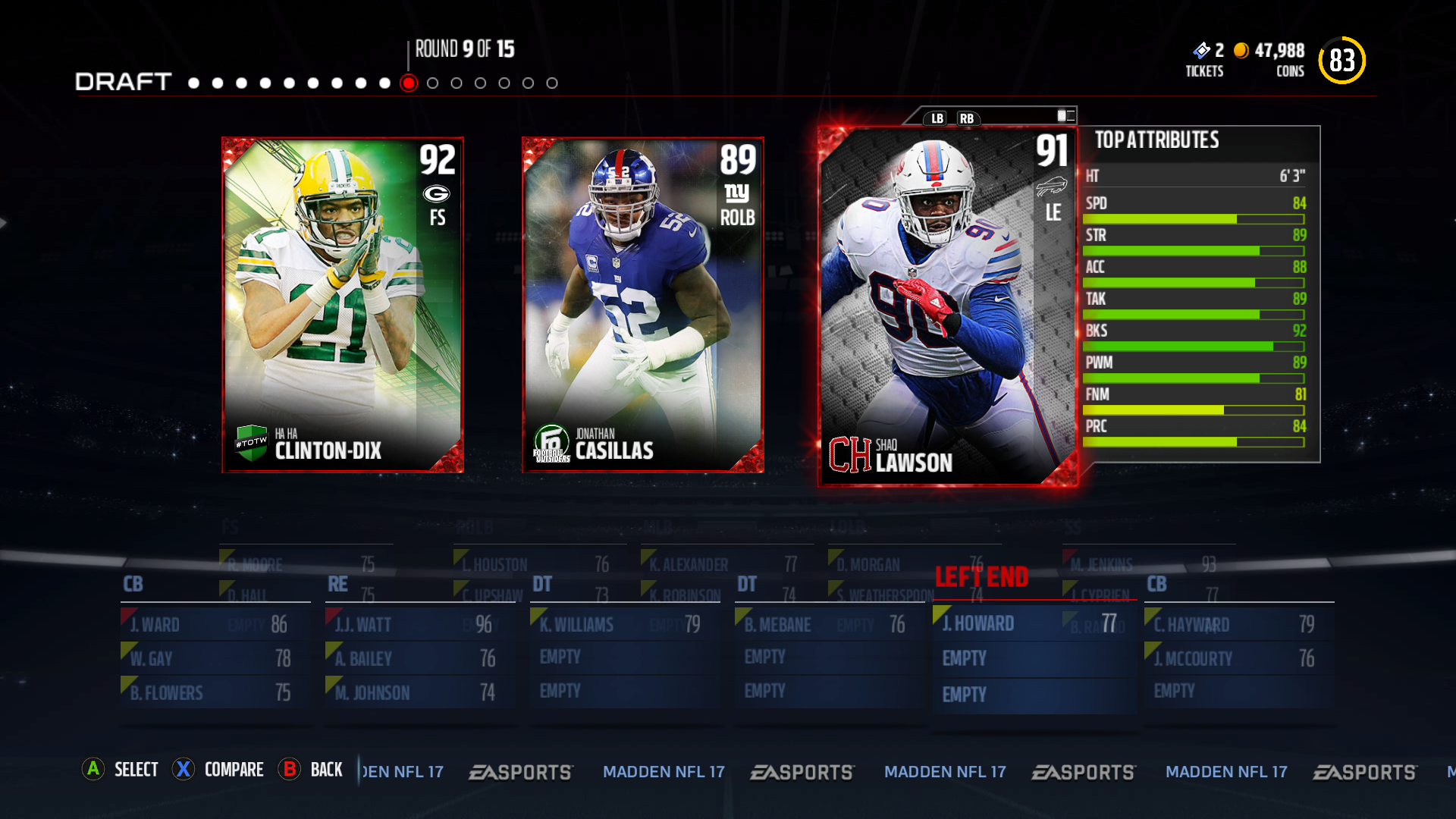 Around pick number 9 is when we typically get tasked with harder decisions. We don't have a star line backer yet, but it's hard to pass on another elite edge rusher to pair with J.J. Watt. We will snatch up Shaq Lawson and pray for the health of the opposing QB's.
Round 10: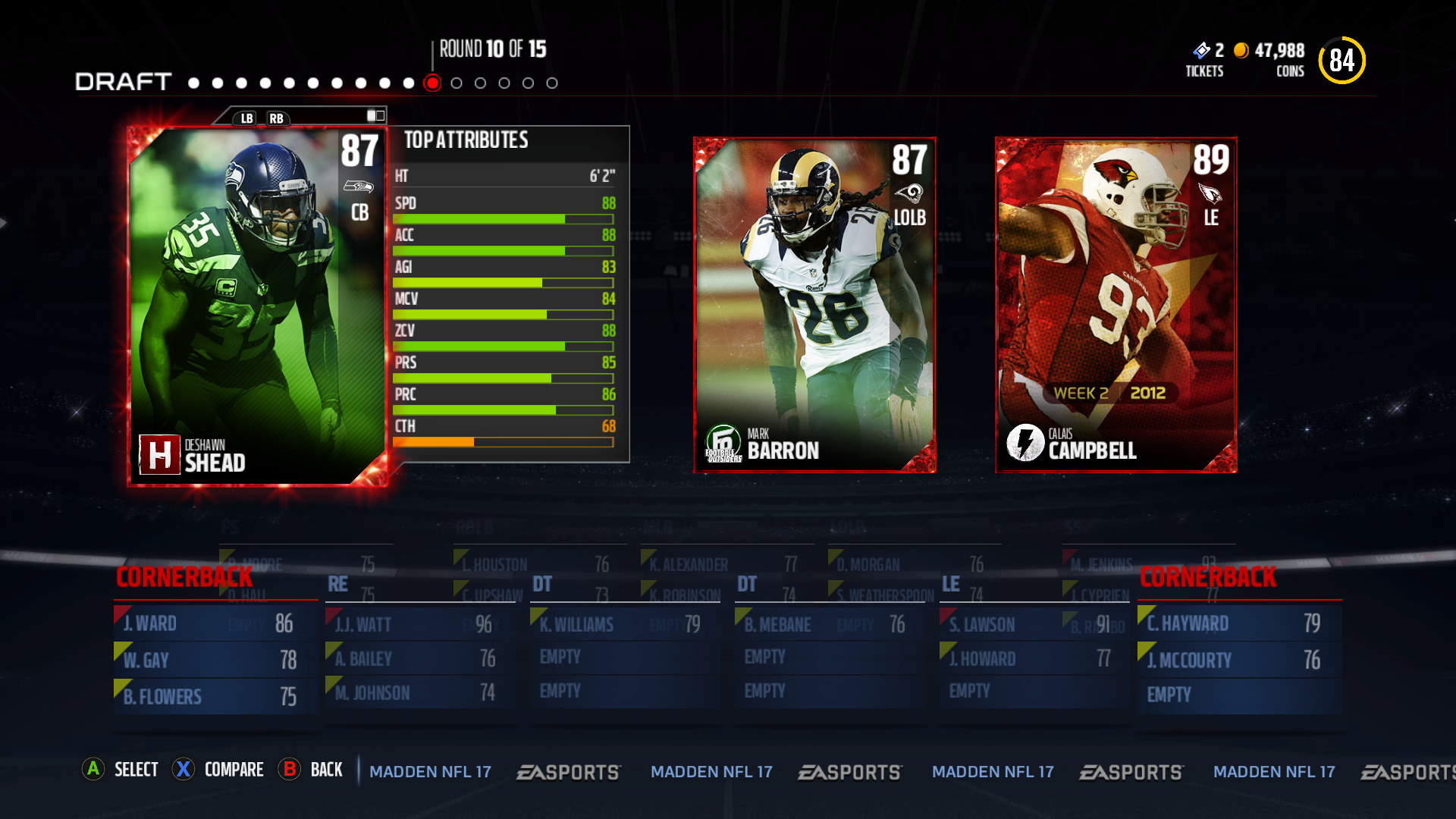 DeShawn Shead opposite of Jimmie Ward will really slow down the passing game. He is well rounded and more reliable than some of our crazy athletic defenders.
Round 11: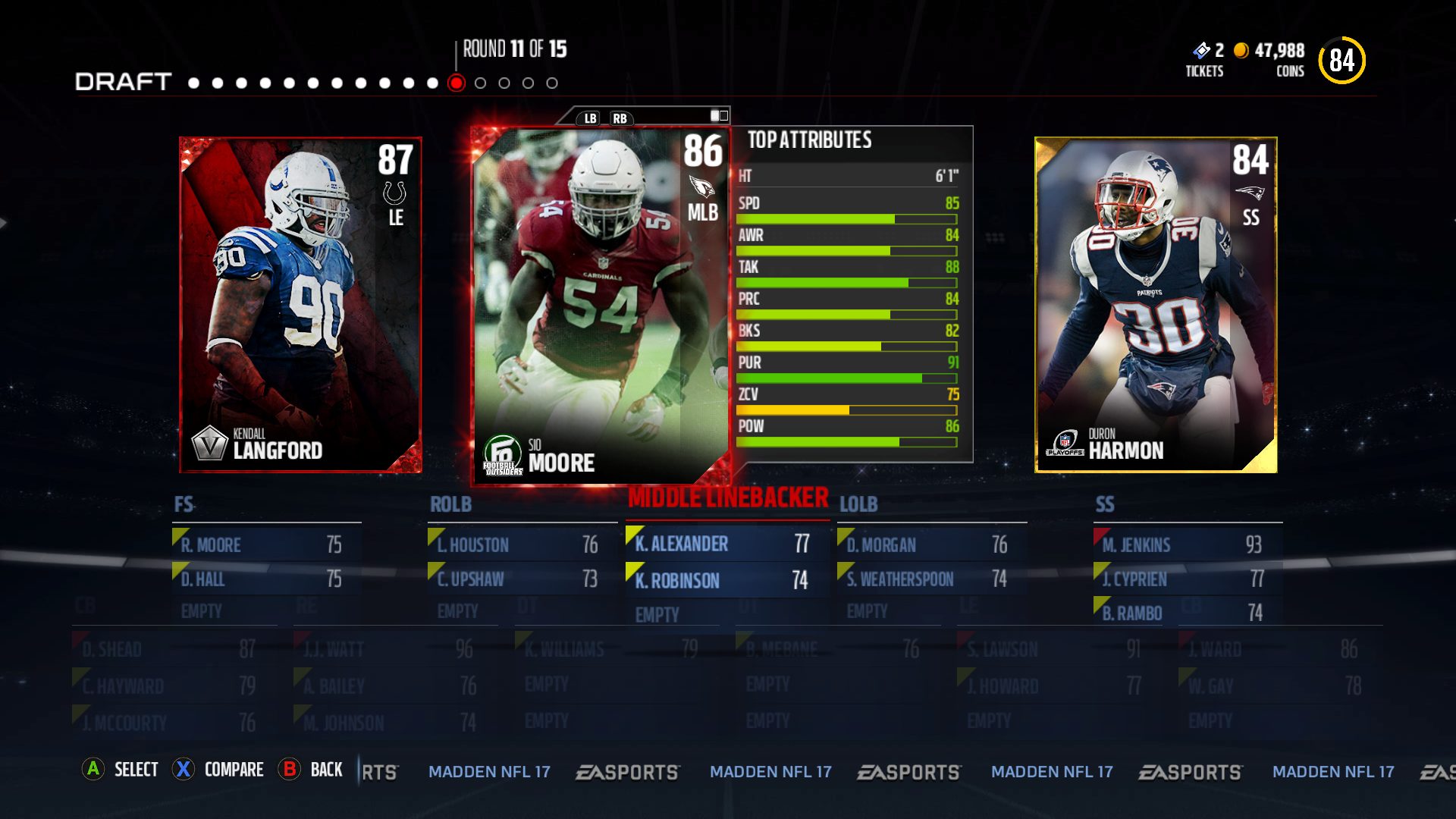 RED FLAG! We already have a SS and a LE so in this case we are left with no other option than to take Sio Moore at the MLB position, but he will give us a threat at every defensive position so this pick isn't so difficult after all.
Round 12: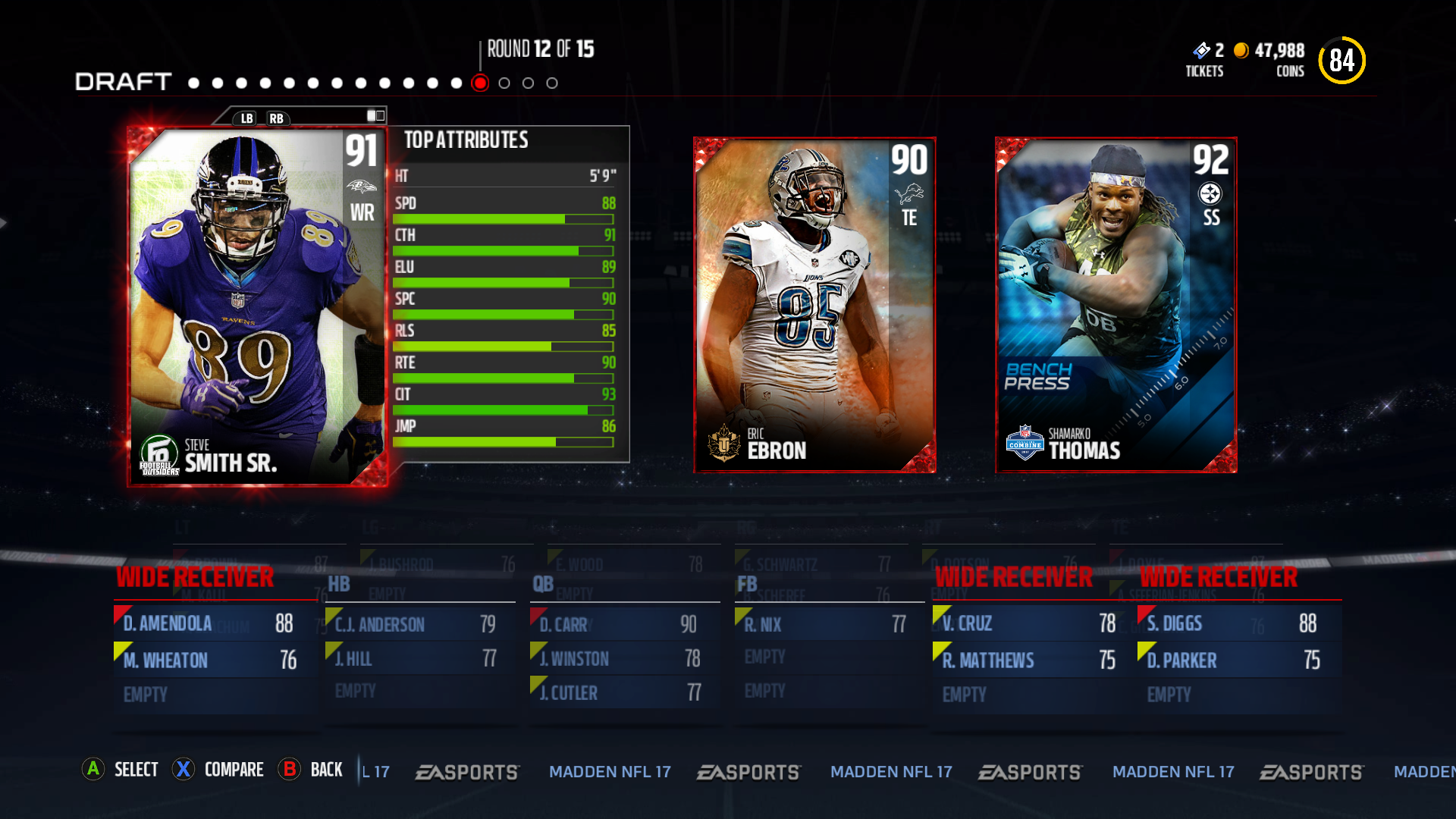 At 5'9′ with the speed of a jungle cat and the strength of a pit-bull, the beast that is Steve Smith Sr. was made for the slot position on this team. I wish I could have two of him, but we'll take what we can get. Onward!
Round 13: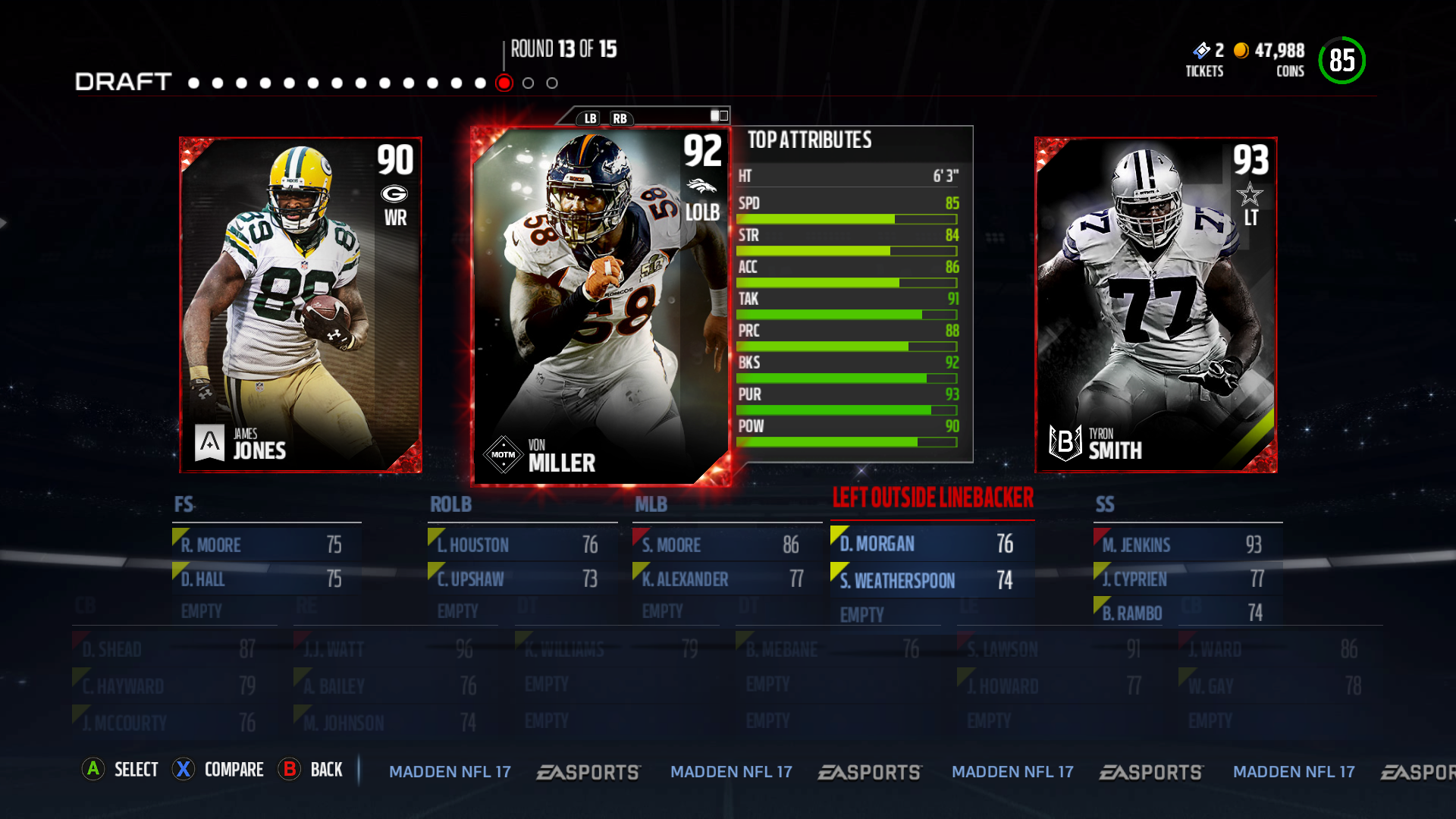 LT-check. WR-check, check, check. Superbowl MVP, freak of nature, linebacker-We'll gladly hire Von Miller for the open role.
Round 14: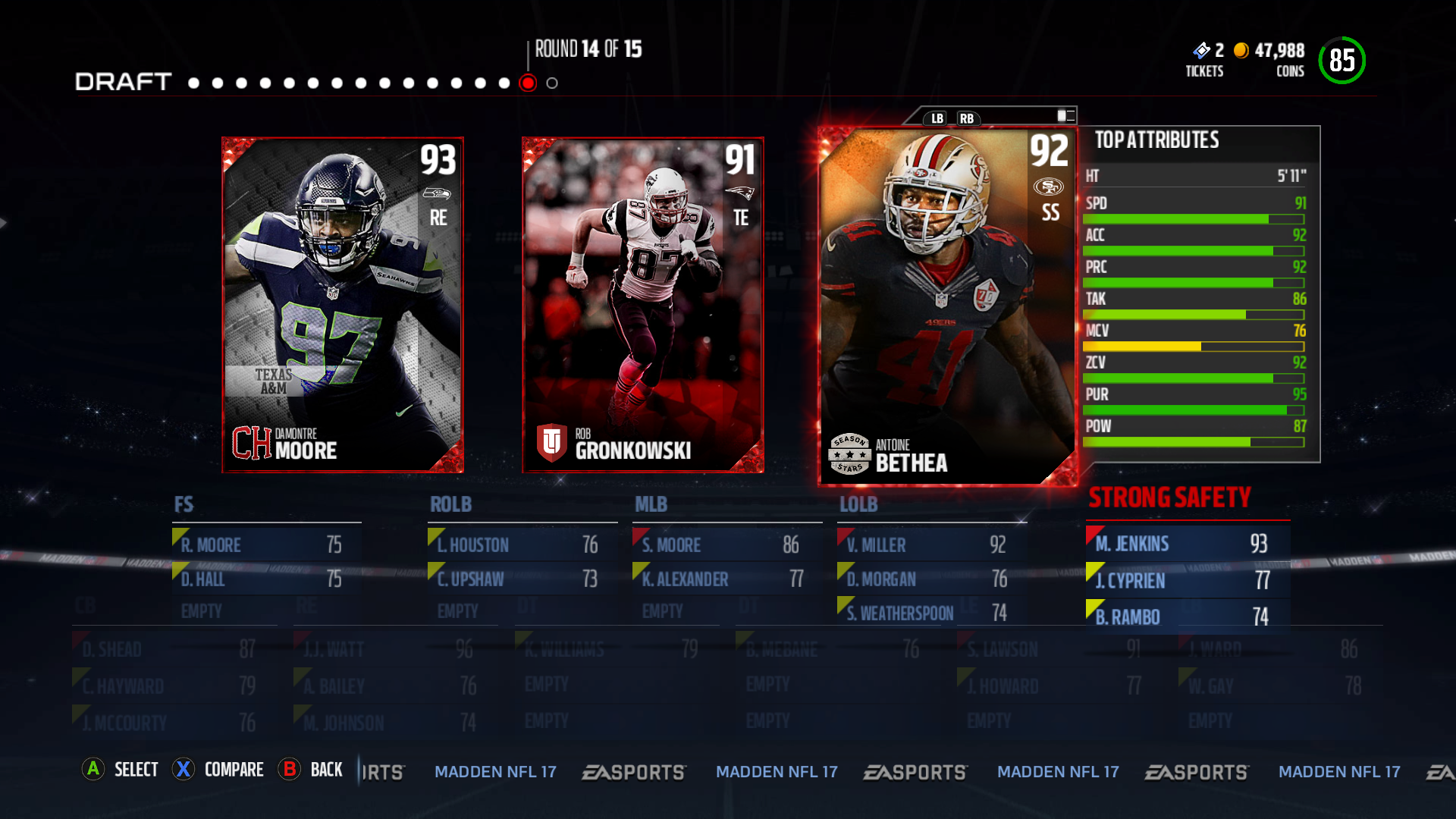 We have a right end, a tight end and we have a strong safety. Let's improvise! If we take Antoine Bethea at strong safety we can shift him over to free safety with little to no effect. Not ideal, but it's our only option! Let's finish strong…
Round 15: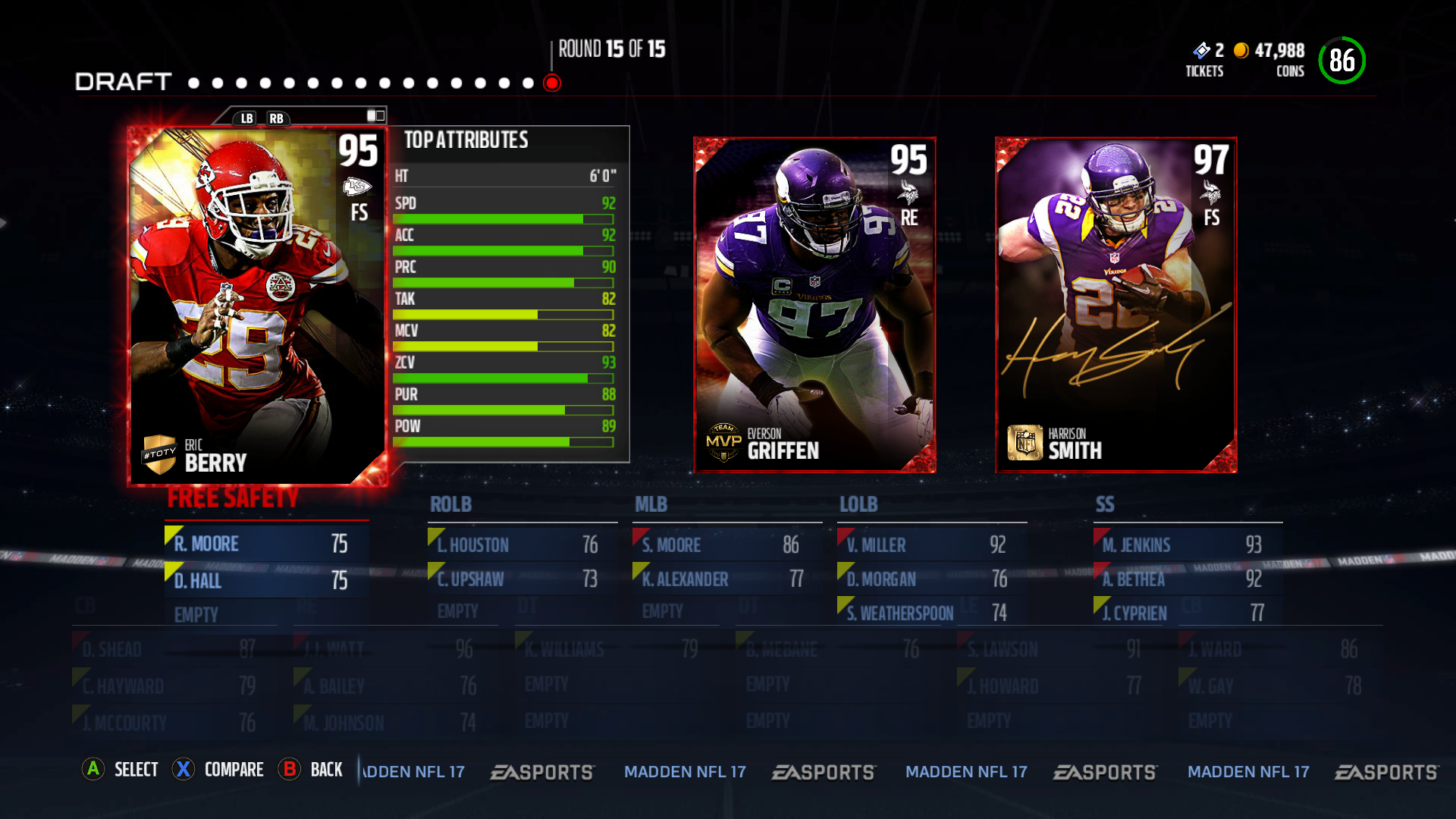 Here we see the unpredictability of Draft Champions. Our draft has led us down this road and now we are left drafting a star as a back-up. Eric Berry is a great team player, so maybe we can draft him as our motivational speaker or a "glue-guy".
Generated Team Rating: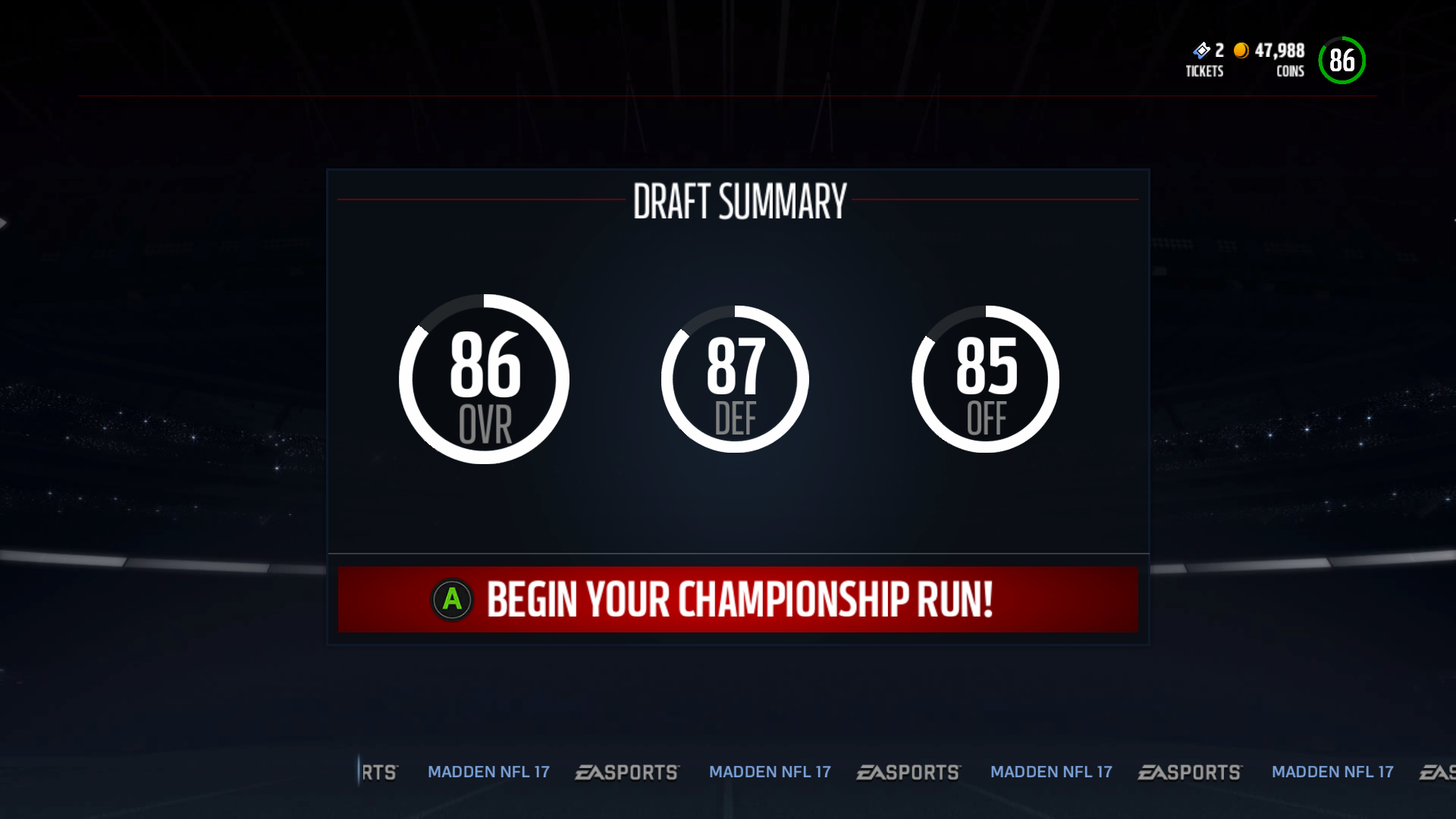 Madden gave our drafted team an overall rating of 86 which is right above the average. This breakdown will help you better understand how to look at your team analytically and from a championship perspective! Now go draft some champions!