Update: If you are looking for the official rookie ratings for Madden 16 just released, they can be found here.
The month after the NFL draft is filled with projections about players on their new teams, how they will perform on Sundays, what type of fantasy football value they have, and how they will fit in with their new teams.  We, however, don't care at all about that.  We just care about how dangerous these NFL rookies will be in Madden NFL 16.
There is always a disconnect between Madden and the NFL with Madden gamers placing much more emphasis on things like height, speed, strength, and hit power than the NFL does.
For example, teams who draft offensive line early don't get any better in Madden.  It is essentially a wasted pick.  When you think about it, that high first round rookie will come in with an overall rating of about 80.  He'll likely replace a guy who is no worse than 76 overall as the new starter.  While you can tell the difference between a bad offensive line and an elite offensive line, not even the most hardcore Madden gamers can notice the difference between and offensive lineman who are only a few ratings apart.
Contrast that with a position like linebacker.  If your team drafts a rookie with 90 speed, 95 hit power, and all kinds of other great raw physical skills, you will immediately notice his impact and your team will instantly get better in Madden 16.  The same thing happens for all kinds of other positions as well.
With that in mind, let's take a look at some of the best NFL rookies strictly in terms of Madden.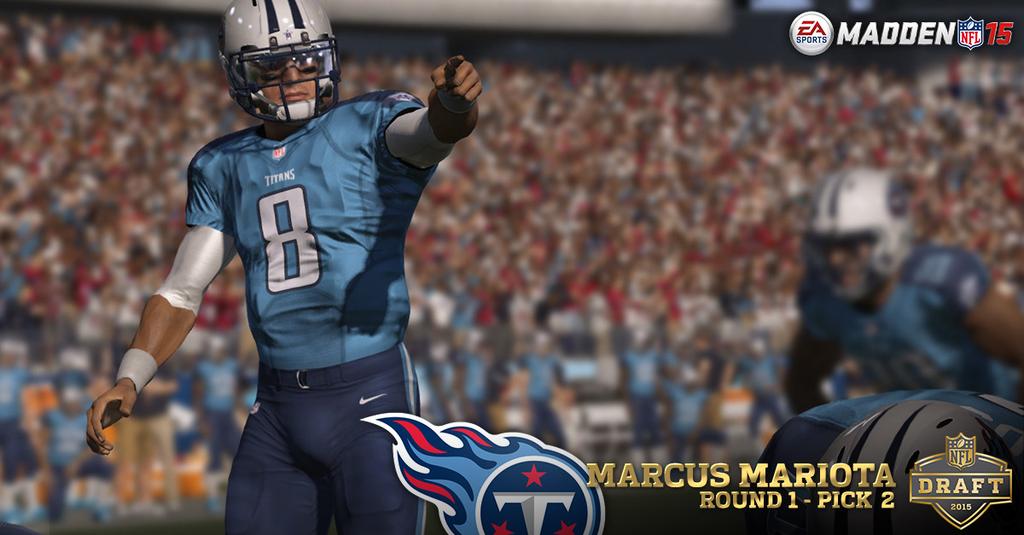 Marcus Mariota – QB Tennessee Titans
But, but, but, Jameis Winston was drafted #1, why isn't he your top quarterback???  Mariota ran the fastest 40 time from a quarterback at the NFL Combine and showed all throughout college that he was one of the fastest players in all of college football.  That is going to translate into a ridiculous speed acceleration, and throw on the run ratings in Madden 16.  He obviously has a good arm and was very accurate in college, so he'll come in with good but not great ratings in both of those areas.  The big knock against Marcus Mariota is that he has never in his life lined up under center and ran a pro style offense.
So if you are EA Sports' ratings guru Donny Moore, how would you reflect that in the ratings?  You'd knock down his awareness rating to one of the lowest in the game.  That will be the way to bring down his overall to the low 80's or high 70's.  However, hardcore Madden gamers have long known that awareness for quarterbacks is a 100% useless attribute in online games.  It makes sense if you think about it.  You user control the quarterback, so you completely control his awareness.  His awareness is actually just your awareness as a gamer.  It doesn't work that way with speed, throw power, or throw accuracy but with awareness you are 100% in control.
Marcus Mariota will come into Madden 16 as a top 5 Madden quarterback.

All First Round Wide Receivers
This list includes Amari Cooper, Kevin White, DeVante Parker, Nelson Agholor, Breshaud Perriman, and Phillip Dorsett.
Think of every great Madden receiver of all time.  They either had size, speed, or a combination of both.  Each receiver drafted in the first round has either dominant size, speed, or both.  Each and every one of these guys will be a matchup nightmare and one of the best receivers on their team.  You don't even have to know what each player's full ratings are to know that.
All of these wide receivers will be insanely hard to stop in Madden NFL 16, but my favorite has to be Breshaud Perriman.  He ran a 4.25 40 at his pro day (he didn't run at the NFL combine due to a hamstring injury).  He is 6'3″ and 216 pounds.  Historically that 4.25 40 will translate into a 98 speed and acceleration rating.  He will have good spectacular catch and catch ratings just based off him being selected in the first round.  Low awareness and low route running will probably be where EA Sports marks him down, but those things are easy to improve.  This guy will be a nightmare to stop.

Vic Beasley, Dante Fowler, Bud Dupree, & Shaq Thompson
It is unfair to teams like the Jets and the Browns who drafted Leonard Williams and Danny Shelton because both of those guys are great players.  Unfortunately, interior defensive lineman just don't make the same immediate impact in Madden as 4-3 defensive ends or 3-4 linebackers do.
Linebackers and defensive ends with good pass rush moves and playmaking ability are always important in Madden.  Those are exactly the traits that Vic Beasley, Dante Fowler, Bud Dupree, and Shaq Thompson posses.  Each one of these guys had great combines and we know that is most important when it comes to physical ratings like speed and strength.  Going in the first round of the draft always gives these guys good on field ratings such as power moves, finesse moves and hit power.
We don't yet know how each of these guys will be rated, but you better believe they will all immediately make an impact in Madden 16.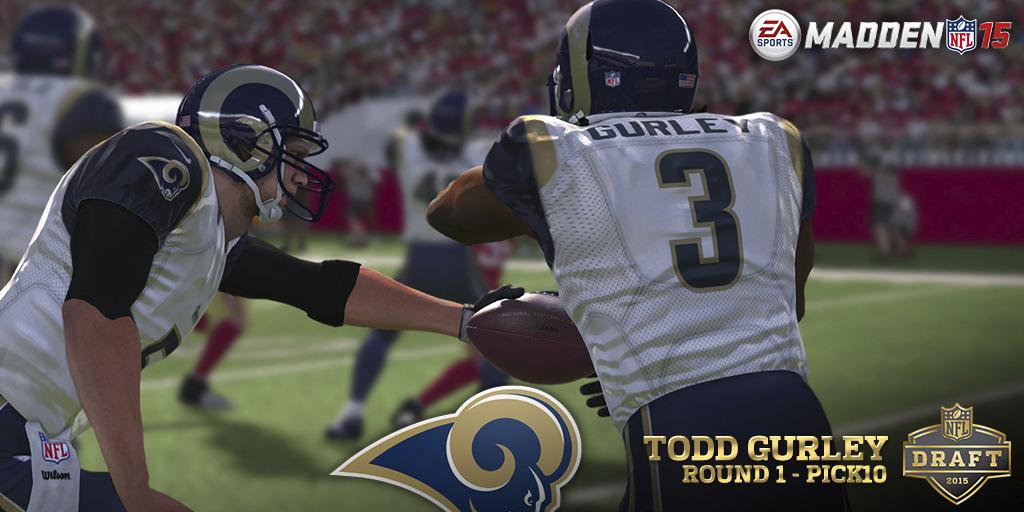 Todd Gurley and Melvin Gordon
In Madden you really can't go wrong drafting a running back in the first round.  Your busts are guys like Trent Richardson.  Anyone who played with Trent Richardson his rookie year in Madden knows that he was the opposite of a bust.  He played like a 95 overall even though he was only rated in the low 80's.  He was a top 10 Madden running back his first year or 2.  If you draft well, you get a running back like Adrian Peterson in the first round who has been one of the best, if not the best running back in Madden for the last 8 years.
Todd Gurley and Melvin Gordon are both going to come into Madden NFL 16 with good ratings (likely low 80s) but they will both perform much better than that in games.
Which rookies do you think will make the biggest impact in Madden 16? Let us know your thoughts.