We all know that Von Miller is a staple for most MUT teams who run either a 3-4 or 4-3. The sheer combination of his pass rushing ability highlighted by high finesse moves on all of his MUT cards. His acceleration and pass rushing ability lead to tons of sacks. There are tons of other cards that can rush the passer like Miller too, such as Cameron Wake, Aldon Smith, and JJ Watt. However, in a 4-3, defensive ends must have range, must be able to rush the QB quickly, and must be able to shut down runs to their side. Not all of the defensive end options in MUT 15 can do it all.
Say you have 40k for a new defensive end in a 4-3. Let's explore the options:
95 Flashback Mario Williams (Avg. Price of 39k)
94 Draft Shane Ray (Avg price of 30k)
94 TOTW Jason Pierre Paul (avg price of 27k)
93 MVP Cameron Wake (avg price of 23k)
93 MVP Demarcus Ware (avg price of 22k)
These cards all have one thing in common: a fantastic set of attributes for rushing the quarterback. Be it power move or finesse move, their lowest rated specialty stat is 95. However, it's common knowledge that defensive ends have more responsibilities than just beating their blocker.
The tackle ratings of these five:
Williams: 84
Ray: 89
JPP: 94
Wake: 88
Ware: 76
84 and 76 are tackle ratings that safeties bear nowadays in MUT. Safeties. If it was as easy as getting past the blocker, why don't we see Mario Williams on every decent MUT team? Well, because, it isn't. Mario Williams and Demarcus Ware are the reason why some controllers have lost their lives this year: getting to the QB only to be shrugged off by Tom Brady or Peyton Manning en route to throwing an 80 yard jump ball to Mike Evans who catches it 9/10 times.
So now we're down to Shane Ray, Cam Wake, and JPP.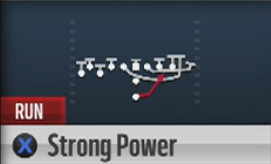 This is the most common play used in Madden 15, maybe second to the four verticals route with the TE/ 4th WR running that post route over the middle. Do I even need to say how important it is for a defensive end to get off their block and make a play?
Let's take a look at the strength and block shed attributes of these three defensive ends:
Ray: 83 STR, 89 BKS
JPP: 85 STR, 87 BKS
Wake: 87 STR, 83 BKS
The pass rushing abilities of these defensive ends are outstanding, sure, but how much does pass rushing matter when the opposing halfback averages 10 yards per rush due to this lack of run support? These 93-95 rated players are so high rated due to their high pass rushing, but their run support is just so terrible that it's hard to find a player in the 20-40k range that can rush the pass as well as stuff the run, all while being mobile due to being 4-3 defensive ends as opposed to 3-4 ends where mobility doesn't matter as much.
Here's where the game changes: OLBs at Defensive End.
Putting 3-4 OLBs at defensive end is a tactic that a good chunk of MUT players have picked up on.
Given the above scenario of having 40k to upgrade at defensive end, let's take a look at the 3-4 OLB options that would be placed at defensive end.
96 TOTY Von Miller
95 Movers Trent Cole
95 Flashback James Harrison
95 SM Ryan Kerrigan
94 TOTW Khalil Mack
These five options give a very diverse set of players to choose from. Let's take a look at the first priority: pass rush abilities. The power moves/finesse moves of these five are staggering: the speciality pass rushing moves of these five range from 98-96. That is actually better than the five defensive ends listed above.
We know that they're competitive in pass rushing ability- but how about run stuffing?
The strength and blockshed of these five:
James Harrison: 91 STR, 90 BKS
Khalil Mack: 91 STR, 93 BKS
Ryan Kerrigan: 92 STR, 92 BKS
Trent Cole:  87 STR, 90 BKS
Von miller: 89 STR, 93 BKS
ALL of these players have 90 BKS, and only two of them dip below 90 STR.  This is miles better than the defensive end options available in the same exact price range.
The main reason why people avoid using OLBs at 4-3 end is because of the overall drop, which makes sense not to use. For somebody whose main objective in Ultimate Team is to reach a 99 overall, using these players would not help them reach their goal. However, for somebody whose main objective is to win their H2H super bowl in every season that they play, these OLBs played at defensive end would help reach their goal much more than regular 4-3 defensive ends would.