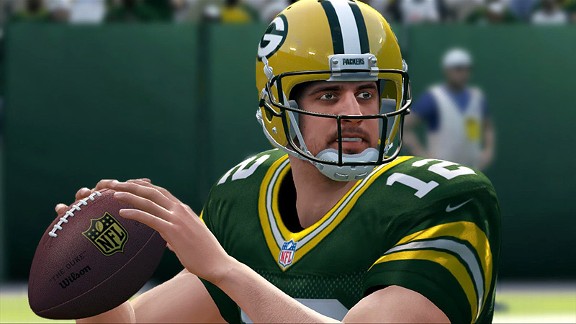 There are 24 starters (including kickers and punters) on every football team so it is important to know exactly which positions are the most important in Madden 13.  We dove head first into that question and provide our thoughts below.
5. Pass Rushers (4-3 defensive ends or 3-4 outside linebackers) – Generating pressure with elite pass rushers can cause the opposing quarterback to rush throws.  More importantly a good pass rusher will generate turnovers in the form of forced fumbles and rushed throws that turn into interceptions.  Getting a good one like DeMarcus Ware or Julius Peppers can turn a bad defense into a good one.
4. Running Backs – A few years ago, running backs would be #1 on our list but just as football has changed, so to has Madden 13.  A good running back can still put fear into opposing defenses.  The best way to utilize running backs in Madden 13 is to mix their touches in with draws, screens, and stretch plays.
3. Wide Receivers – Having 2 good receivers allows you to do just about anything you want on offense.  The defense knows that in order to contain them they will have to double team each one of them.  This allows you to run the ball easily and pass to tight ends and running back.
2. Cornerbacks – Just as a good receiver can change a game, so can having a lockdown cornerback.  You can take away an entire side of the field with just 1 elite cornerback.  Guys like Darelle Revis and Champ Bailey can rack up interceptions quickly if your opponent tries to throw to the man they are covering.
1. Quarterbacks – Anyone who disputes that quarterback is the most important position in Madden NFL has never played with a truly poor one.  A guy like Aaron Rodgers or Tom Brady can make all the throws, but the real value of a good quarterbacks is in the fact that they will not make turnovers on their own like many lower rated quarterbacks do.
Which position do you think deserves to be on this list?  Let us know in the comments section below.