At this point it is fairly common knowledge that in Madden 21 franchise mode you are able to make some pretty ridiculous trades with the computer.
So we decided to take 15 minutes with the Washington Football Team and just offer a bunch of random trades and see what the CPU accepted.
We found that we could get some pretty amazing players just by trading away some backups who would never see the field for us as well as some low round draft picks.
Some of these trades may be hard to believe so go ahead and take it into franchise mode and see for yourself!
Let's dive in!
The first trade we decided to try was a suspicion from Madden 20 where we would be able to get the best young offensive lineman in the league, Quenton Nelson, for relative pennies.
So we decided to make a low ball offer and see what happened.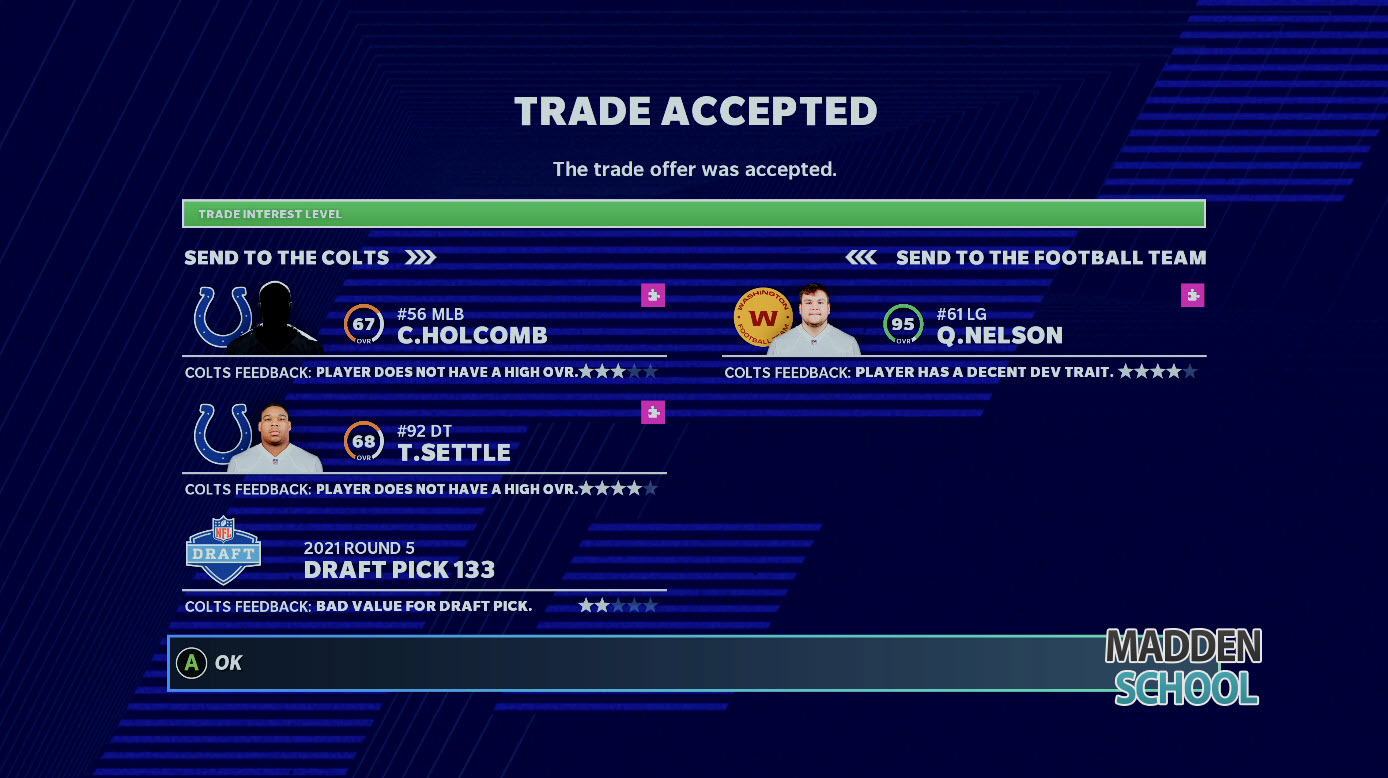 We traded away 2 guys who would never see the field and a 5th round pick and the Colts gave us an enthusiastic, 'YES!"
This is undoubtedly a terrible trade for the Colts but it will really help out our team.
Since we are starting to build our offensive line, we decided to try to trade a few more backups for the best right tackle in the game, Mitchell Schwartz.
Peyton Barber and Jon Bostic are not guys we will miss and neither is a 7th round pick.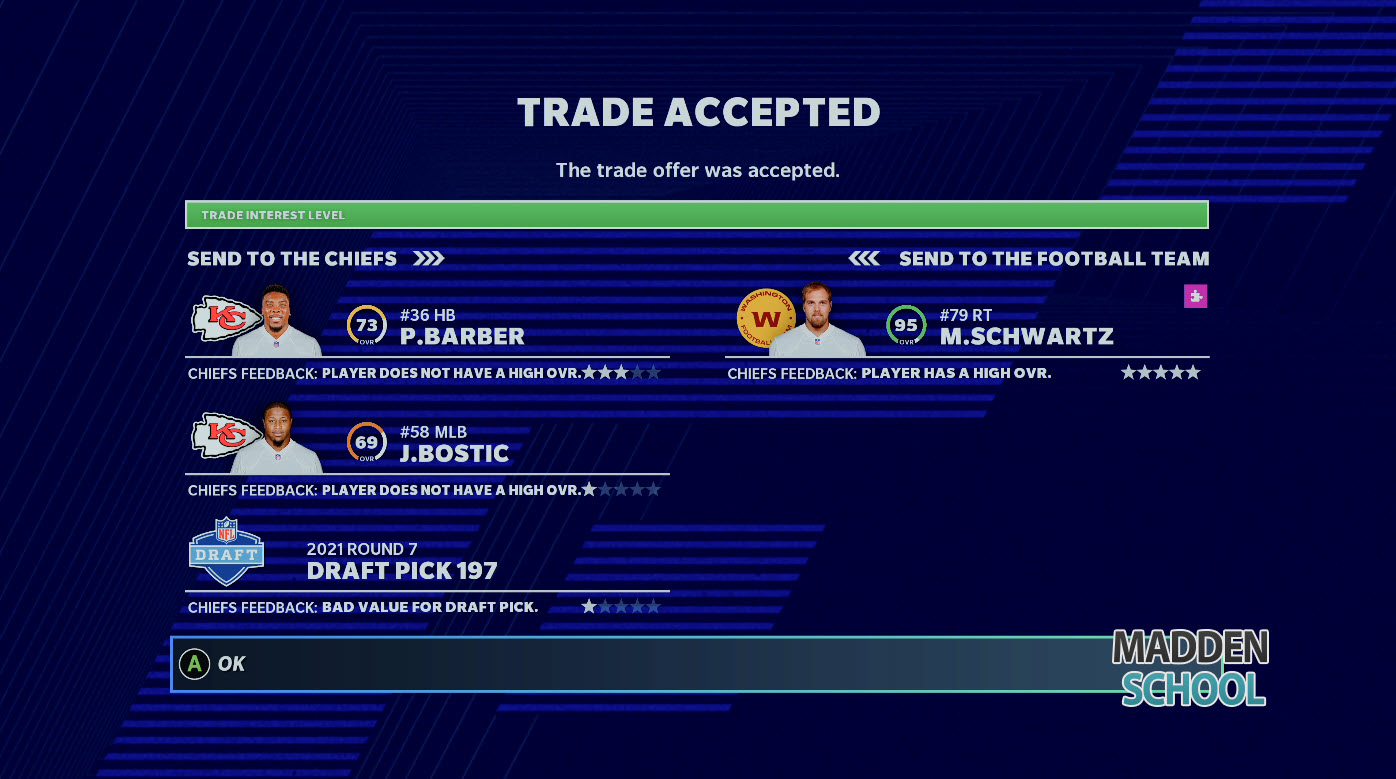 We turned a backup running back, a backup MLB, and a 7th round pick into a 95 overall right tackle. That is about as good of a trade as you can make.
There is no rational whatsoever for why the Chiefs would accept this trade, accept for maybe if they recently hired Bill O'Brien as their new general manager.
The takeaway here is that offensive line is incredibly easy to trade for and you can usually trade 2 or 3 backups for the offensive lineman of your choice.
Now that we have 2 studs on the offensive line, let's add some skill position players.
One guy who is always a must-have in Madden is D.K. Metcalf so we decided to see what the Seahawks would accept for him.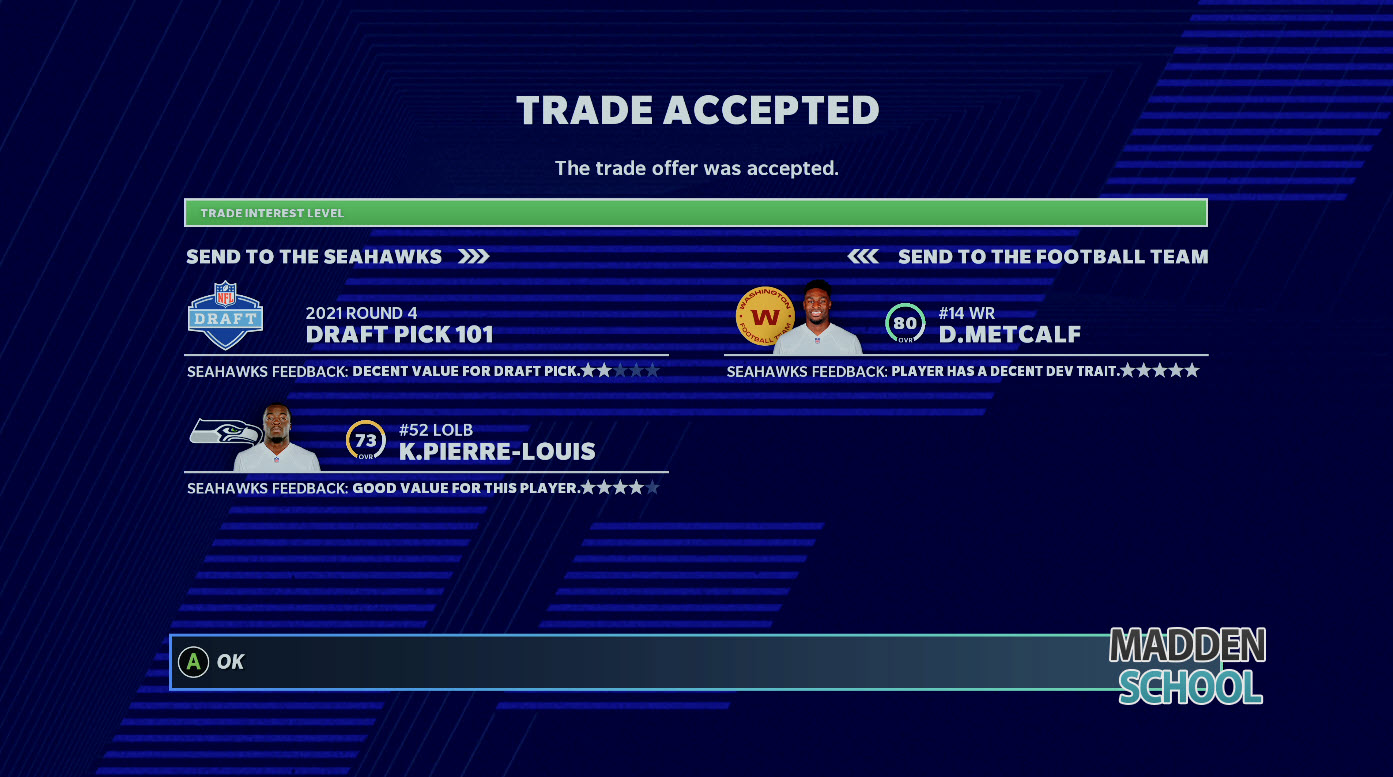 We were able to send away a 73 overall 28 year old linebacker and a 4th round pick for one of the fastest/best young wide receivers in Madden 21.
For us, that is a huge win. When it comes down to it, we traded a 4th round pick and a guy we could easily replace in free agency for D.K. Metcalf.
Within 2 years, he should be one of the best wide receivers in the game.
Next up we decided to try to make our secondary better by trading for Jamal Adams.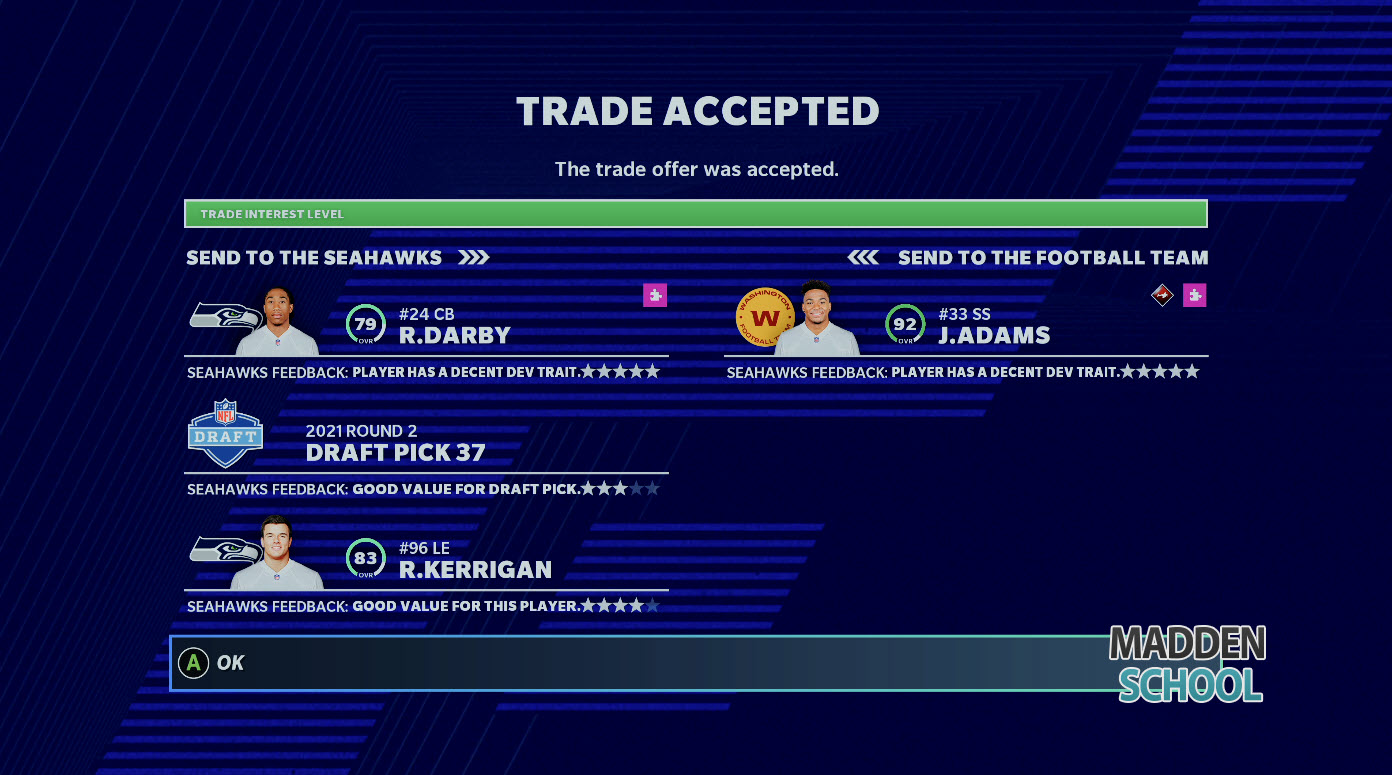 This one might look a little more even but it really isn't. We traded a guy who will retire next year, a decent cornerback and a 2nd round pick for a franchise changing player.
In the real NFL. Jamal Adams was recently traded for 2 1st round picks. With that as the standard, this is an amazing bargain.
You'll notice the impact of Jamal Adams on your team right away.
Finally we decided to trade some more backups for 1 more offensive lineman. The best Center in the game, Jason Kelce.
This trade went fairly as expected. We know if we sent 3 backups, it would be accepted.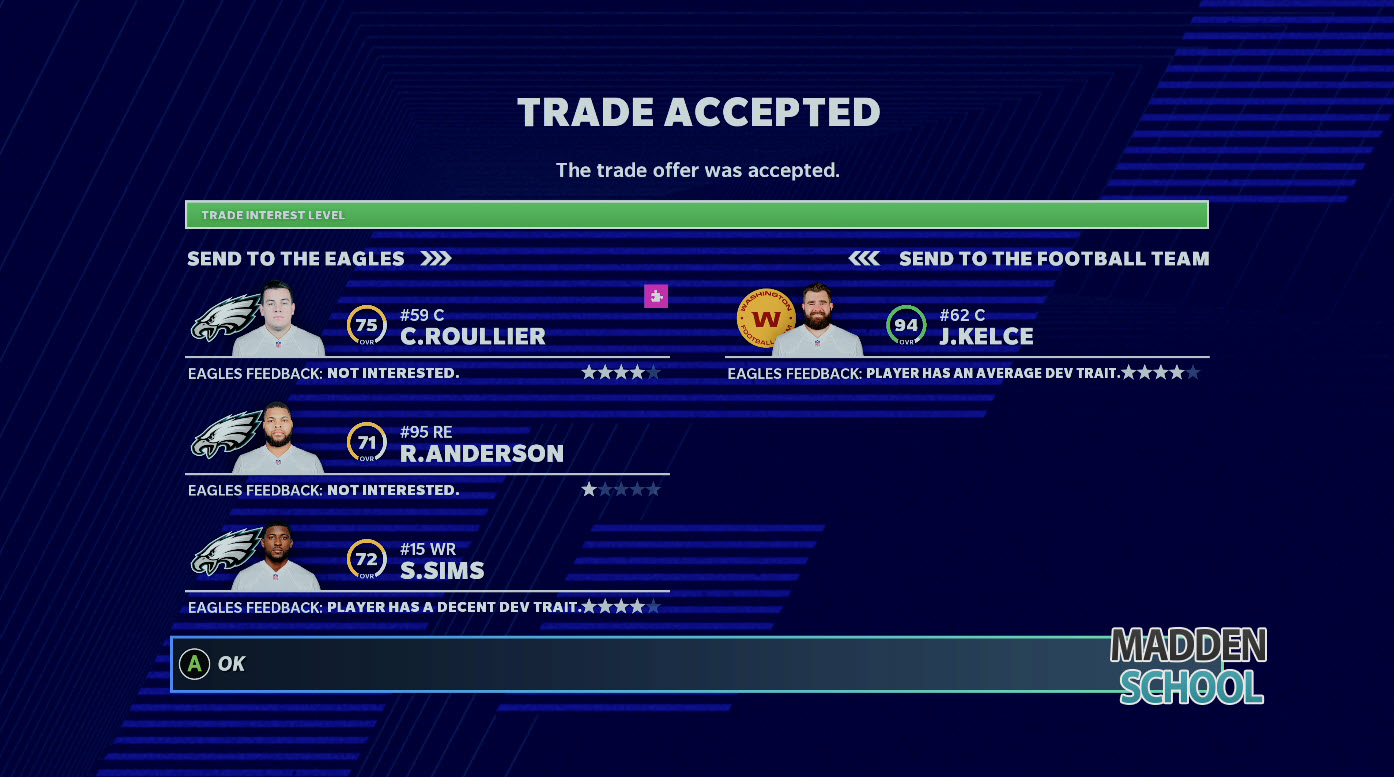 Remember, the players can be fairly easily replaced in these trades so don't get too caught up in the specifics.
These were just 5 easy trades made in 15 minutes using just 1 team. There are probably much better deals to be had and we probably could have traded for these players offering less.
To be sure, some of these trades aren't as appallingly bad as some of the logic in previous Madden games.
That being said, many of these trades have absolutely 0 chance of ever being accepted in the actual NFL. The worst part is, that this was only with about 15 minutes of trying random trades.
Imagine the stacked team you could create if you instead spent an hour offering ridiculous trades. Before long, you would have the best team in the league.
Here are some other franchise resources you may be interested in:
What are some of the most outrageous trades you've gotten the CPU to accept in your Madden 21 franchise?